Adoption records can be one of the most frustrating aspects of genealogical research. Still somewhat taboo in nature, the information they contain can be invaluable. These types of records are usually preceded by thick brick walls both factual and emotional. The process of looking for these records may also lead the researcher to confront many statutes reflecting closed door policies.
In the spring of 1915, my grandmother was placed for adoption by the Kansas Children's Home. When my grandmother became of age, she located her biological mother and was able to build a brief bond.[i] By 1939, this bond had expired. My grandmother lived out her life with many questions about her natural parents, and never knew the name of her biological father. After my grandmother passed away, it became my quest to understand and learn everything I could about her adoption – before and after.
There are twenty-eight states that allow for some form of access to adoption records.[ii] The laws that govern the release of these records can be difficult to navigate. Many states are taking proactive steps to allow selected vital records to be available on-line for free or at a reduced cost. It is possible that the action of these forward-thinking state offices may also one day carry over into archival adoption records and make them more generally available to the public.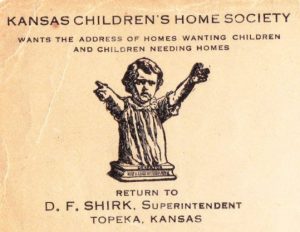 The State of Kansas is largely progressive with regard to adoption records. I was armed with my grandmother's "Adoption Orders" from 1915. I learned that a "pre-adoption birth certificate" might have been issued. I decided that I wanted to obtain a copy of this record and perhaps learn the name of my biological great-grandfather.
Since Kansas allows access to adoption records, my grandmother, if she were living, would have immediate access to her "pre-adoption birth certificate." However, my grandmother died in 1993, and Kansas law is very specific that these records are not available to her heirs or descendants except "by court order."[iii] Undaunted, I decided that if the State of Kansas wanted a court order that I would get them one.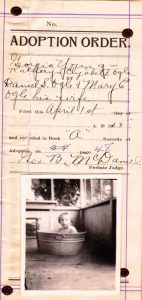 Knowing that my grandmother was born in Harvey County, Kansas, I contacted the district courts and explained what I needed. I asked them if it was possible for a "court order" to be issued to help complete my request for the vital record. The judge in Harvey County was great – a court order was issued immediately.[iv] Surely I had to be on the road to finally accessing this genealogical treasure.
This was not to be the case. Kansas Vital Records denied the request, and refused the court's order. In disbelief, I went back to the district court judge. It was no use. Even after telephone calls from his office to Topeka, the court order would not be allowed. Finally, the district court judge of Harvey County, Kansas – where the birth event had taken place 100-plus years before – simply 'folded' : they could no longer help me. Essentially, if I wanted it that badly, I was going to have to sue the State of Kansas to have this archival record released to me. The door was closed.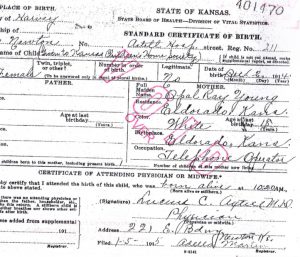 So I took a chance. I bundled up copies of everything I had about the adoption. I placed these with the court order and mailed it all to the Secretary of Health and Environment [Services] for the State of Kansas.[v] I explained that I wasn't trying to circumvent Kansas adoption laws; rather, I had already complied with those laws. I asked for a considerate release of the pre-adoption birth record. I asked them to understand that the document in their safe-keeping had no value except a genealogical one. And without telling the State of Kansas that they were drowning in red tape, I politely asked them, "What's up with your system here?"
Less than a week later, with no fanfare, and no explanation, my grandmother's pre-adoption birth certificate arrived in the mail. It had quietly been released by the Kansas Secretary of Health and Environment. My victory was bittersweet – there was no name for the baby's father.
Sometimes even when doors are closed in our genealogical pursuits we should not just accept no as the final answer. We simply have to knock a little louder – or try a bigger door.
Notes
[i] Birth mother located through the correspondence (1915–29) of D.F. Shirk, "Superintendant of Investments" at the Kansas Children's Home and Service League, with Mr. and Mrs. D. S. Ogle and their daughter Katheryn E. Ogle.
[ii] www.americanadoptioncongress.org: for a list of states that allow some form of access to adoption records.
[iii] www.kdheks.gov/vital/adoption: for basic rules regarding adoptees and their heirs with regard to the State of Kansas Vital Records and access to pre-adoption birth records.
[iv] Court Order issued 9 February 2016 by Harvey County Kansas District Court.
[v] Correspondence to the Secretary, State of Kansas Health and Environment, March 2016.
Share this: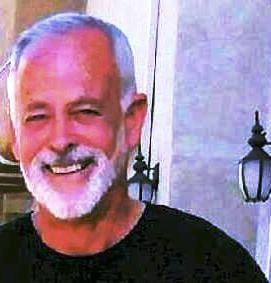 About Jeff Record
Jeff Record received a B.A. degree in Philosophy from Santa Clara University, and works as a teaching assistant with special needs children at a local school. He recently co-authored with Christopher C. Child, "William and Lydia (Swift) Young of Windham, Connecticut: A John Howland and Richard Warren Line," for the Mayflower Descendant. Jeff enjoys helping his ancestors complete their unfinished business, and successfully petitioned the Secretary of the Army to overturn a 150 year old dishonorable Civil War discharge. A former Elder with the Mother Lode Colony of Mayflower Descendants in the State of California, Jeff and his wife currently live with their Golden Retriever near California's Gold Country where he continues to explore, discover, and research family history.View all posts by Jeff Record →