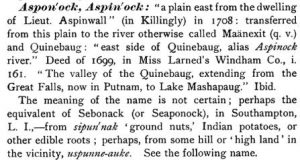 A friend from my hometown of Putnam, Connecticut posed a question on Facebook about what the word "Aspinock" literally means. Putnam was incorporated in 1855; in earlier years it had been known as Aspinock, but it was later named Putnam after General Israel Putnam of the Revolutionary War. Our local historical society remains the Aspinock Historical Society after this "original" town name.
Several of us have tried to determine what Aspinock literally means in the native tongue of Algonquin, but answers are somewhat unclear. Putnam was created from part of the towns of Killingly, Pomfret, and Thompson. Killingly was formed in 1708 and the name Aspinock dates back to at least a decade prior, as the English families that settled there were referring to it in deeds by that date. This definition had been suggested on the Facebook post, citing James Hammond Trumbull's Indian Names Places, etc., in and on the Borders of Connecticut with Interpretations of some of them (Hartford, 1881)[1], shown above.
However, another friend and I have wondered, could Aspinock actually be an "Algonquinization" of Aspinwall, after Peter Aspinwall, the first permanent white settler of Killingly?[2] We can't be sure, but it's an interesting idea. While we often think of names being "Anglicized," names may get incorporated into a new language wherever a person may move. Some interesting cases I've come across in genealogy have included:
Adrienne Cuvellier and her husband Guillaume Vigne were natives of Valenciennes, France, and were some of the earliest permanent European settlers of New Amsterdam (now New York City) in the early seventeenth century.[3] However, living primarily with Dutch neighbors, the French name of Adrienne Cuvellier was "Dutchified" to "Ariaentje Cuvilje."[4] You will find this also with many Pilgrim names in Leiden, Holland.
Numerous examples of this exist in Quebec. One example was summarized in a Register article by Michael Leclerc on his ancestor Joseph Philippe Ouabard dit Langlois of Cap St. Ignace, Quebec (ca. 1690–1756). The "dit" name "Langlois" or "L'anglois," meaning in French "the Englishman," is often the sign of a possible New England Yankee or other English immigrant in Quebec. In this case the surname "Ouabard" was a "Frenchified" version of the English surname Webber.[5]
It's certainly useful to think of names as they may have pronounced by the local population, and how that may have affected spelling or been changed by exposure to other languages.
Notes
[1] Thanks to Eric Gould, Cheryl Stedtler, and Cheryll Toney Holley for the engaging discussion on the possible origins of this name. All three are of Nipmuc descent and are my distant cousins though the Gay family of Dedham; they were also the subject of an earlier blogpost.
[2] Peter Aspinwall's brother Nathaniel, another early settler in Killingly, is my great-great-great-great-great-great-great-great-grandfather.
[3] This couple provides a second way Presidents Theodore and Franklin Roosevelt were cousins, beside their shared descent from the Roosevelt immigrant.
[4] Herbert F. Seversmith, "Ariaentje Cuvilje (Adrienne Cuvellier), Matriarch of New Amsterdam," National Genealogical Society Quarterly 35 [1947]: 65–69; Gary Boyd Roberts, Ancestors of American Presidents (Boston: NEHGS, 2009), 539, for the Roosevelt kinship through Vigne.
[5] Michael J. Leclerc, "From Webber to Ouabard: The Probable New England Origins of Joseph Philippe Ouabard dit Langlois of Cap St. Ignace, Quebec," Register 195 [2005]: 308–15.