In an earlier blog post about former ancestors, I noted some instances where my modern-day research turned ancestors into "former ancestors," some quite recently. This one involves a correction I discovered several years ago; while valid, I should really have reviewed these charts more recently, for confirmation.
This example starts with Mary Colburn (born in 1747). She was identified on these family charts as my great-grandfather's great-great-grandmother, the wife of Thaddeus Richards of Medway, Massachusetts, and Ashford, Connecticut, whom she married in 1770. According to this chart, she was the mother of my ancestor Moses Richards. Mary's own chart identifies her parents as Joseph Colburn (born in 1718), and Hannah Metcalf, married in 1744, with further information on their ancestors.
My correction to this second chart came almost twenty years ago when I visited the library and worked one evening with Gary Boyd Roberts. In the then recently revised and updated Dedham vital records, we found the 27 November 1770 marriage of Thaddeus Richards and Mary Colburn, and Mary's birth on 1 October 1747.[1] This last record confirmed her father as Joseph, but listed her mother as Dorothy. Then, in the same Dedham vital records was Joseph Colburn's 1744 marriage, but it was not to "Hannah Metcalf," but rather to Dorothy Draper.[2]
At this point I removed "Hannah Metcalf" as my ancestor, and worked out the ancestry of my "new" ancestor Dorothy (Draper) Colburn, which among other things, gave me my tenth descent from my patrilineal ancestor Benjamin Child of Roxbury. (Gary remarked, "I'm sure that was just what you wanted!")[3]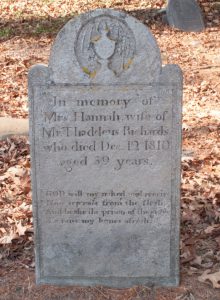 However more recently, I was talking to a patron about Phoenixville Cemetery in Eastford, Connecticut (a part of Ashford prior to Eastford's incorporation in 1847). Mentioning several ancestors buried in this cemetery, I noted my ancestor Thaddeus Richards (1747–1813). However, I noticed that Thaddeus's wife Mary was not buried there with Thaddeus, nor did I have a death date for Mary, or really anything after her Dedham marriage in 1770. Thaddeus left a will in 1813, which mentioned my ancestor Moses as his son among other children, but Thaddeus was apparently widowed by this point as no spouse was named in the will.[4] However also at this same Phoenixville Cemetery was "Hannah wife of Mr. Thaddeus Richards who died died Dec. 12, 1810 aged 59 years."
While this could be a second wife for Thaddeus, the Findagrave entry also claimed (without sources) Thaddeus and Hannah married at Ashford on 6/10/1779, which would be before the birth of my ancestor Moses in 1783. While I doubted that Thaddeus married in Connecticut in 1779 as my Moses was born in Massachusetts, I could see I needed to confirm who Thaddeus was married to and when!
Searching our collection of Massachusetts Vital Records to 1850, I found in Medway, Massachusetts, a marriage intention on 13 June 1779 between Thadaeus Richards of Dedham, and Hannah Metcalf. Medway was listed as Thaddeus's residence on the above chart, and while today four other towns separate Medway and Dedham, in 1779 only one town did. On a further search in the digitized version of Massachusetts town vital records, I found a Dedham intention on 10 June 1779 between Mr. Thaddeus Richards of Dedham and "Mrs. Hannah Metcalf of Medway." This last marriage intention was not in the printed Dedham vital records I had checked years ago!

Clearly this section of charts was even more wrong than I first suspected. Thaddeus Richards did marry Mary Colburn in 1770, but this wife evidently died within a few years of the wedding and he married secondly "Mrs. Hannah Metcalf," who had been falsely listed as the mother of Thaddeus's first wife, and was thus the mother of my ancestor Moses, born in 1783. I ultimately established that "Mrs. Hannah Metcalf" was also widowed, like Thaddeus (and thus even the Metcalf parents on the above chart are wrong).
Hannah Badlam had married first at Medway 23 March 1769 to Ozias Metcalf (who died in Pennsylvania in 1777 during the Revolutionary War), and Hannah was born in Weymouth on 15 December 1751, daughter of William and Sarah (Owen) Badlam.[5] These are my new new ancestors.
While the correction I had made of Mary (Colburn) Richards's mother as Dorothy Draper rather than Hannah Metcalf was valid, it didn't really matter to my own ancestry as Mary was not really my ancestor at all, merely my ancestor's first wife. It's another lesson about needing to go from the "known to the unknown." When you try to confirm and correct family papers, start as recently as possible, so you don't end up making "wasted" corrections!
Notes
[1] Robert Brand Hanson, ed., Vital Records of Dedham, Massachusetts 1635–1845 Revised and Expanded Edition (Camden, Me.: Picton Press, 1997), 311, 37.
[2] Ibid., 242.
[3] I blogged about my numerous Child lines in a past post, which includes this "discovery" of my "tenth" Child line.
[4] Will of Thaddeus Richards, dated 28 Dec. 1813 (one day before his death), proved 1 Feb. 1814, Ashford, 1814, Pomfret District, No. 3390.
[5] Vital Records of Medway Massachusetts, to the year 1850 (Boston: NEHGS, 1905), 232 (first marriage), 325 (Ozias's death "in the Continental Service at Pennsylvania"); Vital Records of Weymouth, Massachusetts, to the year 1850 (Boston: NEHGS, 1910), 1: 15 (Hannah's birth), 2: 15 (marriage intention of Hannah's parents); George Walter Chamberlain, History of Weymouth, Massachusetts (Weymouth: Weymouth Hist. Soc., 1923), 3:19 (Badlam family). Hannah's brother Silvanus Badlam also settled in Ashford, Connecticut (see Rev. War Pension #W25188). The identity of Hannah as a "Bedlow" rather than a Metcalf was suggested in Abner Morse, The Genealogical Register of the Descendants of Several Ancient Puritans (Boston: H.W. Dutton & Son, 1861), 3: 138.
Share this:

About Christopher C. Child
Chris Child has worked for various departments at NEHGS since 1997 and became a full-time employee in July 2003. He has been a member of NEHGS since the age of eleven. He has written several articles in American Ancestors, The New England Historical and Genealogical Register, and The Mayflower Descendant. He is the co-editor of The Ancestry of Catherine Middleton (NEHGS, 2011), co-author of The Descendants of Judge John Lowell of Newburyport, Massachusetts (Newbury Street Press, 2011) and Ancestors and Descendants of George Rufus and Alice Nelson Pratt (Newbury Street Press, 2013), and author of The Nelson Family of Rowley, Massachusetts (Newbury Street Press, 2014). Chris holds a B.A. in history from Drew University in Madison, New Jersey.View all posts by Christopher C. Child →