Most of us will remember the childhood Alphabet Song used to teach children their letters (hum along if you'd like): "A-B-C-D-E-F-G… Now I've learned my ABCs, tell me what you think of me." Vita Brevis has given a new variation on this "alpha-tradition."
In my post "If This House Could Talk," I mentioned my grandfather Rex Church (1883–1956) and his childhood handmade wooden alphabet blocks. The photo I provided showed only the four blocks representing the surname initials of the four families who have lived in My Old House since its construction in 1789.
Michael Kearney, in his comment which followed the post, noted that making some blocks like my grandfather's might make a good woodworking project, and did I have the full set, ideally with pictures? I did, with a set of numbers, too, all made of ¾" pine (I think), nailed together with brads, and sporting all those angle cuts! With Editor Scott Steward's help, I emailed a set of photos of the blocks to Michael with as much detailed information as this non-woodworker could muster along with a request to send me a photo of his finished project.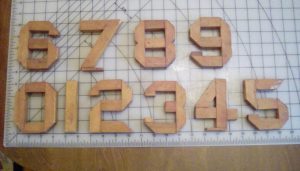 Note that the numbers 4 and 7 and the letter P have "feet" to help them stand upright.  All the blocks are made to stand independently.
About a month later, I received an email from Michael attaching a photo of his finished project, beautifully made for his new grandson. He explained that he "took liberties" with the design of the number 7 as well as the letter K, and used maple and glue throughout. I think it's a wonderful adaptation and an improved version of the original design.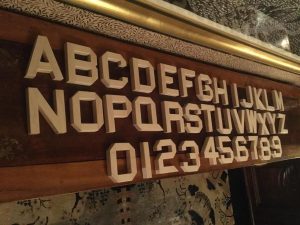 Vita Brevis inspires many people in many ways, and this one reader's inspiration will not only provide a bit of early education,  a bond between grandfather and grandson, and an heirloom to be preserved for the grandson's grandson, but perhaps more inspiration to other readers of the blog. I think Michael himself expressed it best: "Now your family tradition is someone else's, too." Perhaps he and his son will sing that alphabet song while the newest Kearney plays with Grandpa's blocks.