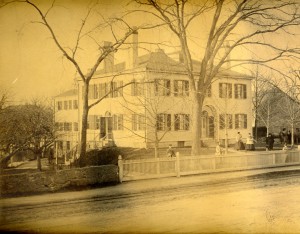 I noted in a previous blog post that my husband Paul and I are live-in caretakers at the William Clapp House in Dorchester, Massachusetts. This house was built in 1806 and serves as the headquarters of the Dorchester Historical Society. Paul and I assist the Society with special events, and we give tours of the house and grounds. The Clap name can be found in Dorchester records dating back to the 1630s – the surname is often spelled with one "p" for earlier generations of this family. Occasionally descendants of some of the early Clap families visit the house for a tour. They typically ask about William's family line in order to determine how they are related to him. I enjoy these inquiries because it provides me with an opportunity to learn more about the different branches of this family. Recently I took a closer look at the ancestry of another distant relative of William Clapp: my husband.
Roger Clap was born in Devonshire, England in 1609. He left England in 1630 as part of the Great Migration to New England, settling in Dorchester. He encouraged several of his siblings, as well as his cousins Thomas and Nicholas Clap, to leave England and join him. Roger played an active role in the community, serving on a number committees such as the Committee on Highways, and was admitted to the Ancient and Honorable Artillery Company in 1646. Late in life Roger wrote his memoirs for his family, which were first published several decades after his death.[1]
William Clapp was born in Dorchester 3 March 1779.[2] He was a descendant of both Roger Clap and his cousin Nicholas Clap through the 17 March 1704 marriage of Roger's granddaughter Hannah Clap and Nicholas's grandson Ebenezer Clap.[3] William Clapp built his home in Dorchester in 1806, and in December of that year he and Elizabeth Humphreys were married in the formal parlor of the house. They had nine children, but sadly five of them died young, including three children from typhoid fever within four days of each other. Four generations of William's family resided in this house over the span of about 150 years, the last being Frank L. Clapp, William and Elizabeth (Humphreys) Clapp's great-grandson. Frank was married for many years, but never had any children. He sold the house to the Dorchester Historical Society in the mid-1940s, but he continued to live at the house and work as the property's caretaker until his death in 1953.
My husband Paul is descended from Thomas Clap, the brother of Nicholas Clap and cousin of Roger Clap. Thomas emigrated from England in 1633 and lived in Dorchester for a brief time before removing to Scituate in the late 1630s. This line of Paul's family continued to reside in the Hingham/Scituate area for nine generations. Looking at my husband's Clapp family line and comparing it to William Clapp's ancestry, I put together a small chart for Paul to illustrate the relationship between the two families.
Paul and William Clapp are fifth cousins seven times removed by way of Thomas and Nicholas Clap (and sixth cousins seven times removed through the relationship between Thomas Clap and Roger Clap). As noted on the chart, Frank L. Clapp and Paul are eighth cousins four times removed. Knowing Paul's connection to this family, it's interesting to think how Frank Clapp worked as a caretaker at this house, and now sixty-three years later, his cousin Paul has taken on the same role.
Notes
[1] The Great Migration Begins: Immigrants to New England 1620-1633, Volumes I-III, online database at AmericanAncestors.org. (Originally published as: Robert Charles Anderson, The Great Migration Begins: Immigrants to New England 1620-1633, 3 vols., Boston: New England Historic Genealogical Society, 1995).
[2] Massachusetts Vital Records to 1850, online database at AmericanAncestors.org.
[3] Ibid.
Share this:

About Eileen Pironti
Eileen graduated with a B.A. from Saint Anselm College, and received an M.S. from American University. She wrote about her ancestors' participation in the colonization of Nobles County, Minnesota in "'An Invitation to the Land': Reconstructing James and Eliza Conlon's Migration to Minnesota," which was published in the Summer 2011 issue of American Ancestors magazine. Eileen's interests include Irish and 19th century New England research.View all posts by Eileen Pironti →