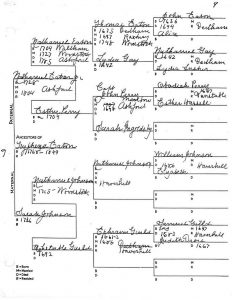 Earlier this year I wrote about my ancestor Tryphena Kendall and her twin sister Tryphosa. Tryphena and Tryphosa Kendall were the granddaughters of Sarah Johnson, who married Nathaniel Eaton at Ashford, Connecticut, on 13 November 1755. As I looked at the documentation I had on this family, something wasn't quite right.
The family charts that I had on this part of my family were prepared by friends of my great-grandparents nearly 100 hundred years ago, and while I have verified much of this information over the years and corrected some data, I had never verified anything beyond Sarah (Johnson) Eaton. The charts had claimed she was born in 1736, the daughter of Nathaniel and Mehitable (Guile) Johnson of Killingly, Connecticut. However, in looking at the information on Nathaniel and Mehitable, I learned they moved to Stafford, Connecticut (not that far away), and in the Stafford Vital Records there was a record of marriage on 28 July 1757 between Sarah Johnson and Moses Hall, and some published genealogies had claimed this was the daughter of Nathaniel and Mehitable.[1] Which Sarah was their daughter?
As I looked at the overall Johnson family in this area of northeastern Connecticut, they were largely descending from the above Nathaniel Johnson (1691–1760) and his older half-brother John Johnson (1683–1756).[2] The brothers were born in Haverhill, Massachusetts, and both moved to Killingly (in what is now Thompson), Connecticut. John Johnson later settled in Lebanon and Nathaniel in Stafford.[3] There were of course other unrelated Johnson families in the same area that I had eliminated. In tracing the descendants of these two brothers I found two Sarah Johnsons: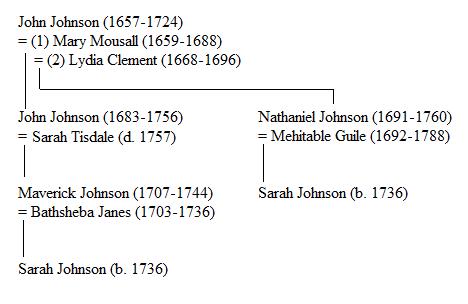 I ultimately concluded, after reviewing further records, that Sarah, daughter of Maverick and Bathsheba, was most likely my Sarah, and that the other Sarah (daughter of Nathaniel and Mehitable) had indeed married Moses Hall in Stafford. However what was more interesting was seeing a very long line of twins in this family. This Sarah, daughter of Maverick and Bathsheba, had a twin sister Mary. Their father Maverick Johnson had twin sisters Mary and Lois in 1713. There are not any twins in the family of Maverick's father John's family. His mother Sarah Tisdale had several siblings, although their dates of birth were not recorded, so it's not possible to know if there were any twins there. The same goes for the siblings of both of Sarah's parents – James Tisdale and Mary Avery. But from 1713 to 1828, there are at least four examples of twins over five generations.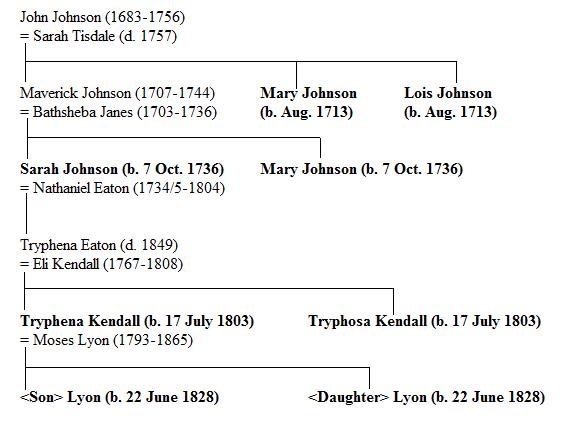 The last set of twins died the day they were born in 1828 and I have not found another example of twins among their siblings' descendants.
Notes
[1] John Charles Gile, The Guile – Gile – Guiles Genealogy (Baltimore: Gateway Press, Inc., 1997), 17.
[2] Eleanor Johnson Baker, A Genealogy of the Descendants of William Johnson of Charlestown, Massachusetts (Newburyport, Mass.: Newburyport Press, 1969).
[3] Also, this Nathaniel Johnson was not the son of an earlier Nathaniel, as the chart above claimed, but the son of John and the great-grandson of William and Elizabeth Johnson, identified incorrectly on the chart above as Nathaniel's grandparents.