A nice example of genealogical good fortune came my way as a result of a past blog post I wrote regarding my search for family photos.
The comment, written nearly a year afterward, was from Nancy Chapin: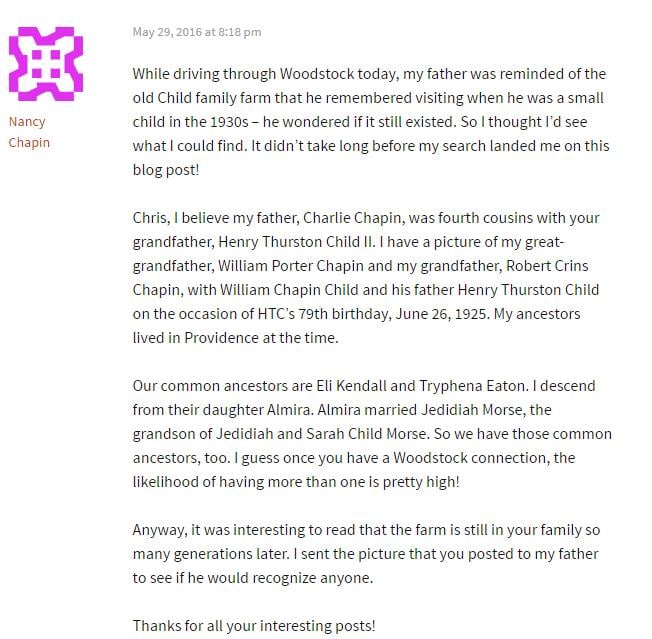 I knew exactly who William Porter Chapin was and was quite excited about the connection. My middle name of Challender is actually the first middle name in my patrilineal line that is an ancestral surname. (It's my mother's maiden name.) The first middle name of my Child ancestors was my great-great-grandfather Asa Thurston Child, who was named for a well-known New England missionary in Hawaii, but one who is not a relative. (Thurston continued as a middle name for his son and great-grandson.)
I grew up hearing the story of the "shoemaker's bench of William Chapin."
The other middle name was Chapin, the name given my father and his grandfather – William Chapin Child. My father had told me that William Chapin of Providence, Rhode Island, was a second cousin to my great-great-grandfather, Henry Thurston Child of Woodstock, Connecticut, and they were good friends, so much so that Henry Child named his fourth son (my great-grandfather), after him. William Chapin was a shoemaker in Providence, and he gave his namesake cousin one of his benches, which in turn was given to his namesake grandson (my father), so I grew up hearing the story of the "shoemaker's bench of William Chapin."
Years ago I traced the genealogy of my great-grandfather's namesake. The closest way that William Porter Chapin and Henry Thurston Child were related was, as stated above, as second cousins: their maternal grandmothers Almira (Kendall) Morse and Tryphena (Kendall) Lyon were sisters. However, in going back in the ancestry of William's mother and of Henry T. Child, I realized these two families were related a lot, in more ways than one. Chapin happened to be one of the few families behind William that was not in Henry's ancestry.
In looking at Henry's ancestors, it gets complicated very quickly...
Just looking at the ancestry of William's mother Eliza Eaton Morse only (his father, Charles Perry Chapin of Worcester, Massachusetts, was not a Woodstock native), and comparing it to the entire ancestry of Henry T. Child within several generations, I realized that 15/16ths of Eliza's ancestors were also ancestors of Henry T. Child. The only group of Eliza's forebears whose ancestors were not common to Henry was her great-great-grandmother Mehitable (Holbrook) May.
In looking at Henry's ancestors, it gets complicated very quickly, in part due to the large proportion of endogamy in Henry Child's ancestry. The complex chart above illustrates how, in both directions, Eliza and Henry shared a large amount of their ancestry, with the single ancestor of Eliza not in common with Henry in green, and the near dozen of Henry's distant ancestors not in common with Eliza in red. Of Henry's total ancestry, only 15/64ths (just under 25%) was not in common with Eliza. So despite the fact that the closest kinship between William Chapin and Henry Child was second cousins, they clearly had a lot more family in common. Nancy also found letters in which William Chapin's brother referred to Henry's mother as "Aunt Roxanna."
The below picture, provided by my newfound fifth cousin once removed Nancy Chapin – of the two cousins and their sons, including my great-grandfather, William Chapin's namesake – is certainly one of the most interesting family photographs that has surfaced for me as a result of writing for Vita Brevis.
Share this:

About Christopher C. Child
Chris Child has worked for various departments at NEHGS since 1997 and became a full-time employee in July 2003. He has been a member of NEHGS since the age of eleven. He has written several articles in American Ancestors, The New England Historical and Genealogical Register, and The Mayflower Descendant. He is the co-editor of The Ancestry of Catherine Middleton (NEHGS, 2011), co-author of The Descendants of Judge John Lowell of Newburyport, Massachusetts (Newbury Street Press, 2011) and Ancestors and Descendants of George Rufus and Alice Nelson Pratt (Newbury Street Press, 2013), and author of The Nelson Family of Rowley, Massachusetts (Newbury Street Press, 2014). Chris holds a B.A. in history from Drew University in Madison, New Jersey.View all posts by Christopher C. Child →