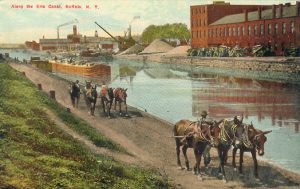 As many readers will already know, when I am not immersed in genealogy I am probably doing something that involves reading about, watching, studying, or writing about hockey. Such was the case this past weekend, as I traveled by car from Boston to Buffalo, New York, for the annual Combine – a grueling physical fitness testing day for hockey prospects in preparation for the NHL draft at the end of June.
The drive, according to Google Maps, was to take approximately 6½  hours; it took closer to eight. Now, since I lived in Central Florida for many years, such a drive was not daunting to me as I was used to it taking 8 hours to get either to the Keys in southern Florida or to the border with Georgia to the north. However, in my typical tunnel vision, it wasn't until I had hit Albany and was heading west in New York that I remembered that I would be traveling in the same direction as the Erie Canal.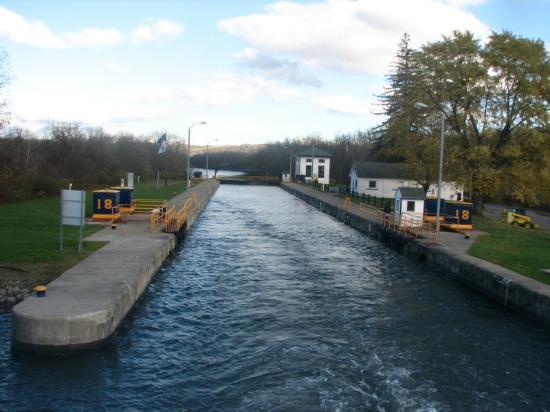 As I drove along on I-90, I began to look to my right and noticed the flowing waters of the Erie Canal in certain places. It took me back to a time when I was creating a lecture on Midwest migration and the history of the Erie Canal came pouring into my head. I even noticed some of the locks – those areas used to change elevation by adding or eliminating water, allowing boats to continue along the waterway at a new water level – which is something I was familiar with from my boating days in Florida.
As I continued on my way the names of towns came and went; again I was Buffalo bound in my mind. However, my mind was instantly snapped back to genealogy as I saw a sign for the town of Ilion, New York – home to Eliphalet Remington and his sons. Makers of the Remington rifle, the Remington typewriter, and a sewing machine, I knew this family well from researching them at NEHGS. In fact, at one time the town was called Remington, but Eliphalet did not want it named after him. I confess I had a momentary "star struck" moment as I realized how close I was to someone who had done so much.
Then it hit me how often we drive to and fro and probably go zipping past places where our ancestors lived or fought in a battle. I couldn't stop at these places, but for a moment, as I saw the Erie Canal from the car, I could appreciate the importance of that waterway in connecting the state of New York and offering a method of migration. I could also marvel at how the past and the present were almost touching. As I zipped along on an interstate at a speedy 65 miles per hour, I was sure that those who meandered on the canal at one time marveled at how much faster and smoother their travel on the canal was in comparison to travel by horse and wagon on the surrounding ground. As I went through various tolls, I thought about the tolls on the Erie Canal and how when it was first built the expected money earned was quickly overshadowed by the actual revenue collected on the Canal.
Road trips usually include stops at family homesteads, cemeteries, and courthouses. But even if a stop isn't an option, you may still be able to embrace the history of an area and call to mind research you have done in the past.