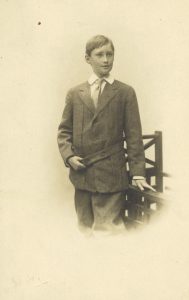 I am fortunate in having photographs of many of my relatives, and more fortunate still in that I can identify so many of them. Often the work has been done for me, as to names; sometimes my work is cut out for me in terms of fitting them into the family tree. I have photos of all four of my grandparents as children, in the early years of the twentieth century, so I'm also lucky that my great-grandparents (or other relatives) took the trouble to take them to a professional photographer to be recorded.
My paternal grandfather, Gilbert Livingston Steward (1898–1991), was photographed by Scheur of New York – I think! It is one of the photos in my paternal grandmother's album, and I like to think it was a present from my great-grandmother[1] at the time of my grandparents' engagement in 1927. The photo shows GLS at about the time he went off to St. George's School in Rhode Island.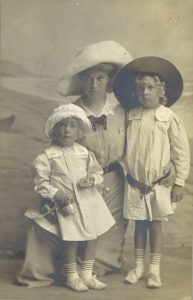 My paternal grandmother, Anne Beekman Ayer (1908–1947), is shown with her mother[2] and older sister.[3] The photo was taken during a visit to Nantucket in 1913, and I can imagine my great-grandmother dressing her children for the beach and taking a detour to have them photographed. Interesting to see how much the Edwardians wished to avoid the sun!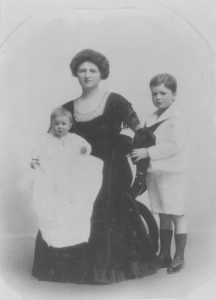 Here is my maternal grandfather, Frederick Jackson Bell (1903–1994), with his mother[4] and younger sister.[5] The photo must have been taken in about 1911, when Aunt Nancy was no more than two, and so it is contemporary with the two Steward photos above.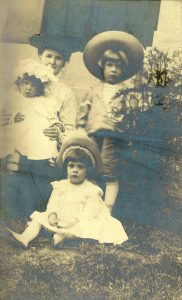 This last photograph must be a bit earlier, as it shows my maternal grandmother, Pauline Glidden (1903–1968), with a nurse and her older brother[6] and younger sister.[7] Since Aunt Miriam was born in 1904, this photo was taken in 1905 or 1906. I wonder if the building behind them is the Cecil Apartments in Baltimore, built by my great-grandfather Edward Hughes Glidden (1873–1924) and now listed on the National Register of Historic Places – rather a stretch to identify the structure by a stucco wall and a low bush, perhaps!
Notes
[1] Margaret Atherton Beeckman (1861–1951), who was married to Campbell Steward 1885–1936.
[2] Sara Theodora Ilsley (1881–1945), who married Charles Fanning Ayer in 1904.
[3] Theodora Ayer (1905–1996) was married to Robert Winthrop 1928–42 and Dr. Archibald Cary Randolph 1942–60.
[4] Minnie Estelle Jackson (1876–1935), who married John Francis/J. Frank Bell in 1902.
[5] Frances Fairfax "Nancy" Bell (1909–1997) was married to Robert Gentry Norman in 1929 (and again in 1934), to Orval Charles McNamara in 1944, to Claude Debbs Horne in 1955, and Ernest Allyn Welch 1962–93.
[6] Edward Hughes Glidden, Jr. (1901–1975), was married to Madeleine Gillet Gill 1925–27, Anne Harwood Colburn 1932–61, to Elizabeth Brawner Grimes in 1962, to Jean Waddell Sample in 1968, to Jane Bedford Allen in 1972, and Jessie Anderson Douglas 1974–75.
[7] Miriam Harrington Glidden (1904–1989) was married to Nelson Thomas Turner 1930–86.
Share this:

About Scott C. Steward
Scott C. Steward has been NEHGS' Editor-in-Chief since 2013. He is the author, co-author, or editor of genealogies of the Ayer, Le Roy, Lowell, Saltonstall, Thorndike, and Winthrop families. His articles have appeared in The New England Historical and Genealogical Register, NEXUS, New England Ancestors, American Ancestors, and The Pennsylvania Genealogical Magazine, and he has written book reviews for the Register, The New York Genealogical and Biographical Record, and the National Genealogical Society Quarterly.View all posts by Scott C. Steward →