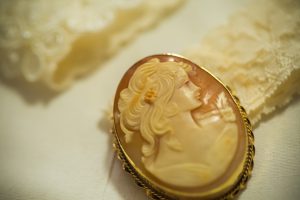 I've been a bridesmaid in four weddings. In each of these weddings, the bride has carefully chosen four special items to wear on her wedding day: something old, something new, something borrowed, and something blue. And when preparing for the first three weddings, I didn't think much of the custom. But when my sister-in-law got married in April, and showed me her something old, new, borrowed, and blue, I couldn't help but think: why on earth are women doing this? 'Something old, new, borrowed, blue'? Did my mother do it? My grandmother? My great-grandmother?
Turns out – after a quick survey of my married female colleagues – the answer is yes: women have been participating in this tradition for several decades. And when I asked my mother, she also confirmed that she gathered the four items in 1977. (She couldn't remember the items, but she insisted that she did it.) So, the tradition was not a new one. And, once I started looking into it, I found some very interesting details about this particular wedding custom.
First, the tradition comes from an old verse:
Something old, something new
Something borrowed, something blue
And a sixpence in the shoe
The author of the verse is unknown, and there seems to be some debate over when it first appeared: some sources claimed it as "an ancient nursery rhyme from England,"[1] while others call it "a saying that dates to Victorian times…"[2] During a quick search, I was able to locate an 1894 newspaper article from the Grand Forks Daily Herald that referred to Puritan Marriage Customs. One of the customs mentioned was that "the bride was universally advised to wear: Something old, something new, Something borrowed, something blue…"[3] This particular reference removed the "sixpence in the shoe" line, yet the article referred to the tradition with such informality that we can assume that the tradition was common for the period.
Second, what it the significance of the old, new, borrowed, blue items?
Again, there seems to be much debate over the meaning. Contemporary references claim the "old" represents the bride's link with the past while the "new" promotes good fortune for the new life of the bride. The "borrowed" should come from someone who has been happily married for several years, to "transfer" happiness to the newlywed couple, and the "something blue" symbolizes true love, loyalty, and fidelity.[4] However, older articles, such as an 1898 article from Folklore, a journal published by the Folklore Society of Great Britain, explain that the "something old" and "something blue" are devices to baffle the Evil Eye. The usual effect on the bride of the Evil Eye is to render her barren, and this is obviated by wearing "something borrowed," which should properly be the undergarment of some woman who has been blessed with children: the clothes communicate fertility to the bride."[5] This is a much darker take on the custom, and presents the practice as a superstition, rather than a tradition.
Finally, why are women doing it?
I am going to argue that brides currently participate in this custom because they consider it to be family tradition, not superstition. I say this because, if women have been selecting items (old, new, borrowed, and blue) since (at least) the 1890s, it is family tradition. Their mothers did it, their grandmothers and great-grandmothers, too – maybe not each and every one of them – but more than likely one female ancestor did. Therefore, I am confident that women (especially my new sister-in-law) chose to participate in the practice to further family tradition, and not superstition. My brother and sister-in-law are too perfect for each other to believe in superstition – but still, those shoes!!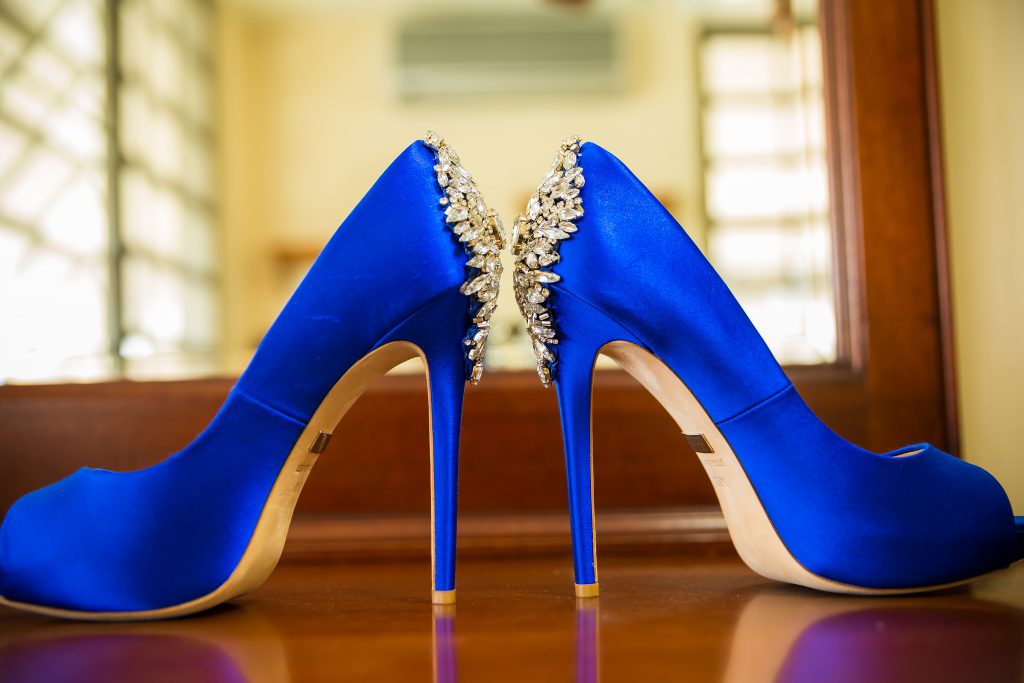 Postscript: My sister-in-law's choices were gorgeous:
Old: A pin (cameo) from her deceased paternal grandmother
New: Her wedding dress
Borrowed: Her headpiece, which was worn by two of her cousins on her paternal side
Blue: Her show-stopping Manolo Blahnik shoes
Notes
[1] Les Stubbs and Benjamin J. West, 2000 Weddings but no Funerals! (Central Milton Keynes, Authorhouse, 2011), p. 191.
[2] Valerie and Lyle MacPherson, The Celtic Wedding Planner (Celtic Wedding Planner, 2012).
[3] "Puritan Marriage Customs. Startling Bible Texts Sometimes Selected for the Wedding Sermon," Grand Forks Daily Herald, Wednesday, 19 September 1894, p. 1.
[4] Monica-Maria Stapelberg, Strange but True: a Historical Background to Popular Beliefs and Traditions (Crux Publishing, 2014).
[5] W. Crooke, "The Wooing of Penelope," Folklore 9 [June 1898]: 128.