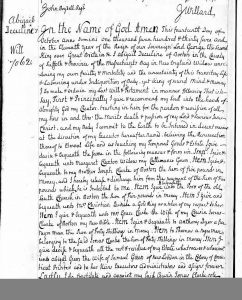 Many discoveries in life are the result of serendipity – wandering around until one falls over something one wasn't looking for.
I pulled an all-nighter this week while working on the Early New England Families Study Project sketch for Jonas Clark of Cambridge. I had noted that his son Samuel Clark, baptized in 1659, was "living 1705," but had not included any proof of the claim. Ruffling unsuccessfully through the stack of reference material at four a.m., which is my normal bed time, I still decided to take one more stab at the problem.
Usually when someone is "living" at a particular date, it means they were involved in a record such as a deed, probate, etc. I had checked the index to Middlesex County deeds for Clark/Clarke through 1717, and there is no grantor deed recorded around 1705 that includes Samuel Clark, but this time I looked further, just in case of a delayed recording. I found it – recorded in October 1763! The deed, signed in 1705, is clearly made by the surviving children of Jonas Clark, who died in 1700, although no specific relationships are mentioned. Allowing for those children who had died before that time, they were all there – Jonas [Jr.], Thomas, Timothy, Samuel, Joseph, Sarah Green [widow of Samuel Green], Elizabeth "Munck" [widow first of John Woodmancy and second of George Monk], Susannah Hancock and her husband Ebenezer, and Abigail Degalon/Degalone.
Whoa, wait a minute, who is Abigail Degalon? There is a baptism for a sister Abigail Clark in Cambridge in 1662, but no published accounts give any further information for her – no marriage, no death. Yet, the context of the deed clearly indicates [although does not specifically state] that this Abigail was a sibling of the others.
First problem – what kind of name is Degalon and how many ways can it be spelled? Turns out at least Degalon, Degalone, Degaloon, Decullune, Declune, and Dickaloon. Second problem, Abigail is the only person with those surname variations showing up in Suffolk or Middlesex County records available online. Where was the late Mr. Degalon? Still, I was able to locate four more records for her.
On 4 November 1706 Abigail Decullune of Boston, widow [husband not named], sold 20 acres in Newtown [Cambridge] to Job Seger and Henry Seger. There is no corresponding grantee deed showing how she came to own the property, nor any probate for her husband.
On 11 December 1725, Samuel Sewall recorded in his diary "Went and look'd on the Boards nail'd up that darken Mrs. Degaloon's Window." Huh?
Annie Thwing in her manuscript on Boston families notes that on 26 August 1734, Abigail Dickaloon was a tenant in a house belonging to the heirs of John Woodmancy at the corner of Beacon and Tremont streets in Boston. John Woodmancy was the first husband of her sister Elizabeth Monk. The deed is full of interesting leads, involving two widows named Winans from Elizabethtown, New Jersey, and the heirs of Samuel Sewall's late wife Abigail, but it was now getting past five a.m., and I couldn't get waylaid into to following that trail.
The death of Abigail Decullune on 15 October 1737, age 76 years (which calculates to a birth about 1661), is recorded in Boston archival records.  In her will of 14 October 1737, Abigail Deculine again described herself as a widow without giving a husband's name, and left bequests, among others, to "my brother Joseph Clarke of Boston," to "Mrs. Grace Clarke the wife of my Cousin Jonas Clarke of Boston," and the residue to "Abigail Green the wife of Samuel Green of New London, Connecticut" [presumably related to her sister Sarah (Clark) Green].[1]
Six a.m., it was time for bed. Many unanswered questions left, but tracking Abigail (Clark) Degloon, etc., any further was not my present assignment. I slept peacefully because at least I had uncovered her married name and death and erased those annoying initials "n.f.r." – no further record – after her name.
Note
[1] Suffolk Co. Probate #7062, partially illustrated here.