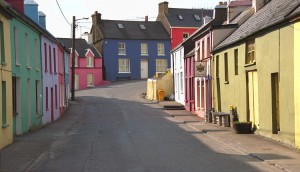 Many Americans are familiar with the popular and scenic Ring of Kerry in Ireland. They might be less familiar with a peninsula just to the south, in County Cork, called Beara. Those who are attempting to trace their roots to the Beara Peninsula are among the most fortunate genealogical researchers in the world, thanks to the monumental work carried out by a teacher (and genealogist, historian, footballer, and champion accordion player) named Riobard O'Dwyer. O'Dwyer, who was born in the U.S. to Beara parents but grew up in Beara, took it upon himself to study the families of the peninsula as comprehensively as possible. He spent the better part of his life visiting the localities of Beara, gaining access to and transcribing its (sometimes nearly illegible) church records, interviewing its residents, and examining the headstones of its cemeteries.
In 2009, O'Dwyer's three-volume, 2,000-plus-page Annals of Beara was published, making available genealogical sketches of thousands of Beara inhabitants and their descendants, including many of those living in other countries. The sketches are organized primarily by Catholic parish – Adrigole, Allihies, Castletownbere, Eyeries, and Glengarriff. Because the book does not have an index, it can require some fairly extensive browsing, even if you know the parish where a family lived. This lack of an index also presented a formidable challenge to us as we worked to produce a searchable database of these sketches. It took many months to create a name index for volume 1 alone.
In Beara, the most common surname by far is O'Sullivan. This name appears over 18,000 times in volume 1. Additional common surnames are Crowley, Harrington, Lynch, McCarthy, O'Driscoll, and O'Shea, among others. Huge numbers of emigrants left the Beara Peninsula, especially during the Famine, for the United States (as well as for Australia, Canada, England, and elsewhere), and therefore many American researchers are keenly interested in O'Dwyer's work. One particularly noteworthy migration journey was that of the copper miners of Beara who worked their way through places like Nevada, Pennsylvania, and Michigan to end up in the mines of Butte, Montana. These immigrants have been the subject of at least one book, two documentaries (Butte, America and From Beara to Butte), and a number of articles.
We are pleased to report that the database of volume 1 of Annals of Beara, as well as browsable images from volumes 2 and 3, are now available on AmericanAncestors.org and can be found here. Each sketch is a family group, consisting of husband, wife, and children – and quite often the children's spouses. In addition to dates of birth for the children – typically just month and year – many of the sketches include details on occupation, emigration, and other biographical information. The records in volume 1 range in date from 1776 to 1992, with the majority of records dating from the period 1822 to 1956. Volume 1 covers the parishes of Adrigole and Allihies, volume 2 contains Bere Island and Eyeries, and volume 3 includes Castletownbere and Glengarriff, as well as a history of the O'Sullivan clan.
NEHGS is also tremendously fortunate to hold the research papers of Riobard O'Dwyer, including the 155 composition notebooks in which he wrote the entries for his genealogical sketches, his transcriptions of church records and gravestones, and many other notes. The finding aid for this collection can be found here. Researchers may visit the NEHGS Library to explore the manuscript collection, or they may enlist the services of one of our researchers to consult the collection on their behalf. Our hope is that, like the Annals of Beara, the research papers will one day be made available online to benefit Beara descendants wherever they may reside.
Share this:

About Jean Maguire
Jean Maguire was the Library Director at NEHGS until 2020, responsible for overseeing the Society's library and special collections, including patron services; collection development, access, and preservation; and the Society's volunteer program. Jean joined the NEHGS staff in 1999 after receiving her Master's in Library and Information Science from Simmons College.View all posts by Jean Maguire →