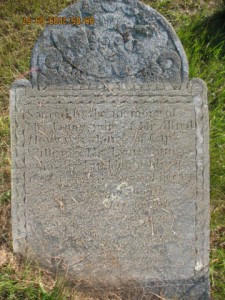 A practice I had utilized in a prior post, regarding New York state deaths appearing in Connecticut sources, has turned up in a new context. In the prior case, someone from Connecticut had died in New York, and her detailed death was recorded in a Connecticut newspaper, while no civil record of death was recorded locally, which is not surprising for New York State.
In this new case, I am working on an article for Mayflower Descendant on the Young family of Windham, Connecticut, which has descents from Mayflower passengers John Howland and Richard Warren. Several descendants are buried in Windham Center Cemetery, which has led to a few interesting scenarios in terms of finding information from gravestones. I'll describe three below:
The first is the death of Zephaniah Young, who died at Windham 4 April 1782. His gravestone appears on Findagrave with these photos:
Obviously a lot of the stone is in the earth. However, in 1917, many of the stones in this cemetery were transcribed in the Register. Zephaniah appears below:

This stone had a lot more to say! I'm grateful this transcription was undertaken nearly one hundred years ago!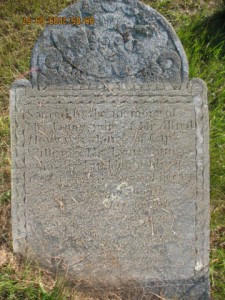 Still others have stones which remain above the ground, but sometimes the photographs are just impossible to read. At right is the stone of Zephaniah's sister Fanny, which was also uploaded on Findagrave.
I'm sure if I was physically at the cemetery, I could make out the stone. Thanks to the 1917 transcription, I don't have to:

But not every stone in this cemetery was transcribed in the 1917 series, and not every transcription is perfect. A place I frequently check for Connecticut gravestones is the same Charles R. Hale Collection I had searched in my earlier blog post for newspapers. These transcriptions go well into the early twentieth century. They are on microfilm on our fourth floor, and are digitally available on Ancestry.com. Zephaniah and Fanny's niece, Laura M. (Young) Lee, appears in the Hale Collection with her transcribed gravestone, which is also at Windham Center Cemetery: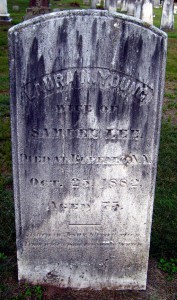 However in this case, that transcription did not tell the whole story, as her (legible) stone also appears on Findagrave. Obviously the Hale transcription left out the very useful information that Laura died in Buffalo, New York, despite having a gravestone in Windham, Connecticut.
I am very grateful for the existing online forums that allow us to post pictures of gravestones to share, as many older stones of our ancestors may be not be around for much longer. However, sometimes we will need to rely on older transcriptions when information on the stones has been lost to time and the elements. And then sometimes we will need to go back to the cemetery, in case the transcription was incomplete.