[Editor's note: Henry B. Hoff, C.G., F.A.S.G., is editor of The New England Historical and Genealogical Register. Excerpts from some of his Vita Brevis posts can be read below.]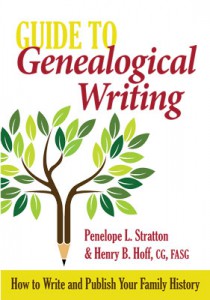 From Just how reliable is that source?: Many of us have been betrayed, genealogically speaking, by a source that appears to be reliable but is not. Often the source is reliable for the most part. But that fact gives you no comfort when the information in which you are interested turns out to be incorrect…
Often the betrayal is of our own making. We rely on a source to be complete and it isn't. For example, the Barbour Collection of Connecticut Vital Records does not cover all the towns in Connecticut or even all the records of the towns it includes – yet it is easy to forget these caveats and assume no record exists of a particular birth, marriage, or death. (See, for example, Chris Child's blog post on identifying Sally Latimer Goold.) Or we cite an index as a source, and later find out we were not quite right. An important example of this is Torrey's New England Marriages Prior to 1700. Torrey intended this only as a finding aid for researchers to consult the sources he cited and draw their own conclusions.
The moral of the story is to look for original records whenever possible – and be aware of the limitations of the sources you consult…
From Learning from our mistakes: A decade ago I had a luncheon talk entitled "My Ten Worst Mistakes in Genealogy." When the title appeared, Robert Charles Anderson commented, "and he updates it frequently!" In fact, I do update it, but now I separate the mistakes that did not appear in print or in a lecture from those that did. And I'm glad to say the former far outweigh the latter.
To avoid mistakes in the Register, I have a long checklist for each issue, which I update when I see mistakes elsewhere that I easily could have made myself. One of the mistakes I'm always trying to avoid is inconsistency, especially when one little part of an article is changed, and I don't see all the related pieces to change in the text and footnotes. The main problem is with the English language: singular vs. plural, tense, collective nouns, etc…
If relationships must be qualified by probably, perhaps, or possibly, it is important to present that doubt consistently, both in the text (including the lineage line back to the immigrant) and footnotes.
When there are multiple marriages among families and the same first names are used, the smallest inconsistency can create unexpected results. The article on Rebecca (Meriam) (Prescott) Parks in the October 2013 Register showed that two of her Prescott daughters married Williamson brothers, and two of her Parks children married Williamson siblings, who were first cousins of the Williamson brothers. These relationships only became apparent during the editing process.
Because genealogy is so heavy with detail, it is easy to make mistakes. I should know! And this is a good reason to submit your work to a journal like the Register that publishes additions and corrections, so that errors do not become a permanent part of the genealogical record.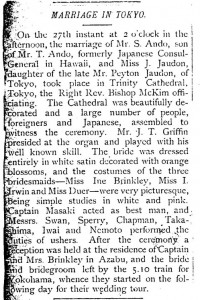 From Cousins and their connections: My father and his brother were the principal heirs of their father's second cousin (and friend) Emily Bennett. As a result, a box of her papers ended up in my parents' attic. The contents of the box included this undated and unattributed newspaper clipping. Current online research revealed that the clipping was from the Japan Weekly Mail of 30 November 1901, page 573.
I realized that "the late Mr. Peyton Jaudon" must have been related to Emily Bennett, whose mother was Maria Conrey (Jaudon) Bennett. Fortunately, a good Jaudon genealogy shows that the bride, Julia Ayamé Jaudon, and Emily Bennett were second cousins. Julia's father, Samuel Peyton Jaudon (1831–1897), a resident of Japan, had married Oshidzu Matsura – and Julia was their only child…
One of the interesting aspects of the Meiji period in Japanese history (1868–1912) was the large numbers of Westerners living in Japan – and the substantial number of marriages between Japanese and foreigners, which became legal under Japanese law in 1873...
As you see, there is a value – and an interest – in exploring the connections of one's connections!
Share this:

About Henry Hoff
Henry Hoff is Editor of the New England Historical and Genealogical Register and is a Fellow of the American Society of Genealogists as well as a Fellow of the New York Genealogical and Biographical Society. He is also a Certified Genealogist. His genealogical interests include New York and the West Indies. Henry is the author of more than 125 genealogical articles in numerous scholarly journals and is the co-author, compiler, or editor of seven books.View all posts by Henry Hoff →