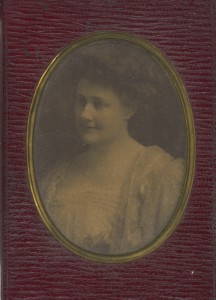 My grandfather's box of family papers continues to yield treasures – and some fresh mysteries. Among the former (and the latter) are a pair of small leather traveling photo frames: one, the larger, is maroon and holds a photograph of a middle-aged woman; the other (biscuit colored) shows an older man being circled by a dog.
I suspect that the subjects of this pair of photos are my Steward great-grandparents,[1] although it is certainly possible that the woman is not Daisy Steward (1861–1951) but one of her sisters: Katharine Livingston (Beeckman) Lorillard (1855–1941), Helen (Beeckman) Lyman (1858–1938), or Martha Codwise (Beeckman) French (1863–1951). The Beeckman sisters – like their grandmother and her sisters[2] – were famous beauties when young, and all of them looked very much the same in later years, as can be seen in a photo from my grandparents' wedding in 1927.
The lady's carrying case is stamped Vienna in gold, which is perplexing: if it were actually meant for the local market, one would expect it to be marked Wien. As for the gentleman, where is he? I thought the steps behind him seemed familiar, like the entrance to the Stewards' house in Goshen, but I don't think that's it. Perhaps the building is a hotel?
As Aunt Helen Lyman and Aunt Mattie French outlived their husbands and had no children of their own, their effects probably passed to their sisters and then their sisters' children: Louis Lasher Lorillard Jr. (1875–1938),[3] Campbell White Steward (1886–1960), Margaret Atherton Steward (1888–1975), Katherine Elizabeth (Steward) Johnson (1888–1969), Gilbert Livingston Steward (1898–1991), and John Steward (1902–1957). It seems entirely possible that a photo of Helen Lyman or Mattie French ended up with their nephew, my grandfather, both because he was often chosen as a family trustee and since he outlived all of his siblings, three of whom were themselves unmarried – and so the process of dividing up their effects among collateral relatives would have continued!
Continued here.
Notes
[1] Campbell Steward (1852–1936) married Margaret Atherton Beeckman in 1885.
[2] Catherine McPhaedris (Livingston) (Cuyler) Beeckman (1788–1863) was the older sister of Helen (Livingston) Smith (1789–1867), Martha (Livingston) Codwise (1791–1865), and Susan Maria (Livingston) Constable (1794–1830).
[3] Cousin Louis was my grandfather's godfather. In due course, my grandfather served as godfather to Cousin Louis' son, Louis Livingston Lorillard (1919–1986), a founder of the Newport Jazz Festival.
Share this:

About Scott C. Steward
Scott C. Steward has been NEHGS' Editor-in-Chief since 2013. He is the author, co-author, or editor of genealogies of the Ayer, Le Roy, Lowell, Saltonstall, Thorndike, and Winthrop families. His articles have appeared in The New England Historical and Genealogical Register, NEXUS, New England Ancestors, American Ancestors, and The Pennsylvania Genealogical Magazine, and he has written book reviews for the Register, The New York Genealogical and Biographical Record, and the National Genealogical Society Quarterly.View all posts by Scott C. Steward →