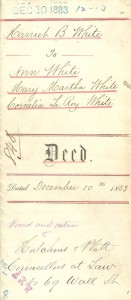 It's funny how family stories take shape. The story of my great-great-grandfather's business failure during the Crash of 1873, for instance: I had assumed (based on what information?) that the family at once retrenched, leaving their house on Fifth Avenue in a genteel retreat to my great-great-great-grandmother's household around the corner, at 13 West Twenty-first Street, and that it was here my great-grandfather grew up. Yet a glance at my notes on the 1880 Census indicates that, on 2 June 1880, John Steward was the head of a large household at 152 Fifth Avenue which included his sons, mother- and sisters-in-law, son-in-law, grandchildren, and several servants.[1]
Another document in my grandfather's box of family papers seems related to what happened next. In 1883, John Steward's mother-in-law Harriet Banyer (Le Roy) White was 86 years old; she died two years later, in Elberon, New Jersey. Perhaps the West Twenty-first Street house was rented in 1880, but the Whites certainly owned it at that date, since on 10 December 1883 Mrs. White sold it to her surviving daughters for $10; the deed indicates that Mrs. White (and her husband?) had bought the house from Mr. and Mrs. James B. Townsend on 16 November 1850.
In 1850, my great-great-great-grandfather John Steward (1777–1854) was in the process of building a new house, far uptown at the corner of "the" Fifth Avenue and Twenty-first Street: it was in this house that the younger John Steward and members of the White and Stuyvesant families were living in 1880. What could be simpler and cozier than for the members of my great-great-grandmother Catharine Elizabeth (White) Steward's family to move in around the corner, a few steps down Twenty-first Street from the new Steward house?[2]
By 1883, in view of her advanced age, Mrs. White felt the need to take steps to provide a permanent home for her daughters Ann White (1820–1914), Mary Martha White (1822–1903), and Cornelia Le Roy White (1825–1911). At some point in these years the Stewards gave up 152 Fifth Avenue and moved into the Whites' house on West Twenty-first Street: in 1890, my great-great-grandfather John Steward was a broker with an office at 96 Broadway, living at 13 West Twenty-first Street; he appears in the New York Social Register as late as October 1900 living with his son and daughter-in-law[3] in the West Twenty-first Street house.[4]
Between 1900 and 1910, the Whites and the Stuyvesants abandoned the West Twenty-first Street house and moved further uptown. The 1910 Federal Census[5] lists Ann White, 89, with her own income, living at 3 East Fifty-seventh Street in Manhattan with her sister Cornelia L., 85, and their great-nephew and -nieces Katherine, 44,[6] and Augustus, 39[7] (identified as servants), and Anna W. Stuyvesant, 38.[8]
So it appears that, while my great-grandfather Campbell Steward (1852–1936) did not live for long in the house at 13 West Twenty-first Street,[9] it was certainly well-known to him as the residence of his grandparents; his uncle and aunts; his brother and sister-in-law; and his brother-in-law, nieces, and nephew. I am unaware of any surviving photos illustrating the house's interior; on the other hand, the 1883 deed of sale includes my great-great-great-grandmother's signature – a nice bonus!
Continued here.
Notes
[1] 1880 Federal Census, T9_875, p. 281A.
[2] The 1850 Census for the household of John Steward Jr. (in Manhattan's First Ward) includes as visitors Mrs. Steward's father, Campbell P. White, 60, merchant and a native of New York [sic]; her brother John C. White, 33; and her sisters Ann, 28, Mary, 26, and Cornelia, 24. Campbell White appears twice in the 1850 Census: two weeks after his listing with John Steward Jr. he was found as the head of his own household (in the Third Ward) with his wife Harriet, 57, and their children John C., 33, broker; Mary, 24; and Cornelia, 22 (1850 Federal Census, M432_534, p. 51, M432_535, p. 413).
[3] John Steward (Jr.) and Cordelia Schermerhorn (Jones) Steward.
[4] New York Social Register 1901 (1900), p. 405. In 1900, my great-great-aunt Harriet Le Roy (Steward) Stuyvesant's children were living in the West Twenty-first Street house; the census page is damaged, so it is unclear who is listed as the head of the household, which included Goldsborough Banyer (the former John C. White), Ann White, Mary Martha White, Cornelia Le Roy White, and John Steward (1900 Federal Census, T623_1111, p. 9A).
[5] 1910 Federal Census, T624_1043, p. 144B.
[6] Catharine Elizabeth Steward Stuyvesant (1865-1924).
[7] Augustus Van Horne Stuyvesant Jr. (1870-1953).
[8] Anne White Stuyvesant (1871-1938).
[9] He married my great-grandmother in January 1885, fourteen months after Mrs. White sold the house to her daughters.
Share this:

About Scott C. Steward
Scott C. Steward has been NEHGS' Editor-in-Chief since 2013. He is the author, co-author, or editor of genealogies of the Ayer, Le Roy, Lowell, Saltonstall, Thorndike, and Winthrop families. His articles have appeared in The New England Historical and Genealogical Register, NEXUS, New England Ancestors, American Ancestors, and The Pennsylvania Genealogical Magazine, and he has written book reviews for the Register, The New York Genealogical and Biographical Record, and the National Genealogical Society Quarterly.View all posts by Scott C. Steward →