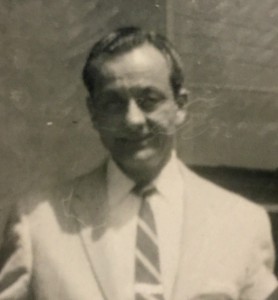 When I contemplated the subject of my first post, I decided that I should write about the person who sparked my genealogical interest in the first place: my paternal grandfather, Adrian Sidney Todd. Adrian died young, and I never had the chance to meet him, so I thought I would use genealogy to see what I could find out for myself. He was born 6 February 1918 in Georgia to Adrian Sidney and Susie (Stanley) Todd, and served in the U.S. Marine Corps in both World War II and Korea. On 6 September 1957, in Los Angeles, he married Nancy Elaine Sustersic, a spunky redhead from Indiana.[1] I was fascinated by how these two wound up connecting on the West Coast, so I dug a little deeper. In the 1959 Long Beach, California City Directory I located Adrian and Nancy residing at 229 Truman Boyd Manor.[2]

In 1959 my dad and his twin brother would have been just over a year old, and their younger sister, my aunt, was born later that year. So it seemed like I had found what may have been their first home. This was also the year in which Adrian died from complications following an accident, so this would have been the last place where they were a complete family unit. I wanted to know more about this residence that held such significance for my family, so armed with a house number, I began my research.
The Truman Boyd Manor was a building project incorporated by the United States Government for the use of defense workers and their families. It was named in honor of Truman Boyd, son of American Gold Star Mothers' president, Eleanor D. Boyd, who had been killed in service.[3] The organization acquired the property in 1953 for the parents of World War II victims and renamed it the American Gold Star Home.[4]
The majority of the pictures I have found so far were taken after this acquisition. They depict modest but cozy units furnished with modern amenities and surrounded by lush Californian greenery.[5] While the Mothers surely made some renovations, when I look at these pictures I still feel I am getting a sense of the daily rhythms of life for Adrian, Nancy, and their children. Learning more about the history of the Truman Boyd Manor and the American Gold Star Mothers has also given me a chance to situate them more securely both within their own time and American history more broadly.
After my grandfather died, my grandmother took her children home to her mother Hildur Priester in Illinois; later the family lived in Wisconsin. The California sojourn was a brief one, lasting only two years or so, but any account of it must include Adrian and Nancy's time at Truman Boyd Manor.
City directories, public records, and census rolls are common sources that we stumble across in genealogical research, but the addresses they contain are more than just a combination of letters and numbers. The next time you notice an address in your ancestor's record, it might be worth the effort to learn a little about the history of that space. You might come across your own connection to Truman Boyd Manor!
Notes
[1] Ancestry.com. California, Marriage Index, 1949-1959 [database on-line]. Provo, Utah: Ancestry.com Operations, Inc., 2013.
[2] Ancestry.com. U.S. City Directories, 1821-1989 [database on-line]. Provo: Ancestry.com Operations, Inc., 2011.
[3] "Brown v. Memorial Nat. Home Foundation," Justia US Law, http://law.justia.com/cases/california/court-of-appeal/2d/162/513.html.
[4] "Gold Star Home", American Gold Star Mothers, Inc., http://www.goldstarmoms.com/Resources/GoldStarManor.htm.
[5] Holly S. Fenelon, That Knock at the Door: The History of Gold Star Mothers in America (Bloomington, Ind.: iUniverse, 2012).