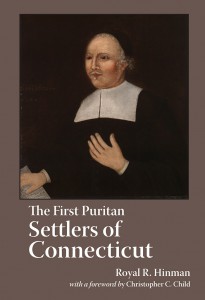 Other than Vermont, the five New England states had significant European-derived settlements in the early colonial period. In late nineteenth and early twentieth centuries, "genealogical dictionaries" were produced for the states of Rhode Island,[1] Massachusetts,[2] and Maine and New Hampshire (together).[3] Such a dictionary was not completed for Connecticut, but Royal Ralph Hinman had made an earlier attempt in the mid-nineteenth century which can serve as an initial reference when researching seventeenth-century families of Connecticut.
A Catalogue of the Names of the First Puritan Settlers of the Colony of Connecticut is Hinman's "first attempt" at such a catalogue. It was published serially in five numbers beginning in 1846 and ending before 1852. Hinman did not write the volume entirely as a "dictionary," but more as a variety of lists and other items.
In 1852, Hinman started publishing a similarly-titled volume, A Catalogue of the Early Puritan Settlers of the Colony of Connecticut (the only difference being his replacement of the word First with Early). This work was certainly Hinman's attempt at a more straightforward dictionary of families in Connecticut, with many families being brought down nearly to the present time (although with no sources). The first four numbered sections go only through the surname Danielson, however, and in 1856 he jumped ahead to the letter H with A Family Record of the Descendants of Sergt. Edward Hinman, which is paginated as if it is a continuation and labeled "No. 5." Then Hinman abandoned the second catalogue project. He moved from Hartford to New York City and died in 1868. His papers were given to NEHGS and organized by Anson Titus into eleven large folio volumes, which contain valuable information "obtained from manuscripts since lost, and some of it from the recollection of persons now dead."[4]
Had Hinman continued with his "second attempt," the result would be a more standard Connecticut genealogical dictionary. But the earlier work, his first attempt, with lists for the entire alphabet, is our best general reference for early Connecticut genealogy.
Two overall lists are given in this volume, "First Settlers of the Colony," from pages 12 to 109 (going from A–Y), with an appendix (pages 110 to 159) containing additions and corrections. A second list, with surnames from A to W, follows the appendix, on pages 182–247. Together, these lists serve as a reference to all of Connecticut. While generally focused on the seventeenth century, they mention occasional events in the eighteenth century. Because sources are generally not given, the researcher needs to infer the primary records Hinman consulted – probably original state and town records that he had immediate access to, having lived in Hartford and served as the Secretary of State of Connecticut from 1835 to 1842.
The remainder of this volume includes lists generally relating to Connecticut: for example, a short piece on chimney viewers; town-centric lists relating to first settlers of Windsor, Hartford, Wethersfield, and Enfield; a list of Mayflower passengers; a transcription of the tobacco law of Connecticut in 1647; and a list of officers of the first general court.
Adapted from the foreword to Hinman's First Puritan Settlers of Connecticut.
Notes
[1] By John Osborne Austin.
[2] By Charles Henry Pope.
[3] By Charles Thornton Libby, Sibyl Noyes, and Walter Goodwin Davis.
[4] Proceedings of the New England Historic Genealogical Society at the Annual Meeting, January 4, 1888, p. 26.
Share this:

About Christopher C. Child
Chris Child has worked for various departments at NEHGS since 1997 and became a full-time employee in July 2003. He has been a member of NEHGS since the age of eleven. He has written several articles in American Ancestors, The New England Historical and Genealogical Register, and The Mayflower Descendant. He is the co-editor of The Ancestry of Catherine Middleton (NEHGS, 2011), co-author of The Descendants of Judge John Lowell of Newburyport, Massachusetts (Newbury Street Press, 2011) and Ancestors and Descendants of George Rufus and Alice Nelson Pratt (Newbury Street Press, 2013), and author of The Nelson Family of Rowley, Massachusetts (Newbury Street Press, 2014). Chris holds a B.A. in history from Drew University in Madison, New Jersey.View all posts by Christopher C. Child →