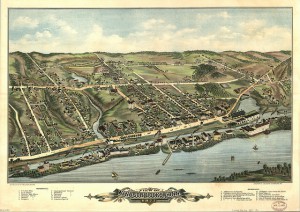 I was recently searching The American Genealogist for information and found an article titled "Tradition and Family History."[1] The article's opening lines are: "Tradition is a chronic deceiver, and those who put faith in it are self deceivers. This is not to say that tradition is invariably false. Sometimes a modicum of fact lies almost hidden at its base." As a researcher, I have done quite a few cases that involve family traditions, and the article made me think about some of the stories that I have been told about my family.
The earliest story that I can remember involves my great-great-grandfather, who was a constable in Windsor, Connecticut. The family story that I heard in elementary school was that he was involved in the investigation of Amy Archer-Gilligan, who ran a boarding house in Windsor and was convicted of murdering boarders with arsenic. Her case is cited as the inspiration behind Arsenic and Old Lace. I was in fifth grade when I first heard this story as part of a class project to create our family trees.
Once I got into researching my family genealogy, I paid special attention to verifying this story. In all of my research, I have been unable to clearly tie him to the investigation, but I've also found that he was much more interesting than his possible connection to this one event. During Prohibition, his name appears all over the local papers because he led raids on illegal stills. My favorite picture of him, which hangs in the Windsor Historical Society, shows him sitting with some of the stills he confiscated in the raids. Although I have not found proof of his connection to the Archer-Gilligan case, I was able to locate other information that I might not have found if I had not been looking for the truth to the family story.
Another story that surprised me came from my grandfather about what his father went through during the Great Depression. My grandfather was only about 10 years old when the Depression ended, so I was expecting him to repeat what I already knew. I had already heard that the family was poor and was on the verge of losing everything. What I got was a detailed 30-minute story describing just about everything that his father did during the Depression. It was more than I expected, with details such as who the town clerk was and who had loaned his father money.
However, being a "doubting Thomas," as my mom once described me, I had to investigate everything that my grandfather told me. I went to the Windsor Locks Town Hall and spent an entire day poring over the land records to search for the evidence that would back up the stories. To my surprise, everything I was told could be verified in the land records, plus there was additional information that my grandfather did not mention. I was most surprised that my grandfather knew the exact amount of money that his father had owed on all of his mortgages. I was glad that I had heard the story from my grandfather and investigated it. Once I had all of the deeds abstracted, I laid them out in the order of the events and I would have had a hard time understanding what the big picture was without the background story.
I could have easily taken these stories at face value, but I would have missed out a much larger understanding of who my ancestors were. In my notes, I could have said that my great-great-grandfather was a constable, but I would not have known what that meant for him. I would have also missed how larger world events have shaped my family. Without knowing the full story, my great-grandfather's actions would have seemed like normal transactions. I can point to things that my great-grandfather did during the Depression that have allowed me to do certain things, and I'm thankful that I have the whole story. So the next time you hear a family story, investigate it no matter how inconsequential or silly it may be. You never know what you will find once you begin looking for that "modicum of fact."
Note
[1] Online database. AmericanAncestors.org. New England Historic Genealogical Society, 2009 – ., vol. 9, pp. 1-4 <americanancestors.org/databases/american-genealogist-the/image/?pageName=1&volumeId=11858>