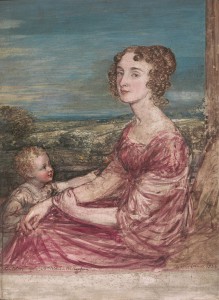 News of King Richard III's reburial last week was interesting, especially the stories regarding descendants of the King's sister, who each placed a white rose (the House of York's emblem) on his coffin. These four living relatives (Canadian siblings Michael, Jeff, and Leslie Ibsen, and Australian-born Wendy Duldig) have been called Richard's "closest descendants" in various news articles. Let's examine this claim.
Millions of living people—including both the Queen and the Duchess of Cambridge—share about this same degree of kinship to Richard III: descent from one of his siblings. (The Queen and Kate both descend from Richard's brother Edward IV.) The Ibsens and Wendy share matrilineal (all-female) descent from Richard's sister Anne of York (d. 1476). Michael and Wendy—identified after years of work by Ricardian researcher Dr. John Ashdown-Hill—contributed mtDNA, which matched that of the battered skeleton in the Leicester car-park. Michael, a carpenter, built Richard's oak coffin. The Ibsens and Wendy are the only living female-line descendants of Richard III's sister Anne of York so far identified, but as my long-time friend and colleague and matrilineal expert Julie Helen Otto notes, "Because female descents become so obscure, so quickly—changing surnames every generation—it's not completely impossible that other female lines [from Richard's sister or maternal aunts] exist today."
Over the years Julie has prepared a rather extensive "Ricardian matrilineage," entitled Mater Ricardiana [Mater Roëtiana], following up on work by the late William Addams Reitwiesner. Given Richard's recent press, I thought it would be interesting to point out some "fun" connections among the King's matrilineal kin.
Richard's earliest known (but unnamed) matrilineal ancestor was his great-great-grandmother, the "Dame de Roët," who by, say, the early 1350s had two daughters (Katherine and Philippa) by her husband Sir Gilles alias Paon de Roët—a knight from Mons in Hainaut, Belgium, who came to England, probably in the service of Edward III's Queen, Philippa of Hainaut.
Philippa de Roët married the poet Geoffrey Chaucer; their two daughters became nuns. At court, respectably married Katherine (de Roët) Swynford (familiar to readers of Anya Seton) became the mistress, and later the third wife, of John of Gaunt, Duke of Lancaster. Katherine Swynford's daughters apparently died without issue, so the Dame de Roët's known matrilineal line descends through Katherine and John of Gaunt's only daughter, Joan Beaufort, Countess of Westmoreland (c. 1379–1440).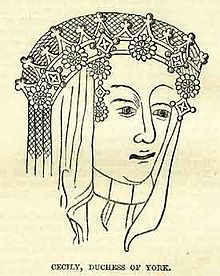 Among Joan Beaufort's seven daughters was survivor extraordinaire Cecily Neville, Duchess of York (1415–1495)—mother of twelve children. Ten children predeceased her, including Kings Edward IV and Richard III, and Anne of York. Cecily's grandchildren included King Edward V and Richard, Duke of York (the "Princes in the Tower"), and their sister Elizabeth of York (d. 1503), Queen Consort of Henry VII Tudor, and ancestor of all subsequent English monarchs.
The chart shown here illustrates the matrilineal descent of Wendy, the Ibsens, and the wife of William Wilberforce (1759–1833), English politician and anti-slavery crusader.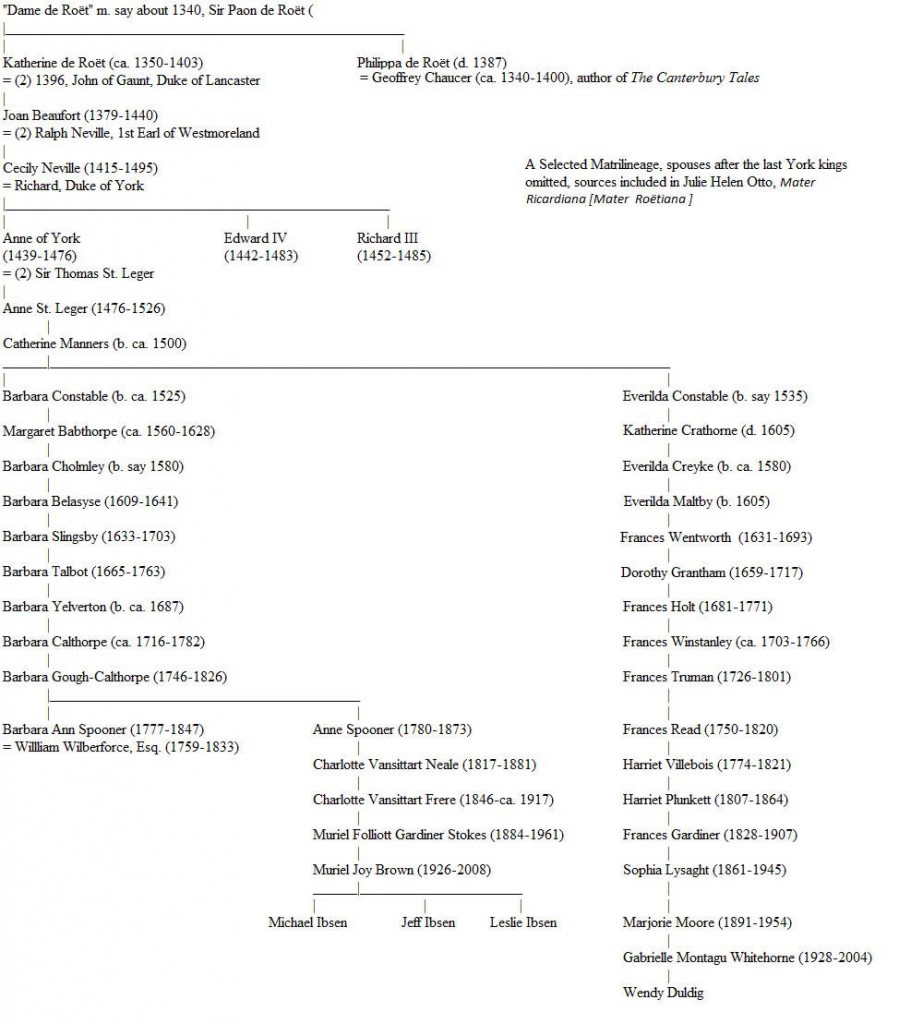 One "near-matrilineal" kinship concerns a recent Newbury Street Press publication both Julie and I were involved with—The Nelson Family of Rowley, Massachusetts, treating descendants of the brothers Thomas and Philip Nelson of Rowley. The Nelsons' English ancestry includes numerous royal connections through their maternal grandfather, Philip Stapleton (b. say 1578). Philip was a matrilineal descendant of Joan Beaufort through her daughter Eleanor Neville; he was also a descendant of Richard III's sister Anne of York through the same Constable family ancestral to Wendy and the Ibsens. The Nelson chart shows this American family's Yorkist connections.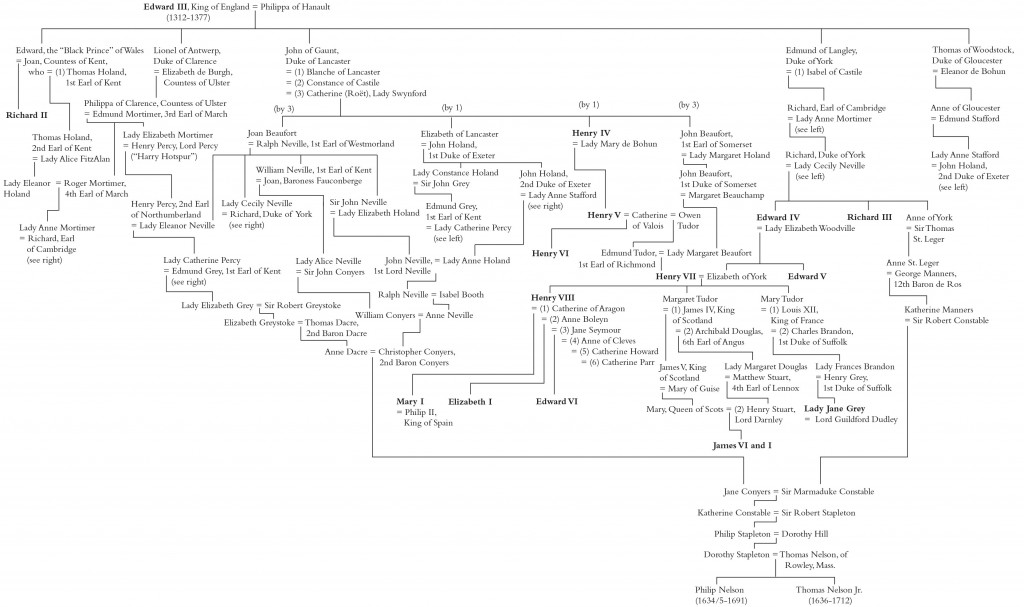 Matrilineal work is fun and challenging, and extremely interesting to apply to a newsworthy case like this one.