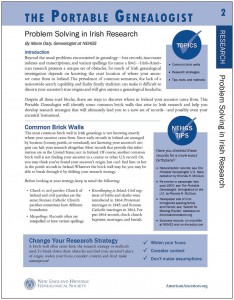 It's St. Patrick's Day! What better time to review NEHGS resources — both in print and online — that can help you research your Irish ancestors? Irish research offers particular challenges, largely owing to the destruction of many records in a 1922 fire at the Public Record Office in Dublin.
One great resource for getting you started is the Portable Genealogist Problem Solving in Irish Research, written by Marie E. Daly (who herself is a valuable NEHGS resource for Irish research). Marie notes that "the prevalence of common surnames, the lack of a nationwide search capability, and faulty family tradition can make it difficult to discern your ancestor's true origins and will give anyone a genealogical headache." To help readers, the guide identifies common brick walls that you might encounter and helps you identify research strategies. For instance, a little checklist notes records for determining a more exact birthplace. The guide also addresses some common assumptions that prevent researchers from moving forward with their Irish research.
Marie is also behind the Irish Genealogy subject guide at Online Learning Center at AmericanAncestors.org. Here you'll find information on where to find census records, census substitutes, church and vital records, and useful maps and atlases as well as links to other useful sources. The subject guide another great starting point, but it will be helpful even if your Irish research is well underway.  Beginning tomorrow, Marie will also be teaching the online course Irish Genealogical Research. Open to NEHGS members, the three-week course still has a few slots available.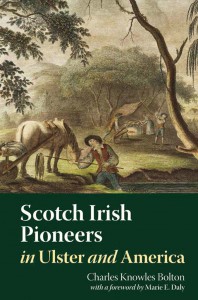 And if your ancestors may have been, or are known to have been, part of the eighteenth-century "Scots-Irish" exodus from Ulster to America, the NEHGS reprint of Charles Knowles Bolton's Scotch Irish Pioneers may come in handy. Bolton cites court records, newspapers, correspondence, and other primary sources and provides specific details about immigrant communities in New England, Pennsylvania, and South Carolina. In her foreword to the NEHGS reprint of this book, Marie (there she is again!) notes, "This enduring study of the earliest mass migration of Irish to America remains an important source for twenty-first-century researchers. . . . Bolton culled through early American newspapers to locate the arrival of ships from Ireland bearing passengers for New England. He combed state and local archives, viewed correspondence, and reviewed town records to assemble his data. . . . He located the Irish residences of immigrants and included drawings of the houses."
So don't be discouraged — once you know where to look for your Irish ancestors, they won't seem as elusive as that fabled pot o' gold.