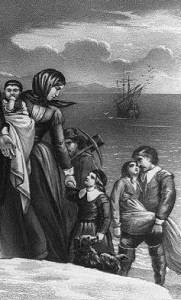 I'm in the middle of doing some research for a lecture that I'll be giving in April at NEHGS entitled "The Hand that Rocked the Cradle." It will use an informal statistical sampling of the women who have been included in the Early New England Families Study Project so far to see if we can form any general pictures about these ladies and their families. Preliminary statistics are interesting.
The gross totals: 88 women who had 116 husbands, 608 children (an average of about 7 each) and 174 step-children. I think that is what they call "populating a wilderness!"
On average these women were born about 1620, came to New England about 1636 (about age 16), were married for the first time about 1640 (age 20), and lived to about 1682 (age 62). Those who had multiple marriages averaged age 41 for the second marriage (22 women), 46 for the third (4 women), and 42 for the fourth (1 woman).
The youngest at first marriage was 15, oldest at first marriage, 32. The woman who lived to the greatest age was 97, and the one who died the youngest was 21.
These women were wives, mostly, of the second generation Great Migration sons who came to New England with their parents, and, themselves, came to New England during the Great Migration with their own families, or as servants to extended family or to families who were often neighbors in their society or church at home.
An example of an "average" woman in this group is Elizabeth (Baker) (Watkins) Hudson. She was younger than average when she came to New England, only 3 when her parents Alexander and Elizabeth Baker came to Boston, but she married first to Thomas Watkins at about age 20 and had seven children before being widowed at age 57. She was 63 when she married her second husband, Francis Hudson (who was 77), as his second wife (his first having died the year before), and became step-mother to his four grown children. Elizabeth died two years later at age 65.
For me the most interesting statistic is the average birth year of these women, 1620. They were born, almost literally, as the Pilgrims were stepping on Plymouth Rock, and their entire childhoods would have been spent among families talking about, planning, and executing their removal from the old world to the new. They would have had no choice about coming to New England, but did they see it as a great adventure or were they sulking teenagers? I know that I would have been one of the sulking teenagers. I get seasick and I hate sleeping on any mattress but my own.