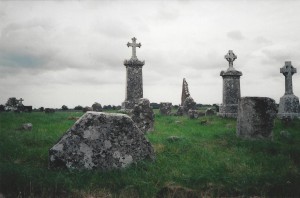 My interest in genealogy was sparked by a request from my father: he wanted my help in finding information on his paternal grandparents. My father did not know their names, but he had heard that they were from Ireland. My grandfather died when I was young, and his only living sibling didn't want to talk to us about her parents because it was "all in the past," so I began my search by obtaining a copy of my grandfather's birth record. I couldn't wait to tell my dad the names of his father's parents, which were listed on that birth record: Thomas Curley and Margaret Glennon.
From there I began to gather information on this family, searching census records, city directories, and vital records to find out what became of my father's grandparents. I learned that my grandfather was the youngest of ten children. His mother Margaret (Glennon) Curley died of typhoid fever when he was two years old, and his father died of pneumonia ten years later. After Margaret died, the children were sent to live with various family members. I now had a clearer idea as to why my great-aunt did not want to talk to us about her parents. She was only eight years old at the time of her mother's death. I can only imagine the loss she felt by losing her mother and being split up from the rest of her family.
Over the course of my research, I discovered that several of Margaret (Glennon) Curley's siblings also immigrated to the United States and settled in Roxbury, Massachusetts. I looked for records pertaining to these family members and located her brother Timothy Glennon's naturalization record, which listed his place of birth as County Roscommon in Ireland. I was thrilled to finally have a lead regarding my great-grandmother's birthplace. I searched various County Roscommon church and civil records and was able to determine that Margaret (Glennon) Curley was born in Onagh, Taughmaconnell Parish. I posted an inquiry at the Glennon Family Genealogy Forum, thinking that I might be able to connect with a descendant of one of Margaret (Glennon) Curley's siblings who had immigrated to the United States. However, I was surprised to receive an email from an individual named Vincent Glennon from Taughmaconnell Parish who saw my post.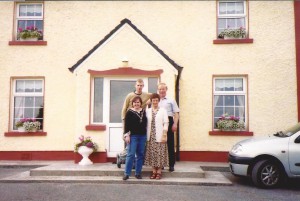 He informed me that he was the great-grandson of one of Margaret (Glennon) Curley's siblings who had remained in Ireland. Luckily, I was about to go on a trip to Ireland with a friend, so we made plans to meet during my vacation. During my trip I spent a day in Taughmaconnell Parish with my newfound Glennon cousins. They showed me the property where Margaret (Glennon) Curley and her siblings grew up, as well as the childhood home of her mother, Anne (Galvin) Glennon. They brought me to the old parish cemetery, showing me the headstones of various Glennon ancestors, and we spent a few hours sharing family stories. Motivated by my visit with the Glennon family, I returned home and continued to search for the birthplace of Thomas Curley. I later discovered that he was also born in Taughmaconnell Parish. Again I had the good fortune of being contacted by a distant Curley cousin from Ireland who was also researching this family, and was able to learn more about my great-grandfather's family.
I have enjoyed researching various lines of my family over the years, but my research on the Glennon and Curley families has been the most meaningful to me. It was an amazing experience to stand on the same land in Ireland where my great-grandmother Margaret (Glennon) Curley and her family once lived. More importantly, my father went from not knowing the names of his paternal grandparents to connecting with members of the Curley and Glennon families who were once unknown to us. My father and I have talked about taking a trip together to visit these family members in Ireland, since he has not been to Ireland since I started my research. I look forward to sharing that experience with my dad.