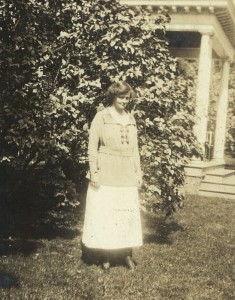 Most families have one: the family historian. Whether or not the focus is genealogical, there is usually at least one family member who keeps track of siblings and cousins, sometimes to the nth degree. My father's family had one in my great-aunt Margaret Steward (1888–1975). I do not remember meeting her, but I've been told I take after her, at least in so far as the mantle of family genealogist passed from her to me when I was still in middle school.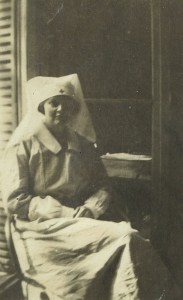 Aunt Margaret was born in New York City, and raised there, upstate in Goshen, and in Europe. Her parents certainly expected her to marry, but she – like two of her brothers – chose not to, and fell into the role of companion for her father and mother. During the First World War, following in the footsteps of several older family members, she went to France to work in a canteen outside Paris, one that served the Allied troops away from the front lines. Afterwards, and for many years to come, she lived in Manhattan, traveling with some frequency during the 1920s and '30s.
She became an officer of Lighthouse for the Blind, and I gather she played a lot of bridge, but Aunt Margaret's interest in the genealogy of the Steward, Beeckman, White, Atherton, Jackson, Livingston, and Le Roy families was another constant in her life. At one point she hired Harold Hazelton (1904–1991) to document her ancestral families, perhaps with a book in mind; curiously enough, and many years later, the boxes with Hazelton's research notes came to me – they hadn't been in Aunt Margaret's possession when she died.
One thing I noticed in her research was its focus on the male (or surname) line. The notion we have today of "all-my ancestors" research meant something different in the days before the Internet: once a wife's surname was lost, there was no way other than happenstance to pick it up again. For example, an ancestress on the Atherton side appeared in print repeatedly as Rebecca (Jennison) Prentice, but while she was the Widow Prentice when she married Dr. Israel Atherton, she was born Rebecca Stevens in Harvard, Massachusetts. Rebecca's marriage in nearby Groton to Stanton Prentice gives her maiden name, but her marriage to Dr. Atherton in Lancaster did not, and the genealogical scribes could only try their best to establish her identity. Now, with so many resources readily at hand, some of Aunt Margaret's questions are more easily answered.
I like to think that Margaret Steward would enjoy seeing what I've done with her work (and Harold Hazelton's), and what I've added to the common fund of information about our related families. And I am beginning to think about my own successor: after all, I have a niece and two nephews, and my first cousins have more than a score of children between them. Perhaps, one day, a niece, a nephew, or one of those myriad Steward cousins will pick up the loose threads in my work and weave them into something else again!