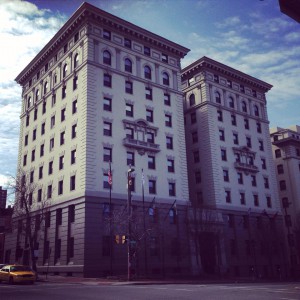 I have written here before about the family of my maternal grandmother, Pauline Glidden Bell (1903–1968), who died when I was a small boy – I only just remember her. With her, one could say, died a part of my family history, although in fact her daughter and her husband both died in 1994, when I was an adult. Grandmother's brother and sister outlived her, and I'm sorry I never met Uncle Ted or Aunt Miriam in person. Still, a lot of Glidden family stories came down to me through my mother, and I wish I could have discussed (and checked!) them with my grandmother.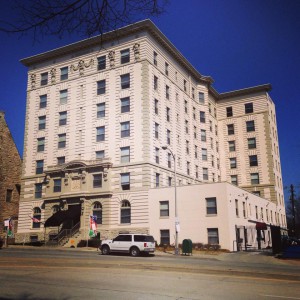 Because my Great-Grandfather Glidden died before my mother was born, she had a rather vague sense of his biography. As I've mentioned, I began a project about a year ago to find a photograph of Edward Hughes Glidden (1873–1924); in the process, I amassed a large archive of information about his career, including many images of his oeuvre. What I found was that, as an independent architect in Baltimore, he worked in many styles and on many different structures, from the first public convenience in the city to the site plan for the Cathedral of the Incarnation. He specialized in apartment houses: I've been able to document about twenty-five of these buildings, beginning with the Mount Royal Apartments (1900) and concluding – I think – in 1922, with the Essex Arms Apartments in Roland Park.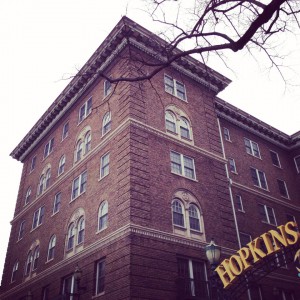 My great-grandparents were living at the Mount Royal in 1901, when Uncle Ted was born; they moved into the Cecil Apartments (1902) in time for my grandmother's birth in 1903 and Aunt Miriam's in 1904. After Glidden and his partner Clyde Nelson Friz built the Homewood Apartments (1910–11 and 1912–13) – now part of the Johns Hopkins University campus – the Gliddens lived in the building: my grandparents married in the family apartment there in 1925.
Still later, my great-grandmother (Pauline Boucher Glidden [1875–1964]) moved into the Canterbury Hall Apartments (1912–13), another Glidden & Friz commission, and it was there that my grandparents were living when my mother was born – indeed, Canterbury Hall was my mother's main address until she was a teenager, as my grandfather's service in the Navy kept the family on the move.
Until I went down to Maryland to photograph these Glidden buildings (and others), I could not visualize these details about my grandmother's Baltimore background. It was by driving through these neighborhoods and walking around my great-grandfather's buildings that I got a sense of some of the emotion behind my mother's stories, stories of long-ago aspiration as well as hurt. I feel fortunate to have these addresses and many of these buildings to help situate my mother, and her mother, in a history that now stretches back over three centuries.
ETA images of some of the buildings mentioned in the comments: