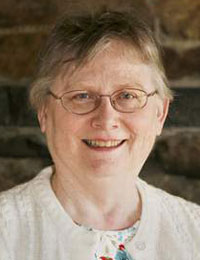 Readers have asked for Early New England Families Study Project sketches for the ladies. Because genealogy is traditionally oriented to the male surname – and if a wife has only one husband – "reversing" his sketch for her would not include any more information. With 35,000 sketches to do, that is unneeded redundancy.
However, there are exceptions to every rule. In the cases where a woman has married more than one husband and has children by both (or more), then her sketch will contain different information from her husbands' sketches. Thus to completely cover a family, sketches are needed for the husbands and the wives who connect them. Three new sketches have been posted on the website for three of these wives and a fourth is in progress. It is quite interesting what a change of view can do for our understanding of what it was like to be a wife and mother in seventeenth-century New England.
The three sketches that have been posted are for Abigail (Stansfield) (May) Johnson [wife of Samuel May and Humphrey Johnson], Elizabeth (Newgate) (Oliver) Jackson [wife of John Oliver and Edward Jackson], and Elizabeth (Fones) (Winthrop) (Feake) Hallett [wife of Henry Winthrop, Robert Feake, and William Hallett]. The latter Elizabeth is, of course, "The Winthrop Woman," whose life has been celebrated in a novel and includes being widowed at age 21 with a two-month old child, being married to a man who went insane, obtaining a disputed divorce, and cohabiting with the man who became her third (claimed) husband. Her sketch combines what has already been posted in the Early Families sketch about her first husband, with additional detail on her succeeding two husbands and her children by them – a total of 11 pages just for her! Her second husband was already treated in Great Migration, and her third will eventually have his own Early Families sketch based on his marriage date to Elizabeth in 1648. While all of these sketches overlap, each provides a different combination of information.
The lady in progress is Elizabeth (Hawkredd) (Coney) (Mellowes) Makepeace [wife of John Coney, Oliver Mellowes, and Thomas Makepeace]. She had children by all three husbands, the latter two of whom had children by other wives. At the time of her third marriage, there were sixteen children in her combined family, probably all under the age of 21, to which she and Thomas added two more.
If I have counted correctly, these four ladies were the mothers of 36 children (not all of whom survived) and stepmothers of 22 children of their ten spouses' previous marriages. Talk about populating a frontier!