Anyone who has researched genealogy knows that names can be spelled many different ways across a variety of records. I once found twelve different spellings of one family's surname during a research project here at NEHGS. Recently, in my own personal family research, I've realized that another problem can occur when names are shortened across the generations.
My father's side of the family is Greek. My brother and I made our annual visit to the Woodbrook Cemetery in Woburn, Massachusetts, to view our Greek family gravestones on the anniversary of my grandmother's passing. As we looked over the various generations in the family plot, it occurred to me that some generations in my family had shortened our last name, and some had not.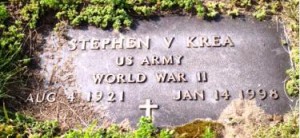 My great-grandfather's name was Victor Michael Kreatsoulis.
My grandfather's name was Stephen Victor Krea (pronounced "Kray").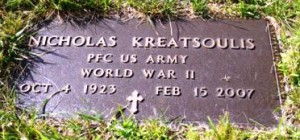 My grandfather's brother's name was Nicholas Kreatsoulis.
How could my grandfather's name be Stephen Victor Krea, while his brother's name was Nicholas Kreatsoulis? The only explanation I could think of was that, at some point, my grandfather changed his name officially.
Recently, while visiting my family, my father showed me his birth certificate, which lists his last name as Kreatsoulis. How could my father's name be Kreatsoulis when his father's name had been shortened to Krea?
When asked about an official name change made by my grandfather, my father said no, there was nothing official about it: My grandfather owned a restaurant, one in which my grandmother and father worked. My grandfather eventually got tired of writing the 11-letter last name of "Kreatsoulis" on all of his checks and financial papers, so he began only writing the first four letters, "Krea." When my father was born, his official birth certificate said "Kreatsoulis," but his parents were using the name "Krea."
My brother and I are the first members of our side of the family to have the official name "Krea" on our birth certificates. My son, recently born, is the second generation to officially have that last name. Realizing that names can change (or not be changed!) throughout generations is something to remember in one's research.
Share this: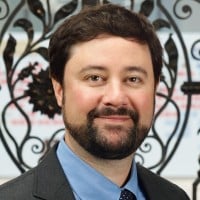 About Andrew Krea
Andrew Krea holds a B.A. in English Literature from Brandeis University, in Waltham, Massachusetts, and a Master's Degree in Library Science from Simmons College in Boston, Massachusetts. He has previously interned at the Massachusetts Historical Society. His areas of interest and expertise include New England research, specifically genealogies dating back to the inception of the Massachusetts Bay Colony, and researching and writing historical narratives of family genealogies.View all posts by Andrew Krea →