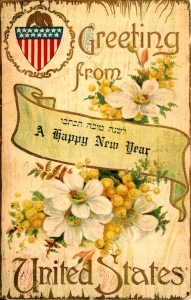 As we approach the Jewish holidays of Rosh Hashanah and Yom Kippur, I was reminded of a variety of early twentieth-century Rosh Hashanah postcards that I had seen in the collections of the American Jewish Historical Society–New England Archives. I remembered how detailed, ornate, and beautiful many of them were, works of art really, so I thought it would be fun to share some of them with all of you as the holiday approaches.
First, here is a brief note for those of you who may not be familiar with this particular Jewish holiday. Rosh Hashanah, the Jewish New Year, is this year celebrated from the evening of September 24 to the evening of September 26. It is a time for prayer and reflection on the past year, one which families celebrate through the eating of symbolic foods, most recognizably the dipping of apples into honey to represent the hope of a sweet year ahead.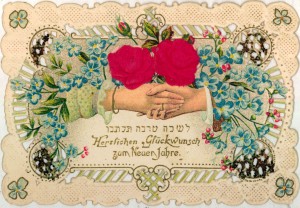 The tradition of Rosh Hashanah cards traces its origins back to the Middle Ages, although it gained particular popularity in the United States and certain places in Europe in the late nineteenth and early twentieth centuries. Common imagery for Rosh Hashanah cards can include flowers, or, due to the holiday's season, autumnal patterns. They can also include more religious pictures such as a lamb on an altar – reminiscent of the story of the sacrifice of Isaac, which is read on the second day of Rosh Hashanah – or even sometimes a menorah. The written messages can be in Hebrew, English, Yiddish, or German, as well as other languages, and typically refer to good wishes for the year ahead with phrases such as "Good luck" or "Best wishes." Another popular sentiment is "May you be inscribed in the book of life," a reminder that the holiday is a time of preparation and prediction for the coming year.[i]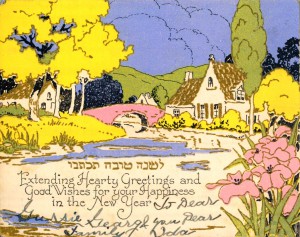 The antique postcards in the collections of the American Jewish Historical Society–New England Archives mostly date from 1900 to the 1920s. Many of these postcards have intricate floral designs and fret work, and some have been embossed with silk to add further detail. Additional flourishes, done by hand, include painted petals, gold borders, and added sparkles.
In celebration of Rosh Hashanah, here are some examples of holiday postcards from The Wyner Family Papers and the collections of the Jewish Heritage Center of the North Shore held at the American Jewish Historical Society–New England Archives. L'shanah tovah!
[i] http://www.jewishvirtuallibrary.org/jsource/judaica/ejud_0002_0015_0_14805.html.
Leah Ellenbogen contributed to the development of this post.
Share this: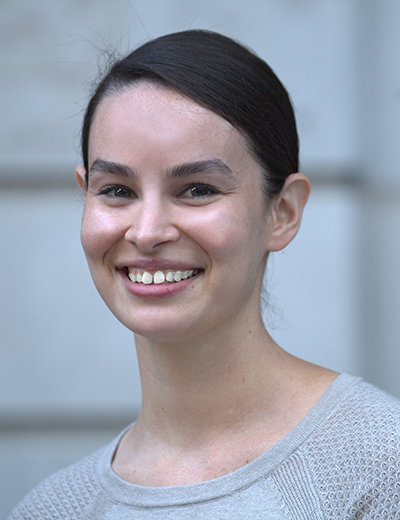 About Kelsey Sawyer
Kelsey Sawyer was the Reference and Photo Archivist for the Wyner Family Jewish Heritage Center at New England Historic Genealogical Society until 2020. She received her B.A. in History from the University of Massachusetts at Boston and a M.S. in Library and Information Science with a concentration in Archives Management from Simmons College.View all posts by Kelsey Sawyer →