When we think about Italian immigration here at NEHGS, it is often because the patron we are helping is looking for ancestors who arrived here in the late 1800s or early 1900s. However, Italians immigrated to many different countries, including other European countries as well as countries in South America and other continents such as Australia.
Upon my arrival to Italy in the fall of 2011 to undertake genealogical research, I discovered that there was a relatively new museum in Rome. In fact, it was so new that the people at my hotel had no idea that it even existed. Had my taxi taken a different route I might have missed out on a major resource in regard to Italian emigration and had a much lighter suitcase on my way home.
My local friends had the impression that the Museo Nazionale Emigrazione Italiana had opened sometime during that year. The Museo is located in the bottom of the Vittorio Emanuele II Monument: inside, you will be treated to a wealth of images in video format and in encased collections documenting emigration from Italy as well as those who returned home to Italy after trying their luck elsewhere.
As I walked through the collections I took picture after picture. I kept expecting one of the volunteers or the curators to tell me to stop, but they didn't. In my three days walking through the museum, I took pictures of everything they had there (more than 400 images). And one of the volunteers offered to help me find my immigrant to the United States using the EllisIslandRecords.org web site, which was on a computer in a small alcove. That same volunteer on day number three offered to take my picture amongst an array of musical instruments which included an elaborate street organ.
By the second day I knew I had to find books from the Italian viewpoint of emigration. Most of what I knew, though coming from many scholarly resources, was written from the American point of view. This would be an excellent opportunity to see the other side. When I asked about such a book at the Museo they shook their head and said there wasn't one. Undaunted, I headed off to La Feltrinelli — one of the larger bookstores in Rome — and proceeded to pick out three different books on emigration (including one that was a 2-volume boxed set). I figured I was set.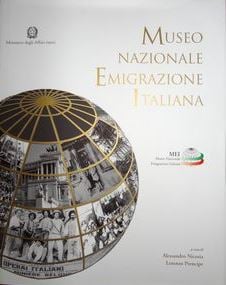 However, on my return the third day, someone else asked about a book and the lady who was manning the counter that day unlocked a closet and brought out an enormous volume. The cost seemed to dissuade the other person, and the lady returned the book to its shelf. When I finished going through the museum, assuring myself I had seen everything there was to see, I also asked the lady about the book. She again brought it out and explained to me that it was €50. As a genealogist and book fanatic, and after looking at the book with its heavy paper, beautiful pictures, and tons of statistics, I knew that it was going home with me. By the way, the book weighs about eight to ten pounds.
Upon my return to NEHGS, I showed the book to our Tech Services people and they set about determining how to purchase a copy for the library — which they did. They also added a couple of the other books I had found to the NEHGS collection. Currently the book about the Museo sits on my desk as I complete an Italian project.
I was reminded of the many statistics in it detailing immigration to other countries when a Tweet appeared on my phone from @OriginsItaly that mentioned a new virtual museum of Italian immigration. Of course I immediately had to check it out.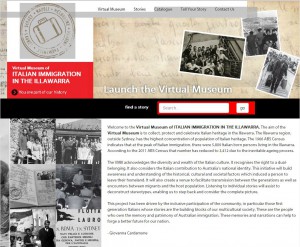 The Virtual Museum of Italian Immigration in the Illawarra is devoted to those Italians who came to the Illawarra region outside of Sydney, Australia. Like the Museo in Rome, there are many artifacts that you can view in the virtual museum while also looking at and telling stories of Italian families in Australia. In the research project I have been working on, there was one relative who did emigrate to Australia in the 1900s.
I'm always thrilled when I find new avenues of information, especially when they deal with an aspect of immigration that I previously had not known much about or about which I had hoped to find more information. The Internet offers genealogists, historians, and people just interested in a variety of subjects a great place to look for information. And the use of virtual museums, while not new, keeps reminding me that there is never a time when I can't continue to learn about subjects of interest to me.
What sites do you find the most useful about the history or migration of your ancestors?
Share this:

About Rhonda McClure
Rhonda R. McClure, Genealogist, is a nationally recognized professional genealogist and lecturer specializing in New England and celebrity research as well as computerized genealogy; is compiler of more than 120 celebrity family trees; has been a contributing editor for Heritage Quest Magazine, Biography magazine and was a contributor to The History Channel Magazine and American History Magazine. In addition to numerous articles, she is the author of ten books, including the award-winning The Complete Idiot's Guide to Online Genealogy, now in its second edition, Finding Your Famous and Infamous Ancestors, and Digitizing Your Family History.View all posts by Rhonda McClure →