The value of family letters can go far beyond the sentimental, providing important genealogical information on extended family and in-laws that may have been previously unknown. But what if, when attempting to piece together this puzzle of information, you are missing its most basic piece: a surname?
I recently helped a woman who wanted to know the names of her great-grandmother Caroline Ames' parents. She knew Caroline's birthdate and that she had grown up in North Carolina, but could not find her on any census record prior to her marriage, creating a road block in attempting to locate information on Caroline's family.
However, this woman did have a collection of letters that Caroline had written to her maternal aunts. Her letters were filled with references to "Aunt Lizzie," "Aunt Lill," "Aunt Maggie," and "Uncle Charlie," along with several important clues: the addresses of Caroline's aunts and the married name of Aunt Lizzie.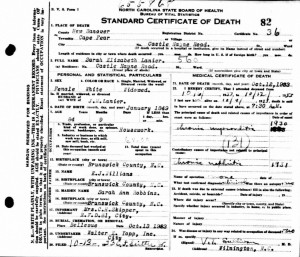 The death certificate of Aunt Lizzie, also known as Sarah Elizabeth Lanier, can be found in North Carolina Death Certificates, 1909-1979. Luckily, Lizzie's death certificate listed her maiden name: Williams. Though I had a potential surname, I wanted to verify it with the other family members mentioned in Caroline's letters. Since the addresses of these family members were preserved, I then browsed census records for the address of Aunt Lill and found a woman named Caroline Morill, who seemed like a potential match.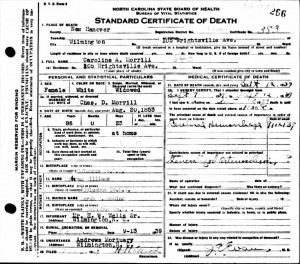 Once again turning to North Carolina Death Certificates, 1909-1979, I located Caroline Morrill's death certificate, which listed her maiden name as Williams.
With this new information, I searched the 1850 United States Federal Census for a Williams family with children named Sarah Elizabeth, Caroline, or Maggie. An Ephraim Williams, living in Brunswick County, was married to a woman named Sarah. Ephraim and Sarah Williams had three daughters: Margaret, Helen, and Sarah, along with a son, Charles. Given the information from Caroline's letters, if "Aunt Maggie," "Aunt Lizzie," and "Uncle Charlie" are actual relatives, then that would leave Caroline's mother to be the Helen Williams, daughter of Ephraim and Sarah Williams and sister of Margaret and Sarah.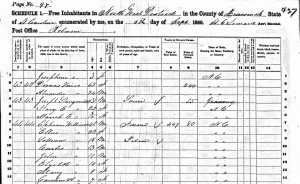 The Williams family found in the 1850 Census does not have a daughter Caroline, so I went forward ten years, to the 1860 Census, to see if this family had a daughter named Caroline born later. Ephraim Williams was still living in Brunswick County in 1860. There is an Ellen Williams listed on the census who is approximately the same age as Helen; given how similar the names Helen and Ellen are, they are probably the same person. Sarah, the wife of Ephraim, is not listed on the 1860 Federal Census, so she most likely died between 1850 and 1860. However, the 1860 census does list two additional daughters: Mary, born circa 1852, and Caroline, born circa 1853, the same age as the woman I had thought was Aunt Lill.
Using Caroline Ames' letters, combined with census records and death certificates, I thought I had found her mother: an Ellen or Helen Williams. With this potential name, I searched North Carolina Marriage Records for an Ellen or Helen Williams marrying an Ames, and came across a marriage record for a David Ames marrying Ellen Williams in Brunswick County in 1861. And with that, we had determined the parents of Caroline Ames.