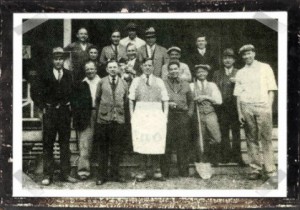 I arrived last fall at the New England Historic Genealogical Society as a neophyte in family research and I still consider myself one. My position as NEHGS Publications Coordinator, however, has given me some insight into which publications are go-to resources for genealogists and family researchers, and I'm now familiar with translating findings into Register style and the ahnentafel  format. I've also heard many interesting stories related to unexpected findings and brick wall breakthroughs, particularly when talking with participants in our Writing & Publishing Seminar this past May. But considering that other family members have done much research and kindly provided me with genealogies for both sides of my family, I've had a certain amount of distance from the exciting and rewarding moments that genealogical research can bring.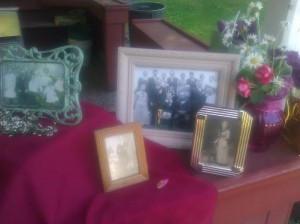 That changed recently with a family reunion for local Wolf family members descended from my great-grandfather Karl (later Charles) Wolf (1894–1957). The event enabled several family researchers to come together, compare notes in person, and share their work with the extended family. My cousin Cheryl Russo Cormier set up a "genealogy table" where she helped explain various photos and documents to family members. Most exciting of all was that family researcher Martin Wolf was visiting from Mühlgraben, Austria, where he had discovered a family Bible with my great-grandfather's name and his address at the Quartette Club in New Britain, Connecticut. This club, founded in 1891 as a German singing society, is still in existence and has been the location of numerous family events, including my parents' wedding reception in 1965, my grandparents' fiftieth anniversary party in 1986, and even this recent family reunion.
Martin contacted the Quartette Club and was put in touch with my uncle Carl Wolf, grandson of Charles and a long-time member of the club. The family at large was thrilled to learn of this connection in Mühlgraben, the Wolfs' home town, and many of us are now connected to Martin on Facebook. Martin, whose great-grandfather Johann was one of Charles Wolf's brothers, brought a wonderful photo book of Mühlgraben. It was the first time I've seen photos of an ancestral town outside the U.S., and it made me wonder what life was like for the family before coming to New Britain in what was apparently part of a significant migration from the Burgenland state of Austria.
Making the day even more memorable was the resolution to a family mystery. Cousin Cheryl had tried repeatedly to locate the birth record for my great-grandfather in Austria. She was perplexed, as she had found the records for his eight elder siblings. Thanks to Martin's genealogical notes, which he brought along with him, we learned that Charles was born in the U.S. Time to change the generation numbers!