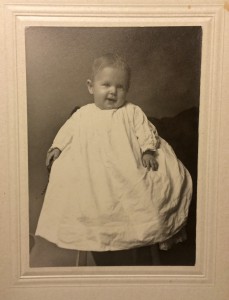 One fall weekend in 2008 my wife, Karen, and I were visiting her parents at their home on Long Island. After dinner one evening, my mother-in-law asked if I might like to see a collection of journals kept by her maternal grandfather, Glenn Welmer Douglass (1884–1968), a Methodist minister from New England.
"Of course!" I said.
Up from the basement came a box and a bag containing a dozen or more books of various shapes and sizes, each volume marked on the cover or spine with a single year. The earliest volume was from 1909, the latest from 1966. My mother-in-law said her grandfather had kept a daily journal from about the age of twenty until his death. Her brother had the rest of the collection.
I thumbed through the journals; almost every entry contained meticulous detail: "arose 6:05; dressed 6:08…" I knew from prior research that for a period of time in the early 1900s, Glenn and his wife, Helen Evelyn Southworth (1880–1960), lived in Danville, Vermont, a mid-sized town of about 1,500 people in Caledonia County. A number of my own ancestors and relatives were born or lived in Caledonia County throughout the late nineteenth and early twentieth centuries. Danville in particular is an interest of mine as that is where many of my Woods ancestors and relatives are buried, in Danville Green Cemetery.
While I had wondered before if any of my ancestors or relatives might have known my wife's ancestors during the period they lived in Danville, I hadn't seriously pursued the question. With the treasure trove of information before me, I thought I might start, but without any of my genealogical notes at hand, the only relatives I knew for sure lived in Danville during the same period as the Douglass family were my great-great-uncle Seth Woods (1863–1926) and his wife Jennie (Hatch) Woods (1877–1951).
Before trying to track down any connections between my family and my wife's, having researched some of her genealogy in the past, I decided to see what was recorded on days I knew significant events had taken place, such as births of children, like my wife's grandmother, Ruth Evelyn Douglass (1909–1976), who was born 20 September 1909. (Click on the images to expand them.)
For that date, I read:
A memorable day this morning at 2:40 our first daughter was born. We decided to call her Ruth Evelyn. Doctor went home about 4 o'clock. In the morning I telephoned to Mr. Whitcomb to let Mother Southworth and Father Douglass know the news. Jennie Woods came to help with the housework until Mother Southworth should arrive. Mother came on the 4:45 train. Mrs. Barnes arrived on the 9:00 train from Morrisville. A meeting was appointed for the Sunday School Board with Mrs. Hatch. I went, but nobody arrived. At 7:30 I came home.
What a serendipitous entry! I could hardly believe it.
My wife and I first met in Boston about 2001; I was born in Texas and raised in Northwestern Vermont along Lake Champlain, and she was born and raised on Long Island. Before we married, Karen had never been to Vermont and here I was reading how, 92 years before we met, a member of my family was present the day my wife's grandmother was born! Such is the wonder and enjoyment of family history.