As a genealogist at the New England Historic Genealogical Society, there are many aspects of my job that I truly enjoy –  especially when it involves helping those new to the hobby of family history get off on the right foot. One of my favorite experiences is the chance that I have each college semester to interact with Boston University college students who sign up for a three-week family history program offered through B.U.'s Howard Thurman Center for Common Ground. As I write this, I will be introducing myself and the society to a new group this week, and I am looking forward to seeing where their various ancestries take us over the course of the program.
One of the points that I try to stress is that spelling of last names is not as concrete as some would like it to be or have been led to believe. A few semesters ago there was one particular student who was adamant as to the pronunciation of his surname – even after we had discussed the potential variations in spelling (which would have altered the pronunciation of his last name).
As we proceeded to work on his family tree we discovered in just the first evening approximately four different spellings for his surname. At that point I asked, "So, what's your last name again?"
In the joking spirit in which it was intended, he responded that he was no longer sure. And he came up with the simplest of answers going forward. He would go only by his first name, like the performers Cher and Madonna.
The discoveries for this particular student during that first evening were not just in regard to the spellings of his first name. The occupations we discovered for his ancestors started out on the normal side. He had the traditional laborers and he was intrigued by the one who was a baker. However, one of his laborers had an unusual job during one of the census years. As I noticed it, I confess, I waited for him to read across the census line in anticipation of the response his face would show. You see, his ancestor was listed as a gravedigger. (Click on the image to expand it.)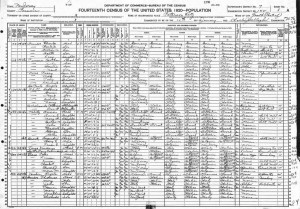 He did not disappoint with his response, but it seemed to increase his interest in his family tree all the more. I was a little surprised when he showed up the next week eager to continue. He told me that second week that he had also skyped his father after the first evening showing him all of the amazing records we had found – including the census with the gravedigger.
I was recently reminded of this event.
In my down time, I enjoy hockey, and I have a blog relating to this interest. As I was covering a hockey game, one of the other press guys came up to me and said "Rhonda, I had an epiphany." Now, I had had a niggling feeling that I knew this particular individual outside of the sports world, and had been puzzling over his name and why he seemed so familiar to me. He had made the connection a couple of days before.
Yes, as you may have guessed, he was the student whose ancestor was a gravedigger. We joked about it during intermission.
We now share two passions – hockey and family history. But each group who comes as part of the B.U. program brings with them a passion for learning. These college students are eager to see what they can find and want to understand what records are available and just where their family history trail will lead. For me, it is an opportunity to again share in that enthusiasm of the chase and the find.
Not all of these kids will end up as lifelong family historians, but the seed has been planted and some of them will pick up the hobby when time permits as they go on to graduate, get married, have children, and make their mark in the records.