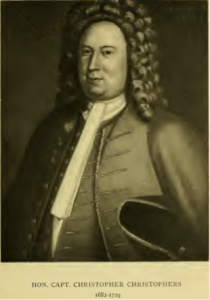 Jeff Record's recent post on his relative Evan Evans reminded me of similarly named persons in colonial Connecticut aptly named Christopher Christophers. While I am not related to these individuals, the fact that these men shared my first name twice is surely a reason I was interested in them. For seventeenth-century New England, Christopher was a rare first name, as it tended to be a name amongst Catholics, with Pilgrims and Puritans rarely using it at the time. Within my own direct ancestry for sixteen generations, I have only found three ancestors named Christopher – two being Germans in eighteenth-century Virginia (Christopher Blankenbecker and Christopher Shake) – and one in colonial New England – Christopher Peake (ca. 1612-1666) of Roxbury, Massachusetts.
I came across Christopher Christophers when researching a multi-ancestor book that I wrote about in my first post on this blog seven years ago. A treatment of his family is in John R. Totten's work, Christophers Genealogy: Jeffrey and Christopher Christophers of New London. I saw the book was cited in volume 24 of Mayflower Families Through Five Generations (the first person of this name married a granddaughter of Mayflower passengers William and Mary Brewster; more on that later), and was surprised to not find it our library catalog. I had used a copy at the Connecticut State Library and a digitized version is available here on familysearch.org.
The reason the book is not on our shelves is because it was reprinted from successive issues of the New York Genealogical and Biographical Record from April 1919 to July 1921.[1] Several "serial genealogies" published in journals were subsequently bound as a book, but our library deaccessioned these years back as they were available in the journals themselves. The serial article covers descendants of Christopher Christophers (ca. 1631-1687) and his reputed brother Jeffrey Christophers for six adult generations, so for Christopher's descendants who are all also Brewster descendants, the article goes three more generations than what is covered in part two of volume twenty-four of Mayflower Families Through Five Generations, and the article covers numerous people alive at the time of its last publication in 1921, although the recent Mayflower publications correct some items from the 1919-21 publication.
The life of Christopher Christophers, a mariner, is an interesting one. He was born probably in Churston Ferrers, Devonshire, about 1631, where he married his first wife Mary Berry in 1654, and by whom he had three children baptized there between 1657 and 1662. The family of five were in New London, Connecticut by 1665 when he started a business partnership purchasing warehouses and wharfage with Charles Hill, later his brother-in-law. Christophers also was New London's deputy to the General Assembly of Connecticut at Hartford from 11 October 1683 to 8 October 1685.[2]
By late 1667, his personal life starts getting complicated. While his first wife is still living, Christopher Christophers begins an extramarital relationship with the widow Elizabeth (Brewster) Bradley, by whom he has a son John on 3 September 1668 and another child between 16 September 1673 and 2 June 1674, who died young. As a result of this, Christopher and Elizabeth are brought in to court, as shown in the following court abstract from 1673 (among others):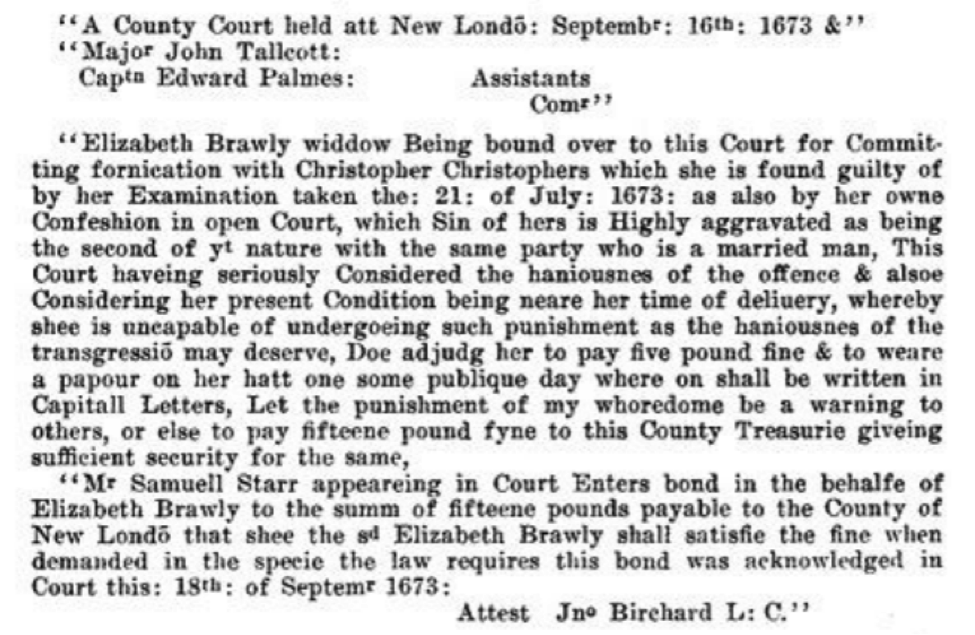 Mary (Berry) Christophers died at New London 13 July 1676, and Christopher Christophers and Elizabeth (Brewster) Bradley were married within the year by 5 June 1677, and under Connecticut law, the "subsequent marriage of [John's] parents, acknowledged his paternity and legitimized his status as their child."
The two surviving children of Christopher Christophers and his first wife (Mary and Richard) both were married to children of their stepmother Elizabeth, and Richard married secondly Elizabeth's niece, so all of Christopher's grandchildren and later descendants are also Mayflower descendants of William and Mary Brewster. Richard's son Hon. Christopher Christophers (1683-1729), whose portrait appears at the beginning of the post, had an extensive civil career as a member of the Governor's Council, Naval Officer of the Port of New London, deputy to the General Assembly to represent New London, and Judge of Probate for the District of New London. The chart below outlines how all of the first Christopher's later descendants are Brewster descendants, as well as the continuation of this fun double name![3]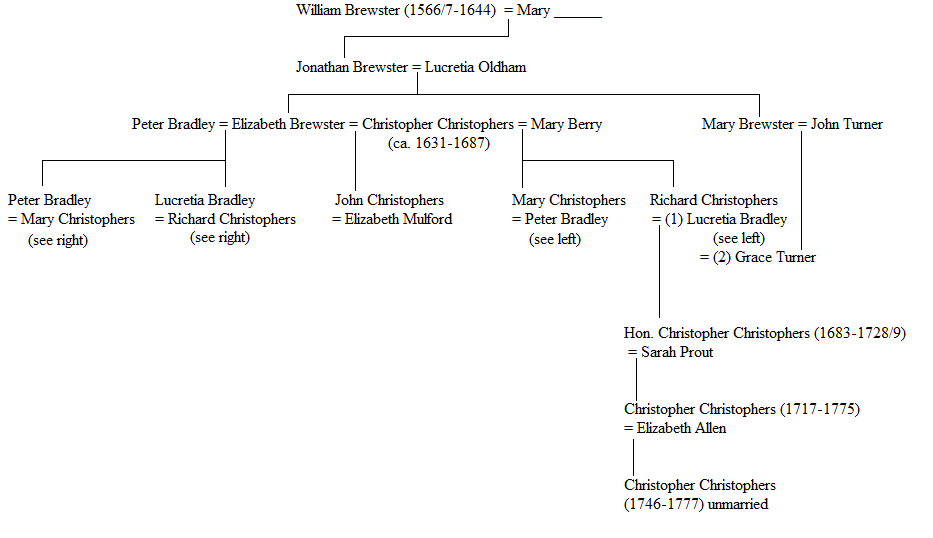 Notes
[1] John R. Totten, "Christophers Family," The New York Genealogical and Biographical Record 50 [1919]: 110-27, 211-27, 318-34, 51 [1920]: 8-24, 148-61, 206-21, 329-44, 52 [1921]: 55-70, 175-90, 231-51. The portrait of Hon. Capt. Christopher Christophers appears in volume 51 between pages 18 and 19 and that of his wife Sarah (Prout) Christophers between pages 19 and 20. As of 1919, the portraits were in the possession of the Latimer family of Brooklyn, New York, descendants of Christopher and Sarah through their daughter Sarah (Christophers) Latimer (also the ancestor behind my previous post).
[2] Barbara Lambert Merrick and Scott Andrew Bartley, Mayflower Families Through Five Generations … Volume Twenty-Four The Descendants of Elder William Brewster, 131-36.
[3] Although Christopher1 Christophers has thousands of living descendants today, the last known male descendant in the sixth generation bearing the surname Christophers was John6 Christophers (Peter5, John4, Christopher3, Richard2, Christopher1), who died unmarried at Montgomery, Alabama in 1821, aged 33.
Share this:

About Christopher C. Child
Chris Child has worked for various departments at NEHGS since 1997 and became a full-time employee in July 2003. He has been a member of NEHGS since the age of eleven. He has written several articles in American Ancestors, The New England Historical and Genealogical Register, and The Mayflower Descendant. He is the co-editor of The Ancestry of Catherine Middleton (NEHGS, 2011), co-author of The Descendants of Judge John Lowell of Newburyport, Massachusetts (Newbury Street Press, 2011) and Ancestors and Descendants of George Rufus and Alice Nelson Pratt (Newbury Street Press, 2013), and author of The Nelson Family of Rowley, Massachusetts (Newbury Street Press, 2014). Chris holds a B.A. in history from Drew University in Madison, New Jersey.View all posts by Christopher C. Child →