While watching the recent broadcast of "Atlantic Crossing," it took me a minute or two to remember the parentage of protagonist Crown Princess Martha of Norway as well her siblings. Making those connections began with stamps. My childhood world blossomed when a family friend gave me a postage stamp album for my eighth birthday. The package came with an assortment of world stamps, and stamp hinges with which to fix the stamps to the illustrations in the album. A new hobby soon became an absorbing passion.
My parents had collected stamps during their youth when my grandfathers served in World War II. One Belgian stamp from Mom's album made an indelible impression on me. Who was this beautiful woman, and why were the stamp's edges piped in black? For those of us who grew up without the internet and google, decoding images, unraveling inscriptions, and establishing context required trips to the reference section of a library. Best source: Scott's Standard Postage Stamp Catalogue, in continuous revision. Therein I identified this mourning stamp of Queen Astrid, consort of Leopold III, King of the Belgians. Astrid died in a tragic auto accident in August 1935.
And so, I continued through my high school years to collect stamps and upgrade to specialty albums. Engraved images of world rulers and leaders became instantly recognizable. In particular, I avidly acquired British Empire commemoratives like this silver wedding issue of 1972.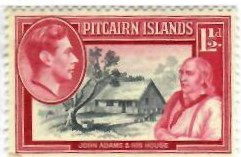 Other historical scenes invited further investigation. For example, in this stamp from the Pitcairn Islands, I knew this John Adams, depicted with his house, could not have been the second American President.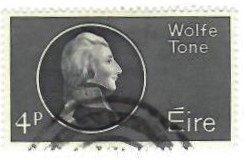 All of this has been a wonderful way to learn geography, history, notable anniversaries, and other figures worthy of remembrance. I would not, as another example, have investigated Wolfe Tone without first encountering this Irish stamp:
Other stamps, like this one of King Peter, first of Serbia, and later of Yugoslavia, required code-cracking skills to determine its country of origin.
You may ask what does philatelic enthusiasm have to do with the practice of genealogy? For me, ground zero. Long before I had the means and opportunity to expand my own family tree, one of ordinary folks not found in reference books, I learned about dynasties, consanguineous marriages, and their impact on world events. How to read pedigrees became an underpinning of my own research. Not until my early twenties did I discover my most reliable gateway ancestor to medieval royalty, Elizabeth (Deighton) Williams of Taunton, Massachusetts.

The other skill I honed from hours of poring over stamps is not only to recognize important people but to also see how they aged or remained frozen in time—engravers, of course, are not always concerned with photographic realism. Think of how long the profile of the young Queen Victoria, in the Penny Black stamp of 1840, emblazoned stamps pf the British Empire. Among my collections of family pictures, I become adept at identifying people based on earlier images.
My stamp albums have been carefully stored over the last four decades, with some stamps becoming the subject of teaching lessons in the classroom. I imagined that in "retirement" I would get back to collecting stamps once again—that hasn't happened. Nonetheless, perusing pages from my stamp albums recalls the many joys philately has brought me over a lifetime.
In case you missed my earlier allusion, Queen Astrid of the Belgians was the sister of Crown Princess Martha of Norway.
Share this: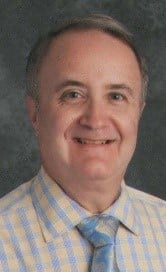 About Michael Dwyer
Michael F. Dwyer first joined NEHGS on a student membership. A Fellow of the American Society of Genealogists, he edits Vermont Genealogy. His articles have been published in the Register, American Ancestors, The American Genealogist, The Maine Genealogist, and Rhode Island Roots, among others. The Vermont Department of Education's 2004 Teacher of the Year, Michael retired in June 2018 after 35 years of teaching subjects he loves—English and history.View all posts by Michael Dwyer →