It is always a mystery how an artist gets inspiration. It could be a book, a person, an object, or even an historical event. Massachusetts, a state with many historical turning points, has always attracted artists. It is impossible to count how many wonderful pieces of art were dedicated to the Pilgrims' history.
For my sister Nina Tugarina, an artist who came to the United States with me from Ukraine, the word "Pilgrim" did not ring a bell until she visited Plymouth and Plimoth Plantation. Exploring the Mayflower II, she tried to imagine how people could survive in these small, dark compartments. No privacy, extreme crowding, no fresh water, moldy food, severe storms: while the ship's adults were used to hardship, the Mayflower children must have felt themselves locked up, dreaming of a new land where they could run and jump again.
Plimoth Plantation, a small village built on the shore, felt quite different from the ship. It was a natural environment in which people live. The village was so real that Nina felt herself in the seventeenth century. It was from this experience that two Pilgrim children, John and Elizabeth, were born in the artist's imagination.
On the way back home, she put her heavy basket aside, sat on a rock to have some rest, and finally had a minute to eat an apple.
To create real characters Nina immersed herself in Pilgrim everyday life. She tried to find out every detail about Pilgrim children. When she felt that these vague images had begun to transform into real characters she started to sculpt.
All day Elizabeth was helping her mother pick apples. On the way back home, she put her heavy basket aside, sat on a rock to have some rest, and finally had a minute to eat an apple.
Tired of fetching water all morning, John decided that picking apples would be a more pleasant pastime.[1]
Boys and girls inhabited two different worlds, subject to the same hard work and hard life. Now we would say that Pilgrims did not have any mercy toward their children, but it was a necessity to prepare their sons and daughters for adult life. Even working all day kids always found time to play and to play jokes on one another or even to fight. After months spent in narrow Mayflower's cabins they enjoyed the fresh air in the fields and meadows and were happy.
Mayflower, Plymouth Rock, Wampanoag … are not just words; they are important concepts for Americans. And Pilgrim history always will be a great source of inspiration for new works in all types and genres of art.
Note
[1] This is the artist's story about John and Elizabeth, but every viewer will have his or her own vision of them.
Share this: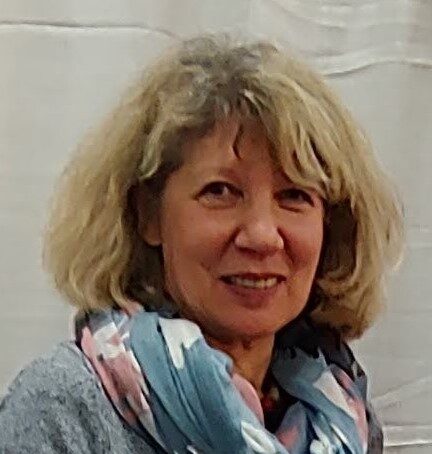 About Olga Tugarina
Olga Tugarina, originally from Kharkov, Ukraine, was the NEHGS Library Collection Services Assistant until 2020. She received her B.A. in Metallurgical Engineering at Kharkov Polytechnical Institute. She emigrated from Ukraine to America in 1997. In 2016 Olga started her family genealogy, based on her own recollections. Her interests: Arts.View all posts by Olga Tugarina →