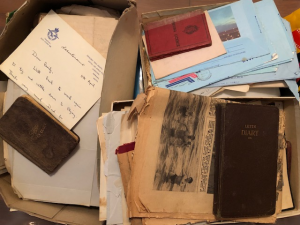 I am not sure why my family decided to elect me – maybe because I majored in History? – but I am the "family archivist." What does that entail exactly? I have the responsibility to decide what is kept and what is thrown away in the box of family photographs, letters, and journals. I organize this material in a way that makes the most sense to me, so future generations of the Cann family can look at them and understand their history. I am also proud to share my findings with family members and write about the stories that I discover.
The first step of my process is to read. Read everything! I was excited to learn more about the lives of family members. And none of their lives were boring. I bet everyone, given access to family documents, would find that their ancestors led amazing lives.
How do I decide what to keep? It's especially difficult because, after all, it is your family, and everything is sentimental – well, maybe not the thirty photographs your grandfather took of trees in Africa. Between the stacks of photos are love letters, wedding photographs, drivers' licenses from the 1950s, and diaries which I cherish dearly. Some of the diaries are written about the daily life of a stay-at-home mother, while others describe the experiences of a soldier during World War I. And to my astonishment, all these items were found in my grandparents' messy closet, in a small village west of London.
I have always loved hearing stories about family members' lives. Often, they would pause while telling me a fascinating story and say, "I'm sorry, you probably don't want to hear this," and I would reply, "Are you kidding? I love it. I want to hear everything." An important part of preserving family history can be done by connecting oral histories and documents to create a narrative for the rest of the family to enjoy. I find the best way to do that is to write. Two pages or forty pages. Since I am so used to writing papers for college courses, I write my family's history in essay format (narrative: not first-person, with footnote references!).
My favorite college paper is titled "The Blitz's Influence on Juvenile Literature." I mentioned my grandfather, who was sent to Yorkshire by his mother to escape the Luftwaffe's bombs.
In college, I chose paper topics that allowed me to write my family history within the paragraphs, to use as evidence for my opinions. I find that researching the time period and locations where my family lived is a great way to learn more about their personal lives as well as an important addition to my family history. My favorite college paper is titled "The Blitz's Influence on Juvenile Literature." I mentioned my grandfather, who was sent to Yorkshire by his mother to escape the Luftwaffe's bombs. My latest endeavor is studying the American Gold Rush and linking my ancestor into the narrative. He was an Italian immigrant who travelled to Montana to find his fortune as a miner, while the rest of the family stayed in Massachusetts.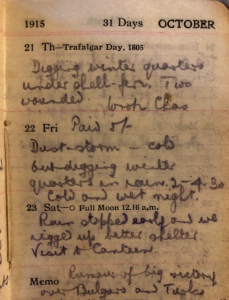 I want to be able to understand what is happening in diaries and documents, so I like to read about the historical background of the time period, to better comprehend events within each town in which my ancestors lived. I find that specific dates are the most important. After all, there might be a newspaper article that helps fill in the blanks of what's happening in the neighborhood, like a theft at a local store or a marriage in the town center. All I have to do is read along to a diary or a letter while looking up dates on my laptop to gain an understanding of the time. You may find that your ancestor's actions or feelings were directly caused by a major historical event, and that insight is priceless.
Being the family archivist is such an important role for myself, my family, and our history in general. Keeping your ancestors' lives, feelings, and thoughts alive are so important, and, for me, a joy.