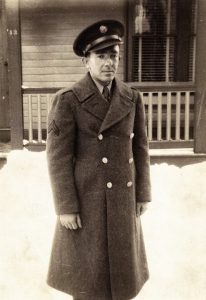 As we mark Veterans Day, I think of my ancestors who fought for our country. During my family search, I found that most of my ancestors didn't arrive to the United States until 1870; we don't have any early American soldiers in our family tree who fought in the American Revolution or World War I. I do have two great-uncles, on my paternal side, who were in the military during World War II. These two men are the individuals I want to honor this Veterans Day.
My grandfather, Leo Napoleon Dery, had a brother named Gerard Ovila Dery who was born in 1920. Gerard, pictured in uniform, enlisted on 2 February 1942 at the age of 22 and was stationed at Fort Benning in Georgia. Gerard was a corporal with Company B, 40th Tank Battalion, and two years later (almost to the day!) he was killed in a training exercise on the Army base in Georgia. According to his death certificate, which was filed in Rhode Island, he sustained injuries from an explosion of a 37 mm. shell. He died from shrapnel wounds to the left thorax, multiple body lacerations, and hemorrhage of his lungs at Station Hospital.
Newspaper articles and his death certificate helped uncover the truth about what happened to Gerard in his final days…
Gerard was 24 years old when he was killed with two other soldiers in this training exercise. Newspaper articles and his death certificate helped uncover the truth about what happened to Gerard in his final days – there were pieces of information passed down to family about his death which was proven by vital records. Unfortunately, obtaining his personnel file from the Army has proven most difficult and time-consuming – but I'm hopeful it will arrive soon!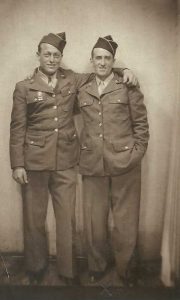 My great-uncle Joseph Kenny was born in Ireland in 1910. His parents, Michael and Catherine (Mangan) Kenny, were first-generation immigrants who settled in Rhode Island. Joseph enlisted on 25 May 1943, with two years of high school education; he signed up for "the duration of the War or other emergency, plus six months." At the time of his enlistment, Joseph was not married and had no children. His experiences in the Army were passed on to my grandmother, Camilla, in his letters. The letters are a very important part of my family collection, and we still have the telegrams stating that Joseph was injured and killed during combat.
Joseph was part of the 169th Infantry Regiment, 42rd Infantry Division, and was sent to the Philippines in 1943. Over the next year, Joseph wrote to his sister about his experiences in the war. The letters rarely included detailed information. Joseph wrote short correspondence and always started his letters with "My Dearest Sister." My grandmother kept these letters her whole life, which shows just how special her brother was to her. Joseph and Camilla were the youngest of nine children, so you know their bond was close! He enlisted when he was 33 years old, unmarried, with no children. My grandmother was listed as his "next of kin" on all military paperwork.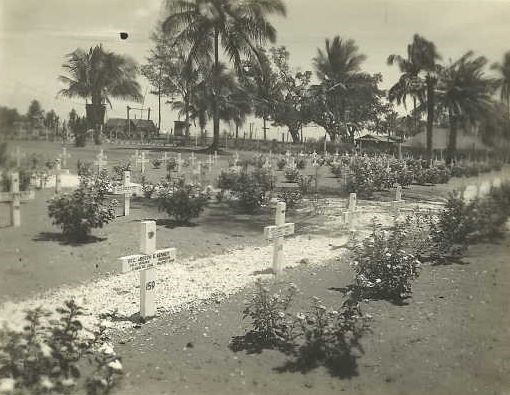 As most genealogists know, obtaining military records is not an easy task. Luckily, after numerous letters, repeated applications, and many, many months, I received Joseph's personnel record from the Department of the Army in Kentucky. The 105-page document provided information and included details of his injuries, his hospital stay in the Philippines, and a list of his personal belongings. Joseph Kenny died on 11 August 1944 from injuries that he sustained from an explosion at base camp; he is buried in Manila American Cemetery in the Philippines. Unfortunately, my grandmother was not able to be present for Joseph's burial; a fellow soldier from his unit wrote to my grandmother in October 1944 to tell her about the circumstances of his death, Joseph's military funeral service, the location of Joseph's resting place in the cemetery, and included how much Joseph meant to him as a friend. It's a beautiful letter and something that I know helped my grandmother grieve for her soldier brother.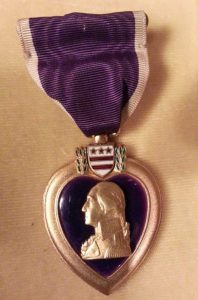 Joseph and Gerard are important parts of our family story because my grandparents, Camilla and Leo, named their younger son for both deceased brothers. My uncle, Joseph Gerard Dery, was born in 1949 – only a few years after both brothers died. My Uncle Joe has Joseph Kenny's Purple Heart commendation as a memory of his uncle who died in World War II. When I began my genealogy journey, I was unaware of either brother (or the Purple Heart!), so it was an honor to find such brave and patriotic soldiers in my family tree. I honor Joseph and Gerard this Veterans Day, along with all the brave men and women who are still protecting the United States of America.