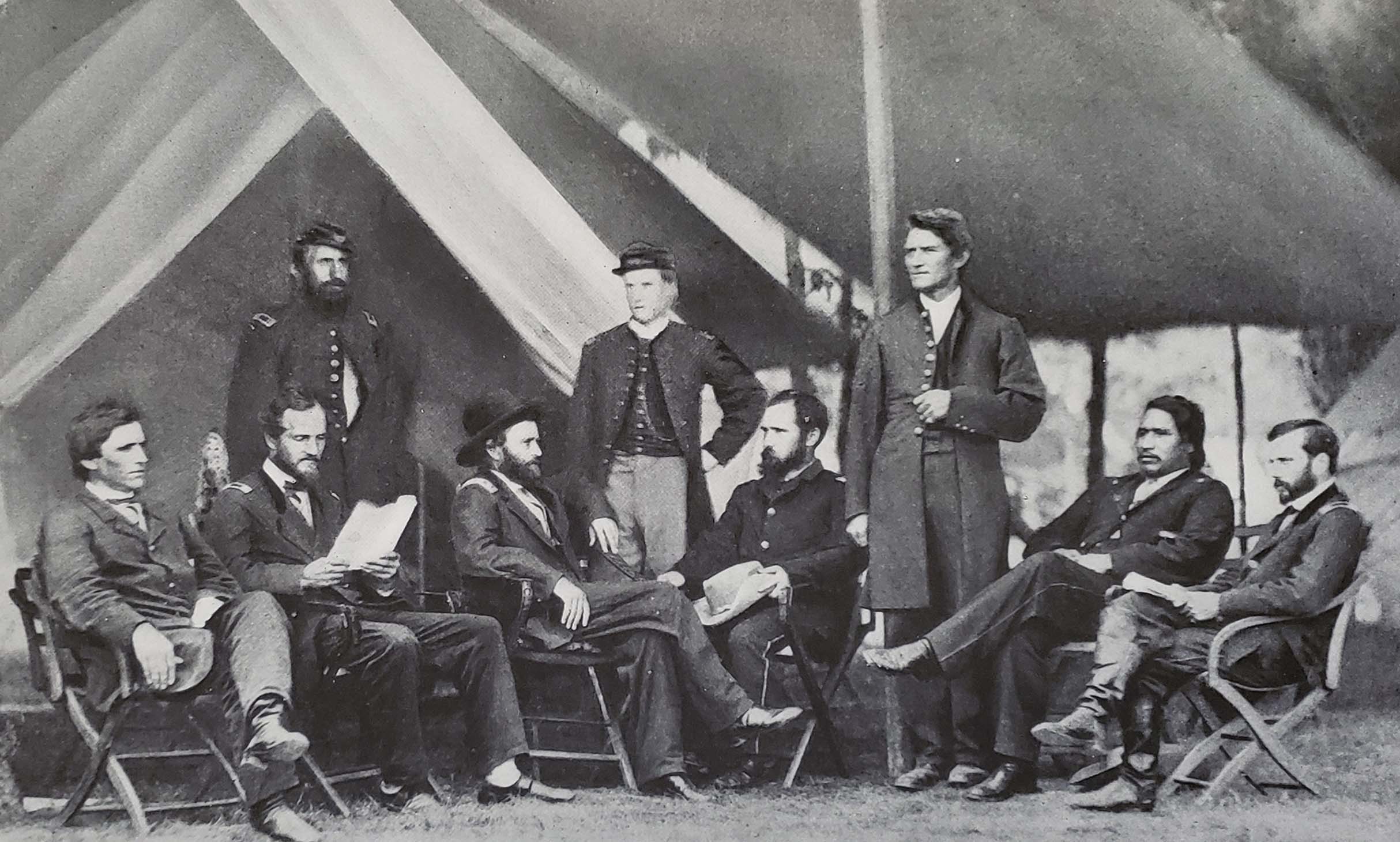 Some years ago I was looking through a set of books that had been given to me by my wife's grandmother. They were pictorial and history volumes relating events of the Civil War. This set was a memorial published 50 years after the war, in 1911, and there are hundreds of photographs in the ten volumes, many of which were taken by famed photographer Mathew Brady. While most of the pictures were interesting, there was one that immediately captured my attention. It was a photo of General Ulysses S. Grant and his staff just prior to the surrender of Robert E. Lee at Appomattox. The caption below the picture reads in part "… the Articles of Surrender which reunited a nation were inscribed in the handwriting of a descendant of the Seneca tribe of the Iroquois Indians of New York State." I was astonished. None of the history books or teachers that I had ever mentioned that the articles of surrender at Appomattox had been penned by a full-blooded American Indian. I was also curious about how this came to be. Who was this person? I was determined to learn more.
In my research I discovered that Ely S. Parker was born in 1828, a Seneca Indian of the Iroquois nation. Ely was not a particularly notable student in childhood, but when he was about 13 he was ridiculed by some British soldiers for his poor command of the English language. As a result, he resolved then to become proficient not only in the English language but also the American way of life. By the time he was 18, his abilities caught the attention of the Seneca leaders and he was chosen to represent the tribe in Washington, where he gained the respect of President James K. Polk.
By the time he was 18, his abilities caught the attention of the Seneca leaders…
He endeavored to enter the legal profession, but his decision to pursue a career in law was brief as he was denied entry to the bar because he was not an American citizen. He became a mason and worked to become a captain of engineers in the New York State Militia, where he excelled. His duties often took him to Galena, Illinois, where he met and struck up a friendship with a store clerk named Ulysses S. Grant.
When the Civil War broke out in 1861, Ely went to Albany and offered to organize a group of volunteers to fight for the Union. The Governor of New York refused his offer saying that, as an Indian, he had no place in the war. Secretary of State Seward also refused his offer as an engineer in the service of the federal government. In 1863, with Grant's assistance, he finally managed to obtain a position as a captain of engineers in the Army under General J.E. Smith. He rapidly advanced to the rank of Assistant Adjutant General. By mid-1864 Ely Parker had earned a spot on Grant's staff as his personal military secretary. At Appomattox, Parker's elegant penmanship and command of the English language would result in him being chosen to pen the articles of surrender.
In 1867 Ely Parker married Minnie Orton Sackett, a Washington socialite half his age – this caused a stir among the Washington elite. Ulysses S. Grant, who was supportive, gave the bride away at the wedding.
When Grant was elected President in 1868, he appointed Ely Parker as head of the Bureau of Indian Affairs…
But Parker's accomplishments did not end at the conclusion of the Civil War. When Grant was elected President in 1868, he appointed Ely Parker as head of the Bureau of Indian Affairs, the first Indian to hold this position. Parker managed to reduce corruption and improve the conditions on the reservations, but in the end the politics of the job became too onerous and he was forced to resign from his post.
Finding that the civil engineering profession had advanced beyond his capabilities, he was forced to accept a job as a clerk with the New York City police department. After a long illness, he died at his home in Connecticut in 1895, and is now resting next to his Seneca ancestor, Red Jacket, at Forest Lawn Cemetery in Buffalo, New York.
Having discovered so much more about Ely Parker, I have become even more impressed with his accomplishments. It seems that he excelled in each of the professions he chose in spite of the prejudices and difficulties he encountered.
To learn more about Ely S. Parker:
Web links
http://www.historynet.com/ely-parker-iroquois-chief-and-union-officer.htm
https://en.wikipedia.org/wiki/Ely_S._Parker
https://www.galenahistory.org/research/bio-sketches-of-famous-galenians/biography-of-ely-s-parker/
Books
Arthur Caswell Parker, The life of General Ely S. Parker, last grand sachem of the Iroquois and General Grant's military secretary (Buffalo: Buffalo Historical Society, 1919)
Robert S. Lanier, managing editor, The Photographic History of the Civil War in Ten Volumes (New York: The Review of Reviews Company, 1911)