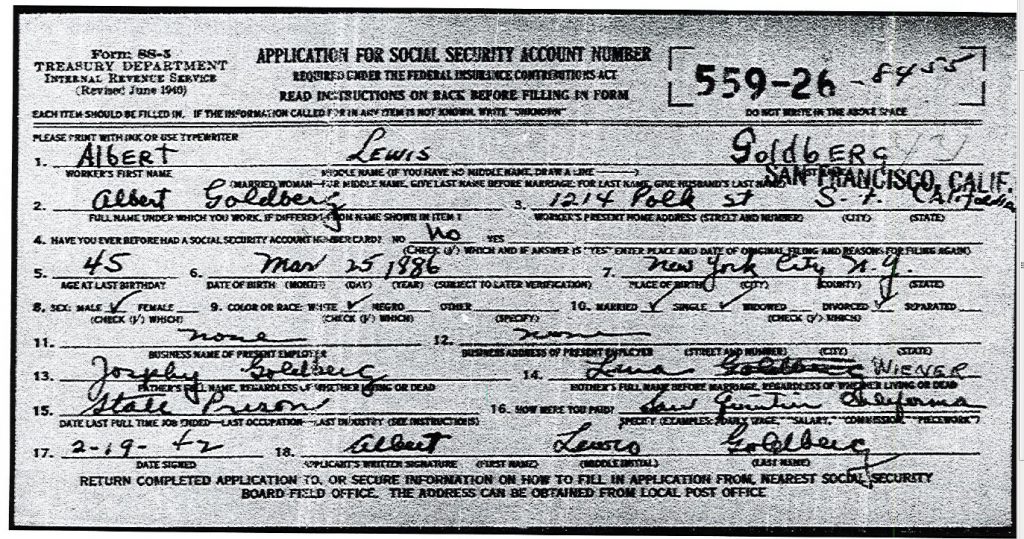 Every few months, we have a "Staff Research Night" at NEHGS, where staff members stay in the library after closing and work on their genealogy. Several of the staff genealogists assist staff members in other departments who might be new to genealogy or would like some guidance. Awhile back I worked with Rachel Adams, our Database Services Volunteer Coordinator. She was interested in learning more about her mother's Jewish ancestry in Connecticut and New York. While we found several items, the ancestor who surprised us both was her great-grandfather, Albert Goldberg (1886–1932) of the Bronx.
Nothing about Albert Goldberg's life seemed out of the ordinary and we found the usual records for people of that time. He was born in Russia, came to New York in 1907, and was found in the various federal and state censuses from 1910 to 1930, as well as city directories; lived at various addresses throughout the Bronx; and was listed as a clothier, merchant, salesman, and antique dealer. Albert died in the Bronx in 1932 and his widow Dora died thirty-five years later in Westport, Connecticut. Albert and Dora are buried together at Mount Judah Cemetery in Ridgewood, Queens. Again, all of this seemed perfectly normal.
Again, all of this seemed perfectly normal.
We looked at Albert's World War I Draft Registration Card from 1918, as I told Rachel this was a document that would also have his signature and physical description, and, possibly, the place in Russia where he was born. While it did not have the last part (only that he was still a citizen of Russia), it identified his date of birth as 25 March 1886. However, what was surprising was that Ancestry.com gave us a "leaf hint" to the U.S. Social Security Applications and Claims Index, 1936–2007. This hint was for a "Albert Lewis Goldberg," also born on 25 March 1886 in New York City, applying in February 1942. Obviously, this was a different person, as Rachel's great-grandfather was already dead. But it was mildly surprising that these two men had the same first and last name with the same date of birth and a New York connection. The parents given on the records were different and Rachel's ancestor was born in Russia, not New York. Still, we thought we might check this other Albert Goldberg out.
The Social Security application, shown above, shows that Albert Lewis Goldberg was living in San Francisco with no current employer. His last occupation is listed as State Prison in San Quentin, California! What was he in prison for? His San Quentin Prison record gives us an initial glimpse: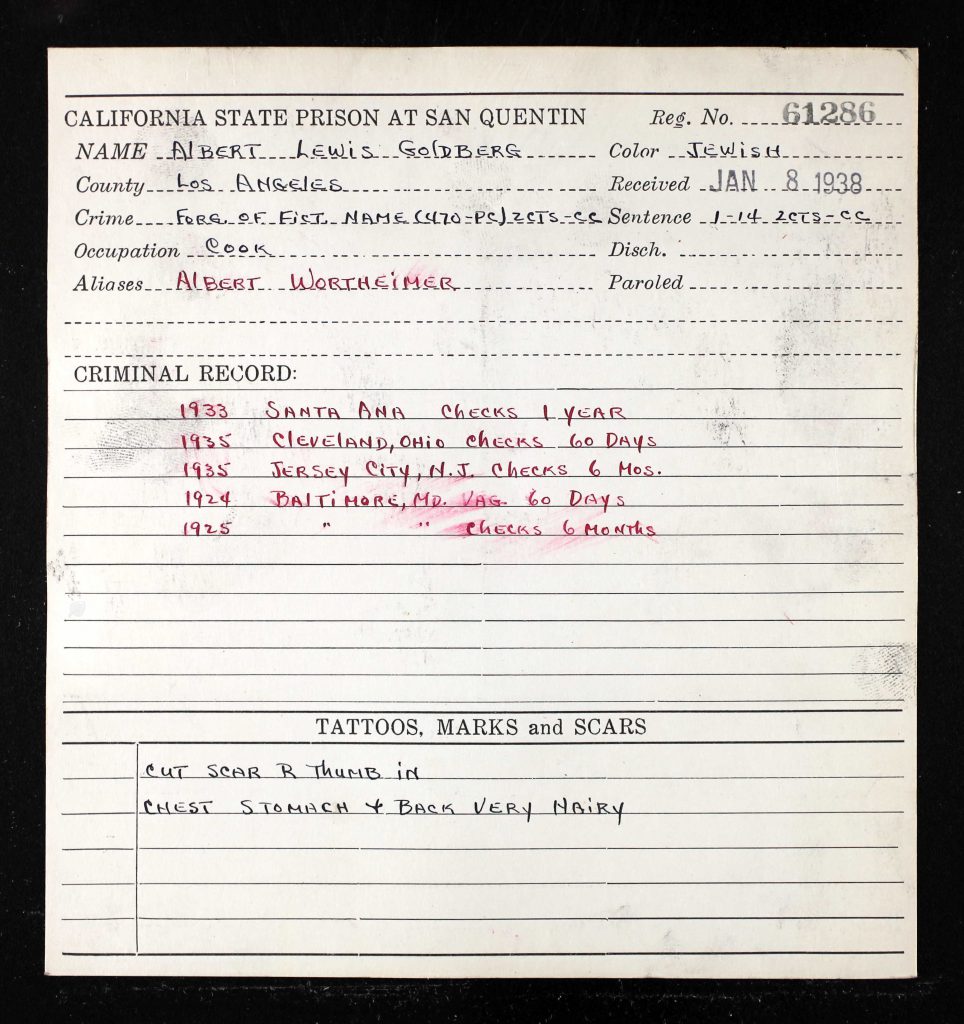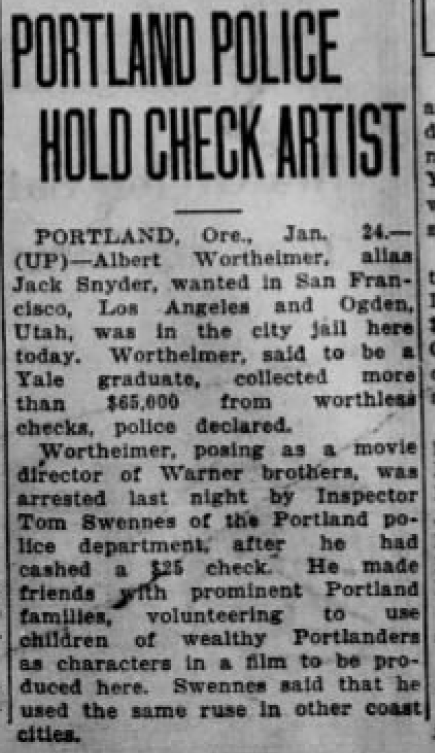 Forgery of fictitious names! Arrests throughout the twenties and thirties on the east coast, Cleveland, and in California, and the alias Albert Wortheimer. Using this fresh alias, we searched Newspapers.com, and found some interesting stories of "Albert's" check schemes. The article at right is from the Santa Ana Register, 24 January 1929, where Albert Wortheimer, alias Jack Snyder, was arrested in Portland, Oregon after posing as a Yale graduate and movie director for Warner Brothers, collecting more than $65,000 in worthless checks!  
The trail of Albert Wortheimer, alias Jack Snyder, alias Albert Lewis Goldberg, goes cold after his release from San Quentin in 1942. Perhaps he took another alias and continued the check con or got into other crimes. Or perhaps he went clean. This detour has nothing to do with Rachel's actual ancestor, but obviously, we really have no idea of what this check forger's real name was. Given that he used the alias Albert Goldberg with the same date of birth, it's entirely possible he took this name from knowledge of the Bronx merchant. Maybe they knew each other; maybe the fraudster forged or altered a document that had something listing Rachel's ancestor's name. Who knows. While sometimes your ancestors may have lived quite ordinary lives, it can sometimes happen that someone else decided to take their identities to live a much more mysterious one!