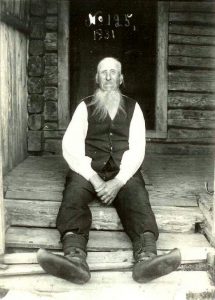 Sometime in 2014 in eastern Finland, Toivo "Topi" Pränny was researching his great-great-grandfather, Juho Matalamäki. As a boy, Topi lived in what was once Juho's house and had heard many stories about him, passed down from his grandmother, Lempi (Saksa) Riihimäki. Googling Juho's name, Topi saw a photo he had never before seen, showing a white-haired man with a straggly beard sitting on his front stoop, wearing traditional boots called lapikkaat. The photo accompanied an English-language article by someone searching her Finnish roots.
Juho was my great-grandfather, and I am the author of that article, which appeared in American Ancestors magazine in 2013. It recounts a trip I took to my ancestral town, Teuva, in western Finland, the previous year.[1] I treasure the photo of Juho – given to me on that trip – not only because it was the first likeness I had seen of him, but because he bears a strong resemblance to my grandmother, Sandra Eliina (Matalamäki) Isaacson, who died in 1960.
We spent a wonderful half-day together, looking at photos and comparing family trees.
I returned to Finland several months ago. In the six years since my first visit, more research paths had opened and more relatives had emerged. Among the cousins I met on this trip were Topi and his sister, Riitta-Liisa (Pränny) Stenvall, who traveled to Teuva from their home five hours away. We spent a wonderful half-day together, looking at photos and comparing family trees. Because I speak almost no Finnish, a local family historian, Jaana Kokkinen, helped translate our conversation. Topi and Riitta-Liisa told anecdotes they had heard about Juho, relating what life was like in the Matalamäki house – stories that seemed to bring me closer to my long-departed grandmother, who had grown up in the same house before emigrating in 1900. Topi mentioned that his grandmother had once lost her wedding ring at that house: it fell off a window ledge and was never found.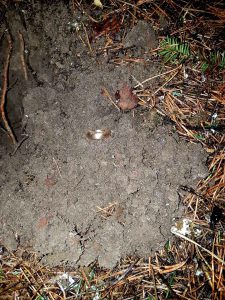 Jaana related the stories of the day to her husband, an amateur metal detectorist. After I returned home, he and Jaana returned to the Matalamäki site to engage in a modern-day treasure hunt. The metal detector located something buried near foundation stones – all that remains of the house. Digging down, they uncovered a gold ring engraved with the initials LR: Lempi Riihimäki, grandmother of Topi and Riita-Liisa and niece of my grandmother. The ring is now in Topi's hands.
Who knows what our pokings and proddings into our ancestry will uncover? That first visit to Finland opened up a world of newfound relatives and family stories for me. And my return trip led, in a circuitous way, to the finding of Lempi's ring. Even without the ring discovery, though, the meeting of distant cousins – across an ocean, across cultures, and across a language barrier – would be treasure enough.
Note
[1] "Reclaiming My Finnish Heritage: A Journey to My Ancestral Village," American Ancestors 14 [2013]: 41–45.