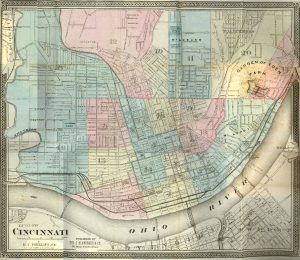 Founded in December 1788, Cincinnati has long been a city with a rich cultural heritage, forged largely from the influences of its significant immigrant populations. Situated at the junction of the Ohio and Licking Rivers, Cincinnati was viewed as a natural destination for immigrants who sought work in the city's booming industries.
Initially, Cincinnati was settled largely by English and Scottish settlers who came westward from the east coast and north from Kentucky.[1] At first, the German population of the city remained relatively small, with only 5% being of German ancestry in 1830.[2] By 1841, that number had risen to nearly 30%[3] – the city's population as a whole nearly doubled over the course of the 1830s – and the Prussian Revolution of 1848 led to a massive migration from Germany to the United States, with many migrants planting their roots in Cincinnati.[4] By 1900, more than 60% of the city would identify as German American.[5]
As a result of the significant population of immigrant settlers in the Queen City, there has been a great interest in genealogical research regarding both early German settlers and later migrants. This fascination with research on Cincinnati ancestors has also led to a great deal of records and useful resources being made available. These resources include:
The Hamilton County Probate Court
The records digitized by the probate court extend back as far as 1791 and include:
Probate Record Books including estate files, inventories, wills, and guardianships
Marriages (1808–1983)
Birth Records (1863–1908)
Death Records (1881–1908)
Naturalizations (1791–1906)
Unfortunately, the Cincinnati Riots of 1884 resulted in the burning of the original courthouse and, ultimately, a loss many of the records prior to 1884.[6] Despite the record loss, the court house has made substantial efforts to recreate as many of the destroyed records as possible, and these records remain a valuable resource for researchers.

University of Cincinnati Digital Resource Commons
The University of Cincinnati has digitized and made available several collections which are quite valuable for genealogical research, including birth and death records from 1865 to 1912 containing notecards with information including parents' names, place of birth, age at death, and residence. Also available are the Morgue records (Hamilton County, Ohio), 1887-1930. These records are both useful from a genealogical standpoint and intriguing for historical researchers, as they include accounts of murder and other untimely deaths.
Cemeteries
Cincinnati is home to several large cemeteries which have made their records available to researchers and have proven to be a useful resource. These cemeteries include:
Walnut Hills – a 70-acre property containing more than 50,000 burials. The website includes a database which provides comprehensive records regarding burials.
Cincinnati Catholic Cemetery Association – This association operates four cemeteries in Cincinnati: Old St. Joseph's (50,000+ burials), St. Mary's (60,000+ burials), Baltimore Pike (7,000+ burials), and St. John's (21,000+ burials). They maintain a detailed database of burial records in their cemeteries.
Spring Grove Cemetery – containing more than 230,000 burials, this cemetery has the most detailed database of all cemeteries in Cincinnati, as it contains numbered burial record cards with information on the parents of the deceased, birthplace and date, and the owner of the burial plot.
Hamilton County Genealogical Society
The Society's website contains a plethora of relevant databases for researchers. While some of these databases require membership to the society, an index of published obituaries is available for free.
Deutschen Pionier-Verein (The German Pioneer Society)
The German Pioneer Society was formed in 1868 by 522 German-Americans in Cincinnati. The society's records were abstracted in the Hamilton County Genealogical Society's newsletter, The Tracer, between 2001 and 2007. These record abstracts include information about a member's place of birth in Germany, date of birth, date of immigration, and port of arrival.
FamilySearch
The Family History Library has digitized a number of record collections which concern the German-Americans of Cincinnati. These include:
German heritage and ancestry has long been an important facet of the culture of Cincinnati, and understanding and studying the roots of this heritage is equally important.  More than ever before, genealogists and researchers have the ability to trace the ancestry of the Germans who helped to shape the Queen City.
Notes
[1] Rev. Charles Frederic Goss, Cincinnati: The Queen City, 1788–1912 (Cincinnati, 1912).
[2] Cincinnati – A City of Immigrants: German 1830s–1950s.
[3] Luke Feck, Yesterday's Cincinnati (Cincinnati, 1975), 16.
[4] Antebellum Cincinnati: Ohio Forty-Eighters.
[5] Laura Hetzer, Cincinnati: Our German History, Cincinnati's Best Kept Secret, Yahoo!, 4 May 2007.
[6] Steve McQuillin, "Hamilton County Courthouses," Hamilton County Probate Court.