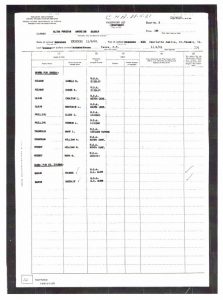 While researching family stories for verification (and, let's face it, amusement), I began to think that we all face the same questions: "Huh?" turns into "Why did he/she/they do that?," which morphs into "What?!," which then becomes "What were they thinking?!?!" We look for the truth but often find muddled facts, conflicting stories, and outright prevarications.
I discovered with the help of a maternal cousin that one of our ancestors, Shadrack Ireland (1718–1780), was something of a rogue/cad/religious nut. Sure enough, when I read about his life, history knows him as a pipe maker, carpenter, and "religious leader" who espoused Perfectionism at the time of The Great Awakening, a Christian revival in the 1730s and '40s.
As one who had reached "Perfection," he left his wife Martha and his family in Charlestown and moved to Harvard, Massachusetts where he took a "spiritual wife" (some accounts say more than one), preached abstinence to everyone who had not reached Perfection, and spouted other assorted controversial moralities and religious ideas. (Giving new meaning to the term "espoused!") He also claimed that after death he would be resurrected, and that his body should not be buried.  When his followers couldn't stand the smell any longer, they put the body in a box covered with lime in the cellar until they later buried him in an unmarked grave in a cornfield, replacing the corn to disguise the grave[1].
Some would say it's a perfect end to a "perfect" man.
A similar family story has developed from my research to help a friend with her "brick wall." Her grandparents, Fred and Marie Baron, married and had eighteen children. I was puzzled, however, because I frequently found Fred living in one place and Marie in another. Is this possible, I asked? Yes, I was told, they often lived apart, but finally lived together with family in the few years before their deaths. (Funny how age and infirmities bring families together!)
One of Fred and Marie's sons, Thomas, took a page from his parents' book.  Tom married Dolores McAlexander and stayed with her at least through 1953, when they are found in Elizabeth, New Jersey and listed in that year's city directory.
By 1961 (with Dolores still living) he had "married" Shirley. They later had a daughter Amy.  But before Shirley died, Tom "married" Josita. I've found no marriage, divorce, or death records yet, but a passenger list does list him with Shirley sailing to the U.S. Virgin Islands. The family says that Tom did travel extensively, and that Shirley was from St. Thomas (she lists herself as "U.S. born" on the passenger list). Apparently these changes were all amicable because Shirley and Amy attended Tom's funeral when he died in 1980.
I'm sure Tom and Shadrack could explain themselves with or without "untruths," as could so many other wayward ancestors. But what is wayward to us today might have been a matter of culture or societal mores at the time, not just strong personal convictions or loco weed.
Pamela Athearn Filbert's post "Hard to Love" and the related comments show how difficult it can be to discover and accept unsavory facts about our ancestors, especially those that show now-questionable morality, ethics, or character. Not all skeletons can or should be made to dance, and while we are not responsible for "paying the piper" for the sins of our ancestors, their actions affect the lives of their descendants generations later. Even traitors may have descendants. We cannot choose our lineage; we can only accept it. If we reject it, we are denying what already is, however we may understand it.
Matthew Fitzsimmons has it right: "The dead have no rights, and rarely rise up to defend themselves."[2] Because I lack a significant amount of Perfection, I'm rather glad they don't!
Notes
[1] See, among many others, Francis G. Walett, "Shadrack Ireland and The 'Immortals' of Colonial New England," Publications of The Colonial Society of Massachusetts 59 (1982).
[2] Matthew FitzSimmons, The Short Drop (Seattle: Thomas and Mercer, 2015).