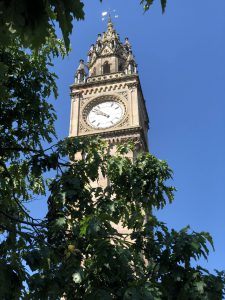 People always ask: What ethnicity are you? This is a difficult question for genealogists, as we can get quite detailed with our answers: "Well, on my mother's maternal line we have Irish from County Leitrim and Monaghan, on my mother's paternal line we have Italians and Irish, and my paternal line…" Well, you get the drift.
And while I've researched Italians, Germans, Irish, and Norwegians in my own ancestry, I've identified most with the Irish, given my closeness with my (likely mostly Irish) grandmother. Because of this, I've always thought that I knew something about the Irish, their culture, and their history. However, after two weeks in Ireland, and several guided bus tours, I found that of what I thought I knew, I actually knew very little. Here are some of the most embarrassing revelations:
Farmers in Ireland grow vegetables. While some farmers grow vegetables, the majority of the farmers grow animals: sheep, cows, pigs, goats, chickens, etc. The reason the farmers focus on these animals is even more obvious: Ireland is an island! In most regions, the topsoil is not deep enough to grow vegetables, as we do in the U.S., and therefore the farmers use the available soil to feed their animals (grass). The limestone foundation provides minerals and nutrients to the grass, which is then consumed by the animals, and, in turn, makes for tasty meals. Families might have a small garden to grow potatoes, cabbage, carrots, etc., but their livelihood would have come from their animals, not vegetables.
The Irish avoid all things associated with the English Royal family. I traveled to both Northern Ireland and the Republic during my two week stay, and I can say with gusto that the Irish celebrate Queen Victoria. Not only did my Irish tour guides refer to her as "brilliant," "smart," and "great," but infrastructure bears the names of Queen Victoria and her beloved husband, Prince Albert: clock towers, rivers, office buildings, and restaurants. I always assumed the tendency would be to lean away from the Royals, with the renaming of places like Cobh (previously Queenstown), but I was wrong to assume (we all know the saying about this bad habit). In fact, I visited two different Irish estates while in the Republic (built by folks with Irish ancestry), and both featured spectacular walled English-Victorian gardens, designed as a nod to the Queen.
Partitioned cemetery plots are designed for religious reasons. Now this may be the silliest assumption that I had going into the trip. Cemetery plots in Ireland are (generally) small, walled-off plots with white stones/gravel covering the area where a loved one is buried. Memorial stones, picture frames, flowers, statues of the Virgin Mary, rosary beads, etc., are left on the gravel stones in remembrance of the individual. I always assumed (again, I know) that the Irish designed these plots for purely religious reasons. However, the plots also serve another function; again, because Ireland is an island! It is too difficult to bury an individual to the depth that we do in the U.S., and therefore stones are added on top to protect the body.
In summer, the sun will set around 8:30. Haha! Nope. More like 10:00-10:30. Thank goodness for room-darkening shades.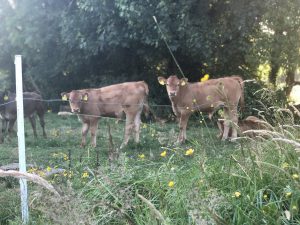 I decided to share these examples, not because you might have been under the same assumptions, but because I wanted to encourage everyone to be more inquisitive. I asked the Irish A LOT of questions while in Ireland. And because of this, I met and spoke to some of the nicest, most interesting people. I heard a more intimate perspective of Irish history and culture, which I would have missed if I relied only on Google. So, I am grateful that I came to the Island with my assumptions; without them I would have missed my opportunity to have a personal connection to Ireland and my heritage. Míle Buíochas!