I recently read a book by Ellen Marie Wiseman entitled What She Left Behind. Among other themes in the book, it depicted the treatment of a woman who was committed to an asylum in early 1920 by her father. The main character was committed because she reacted strongly to a marriage arranged by her parents; she displayed outbursts of emotion. The author of What She Left Behind describes the conditions in an asylum based on the Willard Asylum in Ovid, New York, during the early twentieth century. Often, when I'm reading fiction, I think about my family tree and those living during the years in which the novel takes place. Were there individuals in my own family tree who "went mad" or were sent to live in an asylum? Were these episodes recognized as depression or mental illness; or was a person abandoned, without family to care for them and, thus, committed?
While speaking with my mother about this novel, she reminded me of Mary Todd Lincoln, who was committed in 1875. Robert Todd Lincoln, the president's eldest son, arranged a case against his mother after he noticed her troubled behavior. (This was ten years after Abraham Lincoln was killed and four years after their son, Tad, died in Chicago.) At 31 years of age, Robert was Mary and Abraham Lincoln's only surviving child. During the trial, Robert testified, "I have no doubt my mother is insane. She has long been a source of great anxiety to me."[1] On 1 June 1875, Mary wrote a letter to a friend, explaining the jury's decision: "Six physicians in council informed me that by longer delay I was making myself morally responsible for some very probable tragedy, which might occur at any moment."[2] Mary Todd Lincoln spent four months at Bellevue Place until her sister assumed her care in Springfield, Illinois; she died in 1882.
"I have no doubt my mother is insane. She has long been a source of great anxiety to me."
We recently completed a research project for a client of NEHGS, and our researcher found out that one of his ancestors was committed by her husband after she gave birth to twins. The story of Bernard and Mary begins at the end of the Civil War, when Bernard became ill with chronic diarrhea, rheumatism, and kidney disease. His declining health must have been an extreme strain on the family, but in 1869 Bernard appeared before the County Court to declare that his wife, Mary, was insane. Her insanity was stated to be "hereditary"; further, she had been "excited by confinement with the twins." Court records also explain that Mary was "feverish" and would often "neglect her husband." Could this be today's diagnosis of post-partum depression, or perhaps – the simpler explanation – she was just an overwhelmed mother and wife?
After reading What She Left Behind and understanding the stories of both Mary Todd Lincoln and Bernard's Mary, who were both found to be insane by a jury and spent time institutionalized, I wanted to learn more about asylums in and around the towns my family lived. Asylums are portrayed in films as buildings in an abandoned part of town; typically, they have an ominous fence around the property. But many were not like that at all. In Rhode Island, where most of my own family settled, there was the State Workhouse and House of Corrections, the State Hospital for the Insane, the State Almshouse (renamed the State Infirmary in 1917), the State Prison and Providence County Jail, the State Reform Schools, and Dexter Asylum.[3]
Dexter Asylum was an institution for the care of the poor and mentally ill in Providence from 1828 until 1957.[4] The large estate was donated to the town by Ebenezer Dexter and was recorded in his 1824 will. Mr. Dexter was a member of the town council and wanted his estate to be used "to care for the poor." It was situated in the heart of Providence's east side (at the corner of Hope Street and Lloyd Avenue). The 36-acre property housed about 200 individuals by the mid-nineteenth century, which is when the Mayor of Providence directed that another building be opened for the mentally ill: Butler Hospital.[5]
According to the National Alliance of Mental Illness, one in five Americans – or roughly 43.8 million Americans – experience mental illness in a given year. Unfortunately, we didn't have these studies in 1753, when the first hospital opened in Philadelphia. According to Benjamin Rush, a physician who has been referred to as "the father of modern psychiatry," in the 1820s an average of 57 patients were admitted to each asylum yearly. And in the 1870s, that number increased to an average of 473 individuals.[6]
According to the National Alliance of Mental Illness, one in five Americans – or roughly 43.8 million Americans – experience mental illness in a given year.
So, what's my point and why did I get sucked down this rabbit hole of asylum research? I have been in search of one specific woman in the part of my family which has been a topic of my blog posts in the past; her name is Zoe Caron (Coron/Coran). Could Zoe have disappeared into an asylum or group home after having had nine children between 1841 and 1854, and losing both her husbands? Zoe's first husband, François, passed away while she was pregnant with their seventh child, and she remarried shortly after the birth. Her second husband, Antoine, died within five years of their marriage, after Zoe had had two additional children.
In 1870 and 1880, Zoe appears in Connecticut living with her children. Then she disappears from the written record! She is not listed on census records, town/city directories, land records, marriage certificates, death certificates, or in any newspaper articles or obituaries. Could Zoe have been one of the unfortunate souls committed to an asylum for help?
I want to believe that Zoe's nine children would have taken care of her in her "old age" (in 1880, she was 56 years old); but in that period, it was common for poor, widowed women to be placed in a home for the poor. I won't be able to say for sure unless I find the paper trail of her life. Thankfully, the Rhode Island State Library in Providence has two manuscript collections that refer to the records of these institutions in Rhode Island from 1871 to 1972.
Their library catalog states, "As these records contain sensitive information regarding persons who may still be living, they are closed for a period of 72 years after their creation."[7] I plan on visiting RIHS to look at their manuscript collections. Manuscripts can often help reveal information that was written down and may not be recorded for town, city, or state purposes. I'm hoping little by little I can continue the search for Zoe, so I can find out what happened to her after 1880. Who knows, maybe next week I'll be down a police records rabbit hole looking for her!
Notes
[1] Abraham Lincoln Online: Mary Lincoln at Bellevue Place, http://www.abrahamlincolnonline.org/lincoln/sites/bellevue.htm.
[2] Ibid.
[3] Rhode Island State Institution Records; manuscript collection (Mss 231), http://www.rihs.org/mssinv/Mss231sg1.htm.
[4] Dexter Asylum Records; Rhode Island Historical Society; manuscript collection (Mss 67), http://www.rihs.org/mssinv/MSS067.htm.
[5] Butler Hospital, http://www.butler.org/.
[6] Margarita Tartakovsky, The Birth of the Mental Asylum, Pysch Central, https://psychcentral.com/blog/the-birth-of-the-mental-asylum/.
[7] Rhode Island Historical Society, http://www.rihs.org/.
Share this: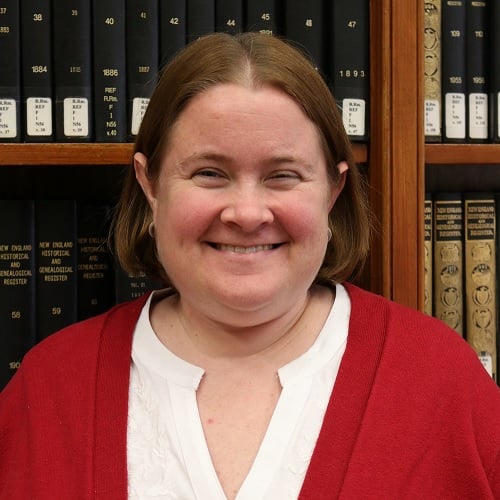 About Sarah Dery
Sarah Dery, who lives in Concord, is the Research and Library Manager at American Ancestors/NEHGS; she has been with the Society since 2017. She supports the researchers and genealogists on the Research and Library teams, managing correspondence with constituents, organizing research information, and applying her genealogical knowledge in assisting our clients – both in-person and digitally. Sarah is a graduate of Rhode Island College in Providence and has a B.A. in anthropology and English Literature. Her interest in anthropology stems from her participation in a week-long archaeology dig at James Madison's Montpelier in Virginia. Her family ancestry and expertise include Rhode Island, Connecticut, and French-Canada.View all posts by Sarah Dery →