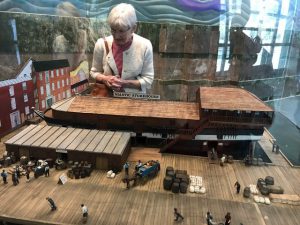 In my last post for Vita Brevis, I shared a picture of "Cleaveland House" on Martha's Vineyard, which is currently owned and inhabited by a direct descendant of James Athearn, the man who built it. One reader asked, "How did 'Cleaveland House' get its name? Is there any association with the descendants of Massachusetts Colonist Moses1 Cleveland?"
The house is named for Athearn's great-great-grandson, Capt. James Cleaveland, who bought the house about a century after its construction and substantially renovated it. Its next major renovation came about a century after that, when it finally acquired modern amenities such as indoor plumbing!
As to whether James Cleaveland descends from the immigrant Moses Cleveland, I discovered that the answer is yes: James8, Henry7, Sylvanus6, Zabdiel5, Ebenezer4, Ebenezer3, Moses2, Moses1. Henry7 appears to have been the one who changed the spelling of this branch to Cleaveland, but I confess that I'm not an expert.
It turns out that Henry Cleaveland and his sons James, Sylvanus, and Daniel had an interesting role in San Francisco navigational history. They were all serving onboard the whale ship Niantic in 1848 (Henry as captain, James as first mate, and the other two sons in lesser capacities) when they arrived at Valparaiso with a full cargo of oil, and learned of the gold strike in California.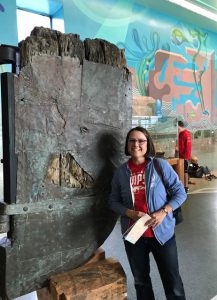 Henry sent his oil home by another ship and quickly had his own outfitted to transport passengers. Then he sailed north to Panama and picked up a large group of East Coast gold seekers who'd made their way across the isthmus. Niantic was one of the first "gold ships" to arrive in San Francisco, whereupon the crew abandoned ship for the gold fields, along with the passengers.
Lacking a crew to sail her home, Henry Cleaveland scuttled the Niantic close to the shoreline in Yerba Buena Cove, where she was sold for use as a hotel and storehouse. In 1851 a fire swept through that area of San Francisco and everything sitting above the mud line was burned.
I was amazed to find that artifacts and interpretive materials related to the Niantic form a principal part of the display housed in the 1930s Streamline Moderne bathing house portion of San Francisco's Maritime National Park and Museum. They include a picture of the ship painted in China and donated by James Cleaveland's great-granddaughters.[1]
Last June, I was excited to read in NEHGS's Weekly Genealogist that a new map had been created showing the location of many gold ships buried beneath San Francisco. There was the Niantic near the foot of the famous Transamerica Pyramid … and then I saw that the Japan was also included!
This was even more exciting for me, because the Japan was owned by my great-great-great-grandfather, James F. Athearn (1810–1870). The Japan Nantucket Mining Company (Henry Bigelow, master) set sail for California on or around 1 August 1849, and James F. Athearn himself departed 13 November that year aboard the steamship Crescent City, bound for the isthmus of Panama.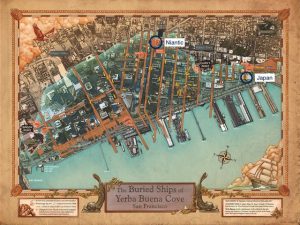 Eventually ship and owner met up in San Francisco, where the Japan was listed for sale in the Daily Alta California on 5 March 1850. However, the bay was littered with unwanted ships, so the Japan went on at least one more whaling voyage: the Daily Alta California's Marine Journal of 15 October 1850 reported "Ship Japan, Bigelow, 26 d[ay]s f]ro]m Lahaina, S.I.,[2] consigned to J. S. [sic] Athearn."
The Japan now lies buried beneath Levi's Plaza, across from Pier 19 along the bay front. Not too surprisingly, there is a Starbucks coffee shop in this complex, which I find deeply ironic; you would never guess the number of false hits I get when searching online for information about James F. Athearn's father-in-law, Capt. Levi Starbuck!
Notes
[1] Niantic also gained a degree of public recognition in recent years through the software company named for it, best known for the augmented reality game "Pokémon Go."
[2] S.I. stood for Sandwich Isles, the British name for the Hawaiian Islands; Lahaina is on the island of Maui.