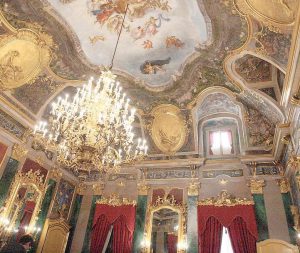 Immigration case records from the Hebrew Immigrant Aid Society (HIAS) often involve siblings, parents, spouses, children, or other relatives, but in some circumstances people reach out to whomever they can, asking for assistance from anyone they know. Anetta Ottolenghi Cavalieri was from the Piedmonte region of Italy, and had deep family roots there; she had no family or even close friends in the United States. But when Fascism began to make inroads in Italy, she reached out for help to pen pal Bessie Buxton of Peabody, Massachusetts, with whom she had discussed horticulture on and off for several years.
In fact, the letter Mrs. Buxton received from Mrs. Ottolenghi came under the assumed name of Mrs. Loca, and was the first correspondence she had gotten from her friend in two years. Their communication started with an article published by Mrs. Buxton in a horticultural magazine that came to Mrs. Ottolenghi's attention, after which she wrote to Mrs. Buxton, asking if she would correspond with her on such topics. Mrs. Ottolenghi wintered in New York in 1934 and met with Mrs. Buxton several times. During her stay she also met with several prominent horticulturalists and presented them with letters of introduction from Italian aristocrats. Mrs. Ottolenghi's communication with Mrs. Buxton continued intermittently until 1939, when Mrs. Ottolenghi wrote to ask for help.
During her stay she also met with several prominent horticulturalists and presented them with letters of introduction from Italian aristocrats.
Mrs. Ottolenghi had spent most of her life in Rome and Turin, and came from a prestigious family. She was the daughter of Enea Cavalieri and Fanny Cavalieri Leonino. Her father had been a notable economist and her mother a member of a baronial family.  Mrs. Ottolenghi was the widow of Emilio Ottolenghi, a professor at the nearby University of Turin, who in addition was also a banker and soldier.
Anetta Ottolenghi was a painter by trade and had studied art in Italy, France, and Spain, but was unable to make a living by her paintings in Italy and wrote that emerging Fascist "fanaticism prevented me from sketching out of doors, and [walking] about alone." She was away in France when she received bad news from home and went to Cairo, where she exhibited some of her artwork. Despite praise for her art in Cairo, she had trouble making ends meet.
Not wishing to return to Italy, Mrs. Ottolenghi instead decided to visit the tropics and, after a struggle in procuring a passport, succeeded in reaching Sumatra thanks to "an iron will, some luck, and [the aid of] kind people." Mrs. Ottolenghi wrote with wonder about the sights on the island as she traveled up into the mountains, where she stayed with a Dutch family in exchange for teaching their children French. The market for her talents in Sumatra was poor, however, and although she went next to Singapore, she had no better luck there. She wrote of Singapore that "I have been living here quietly and sparingly, looking round for some other way of earning my bread."
Further bad news reached her from Italy regarding the political situation in the late '30s, and her opinions in response to these events got her into trouble with a local Italian consul. Mrs. Ottolenghi did not trouble to hide her thoughts on Italy's politics to any audience, and remarked that "I take it to be the duty of every intelligent human being to stand up against the folly of racial discrimination; no matter where and by whom it is held."
Facing persecution and possible seizure of her possessions, Mrs. Ottolenghi was saved by the "English sense of justice" and a "chivalrous businessman." Even so, writing in 1940 to HIAS, Mrs. Buxton could not help but wonder whether Mrs. Ottolenghi's possessions had been seized in her absence and whether she could even safely return to Italy, much less leave if she did return; Mrs. Ottolenghi described herself as having become an exile in her letter to Mrs. Buxton.
Facing persecution and possible seizure of her possessions, Mrs. Ottolenghi was saved by the "English sense of justice" and a "chivalrous businessman."
Mrs. Ottolenghi wrote with hopes of being able to come to America: a city like Boston would have uses for her skills, whether in the sciences, arts, or languages. Mrs. Ottolenghi had some valuables left which she determined to sell, in order to pay her way to America, if she could obtain entry.
Mrs. Buxton wrote first to Max Kabatznick, President of the North-East Zionist Region, for help; through him she was put in contact with HIAS. Mrs. Buxton solicited help from HIAS and commented that "Anything within my power, I will gladly do, unfortunately I am not in a position to do much."
The case records of HIAS do not extend far past Mrs. Buxton's initial inquiries, and the lack of any records showing her arrival would seem to indicate that she never came to the U.S. Presumably she stayed in exile for the duration of the war. Mrs. Ottolenghi was back at home in Turin by the end of her life; she died there in 1958. Her sister, Alina Cavalieri, was killed in the Holocaust, and another of her sisters came back from a concentration camp suffering from mental illness.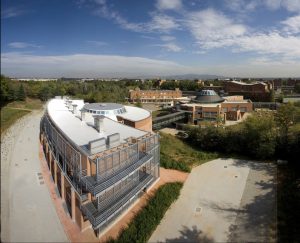 In her will Mrs. Ottolenghi gave a legacy to the University of Turin consisting of multiple properties in Rome, a villa in Novara, and collections of paintings, antique lace, and silverware, to "deepen the existing knowledge … on the causes and treatment of mental insanity." Mrs. Ottolenghi reportedly had cases of mental illness in her family, presumably in addition to her sister, which spurred her to help other sufferers. This donation gave birth to the Cavalieri Ottolenghi Foundation and the eventual creation of the Neuroscience Institute Cavalieri Ottolenghi (NICO) at the University of Turin.
Although Mrs. Ottolenghi was never able to emigrate to the U.S., she put her iron will to work and did her best to create a center of research at the University of Turin to help those with mental illness. In writing to Mrs. Buxton she remarked: "Believe me, there is still much in me, although I am getting old; why let it go to seed?" Her perseverance was rewarded and her dream reflected in the institution she helped to create.
The Jewish Heritage Center's Hebrew Immigrant Aid Society (HIAS), Boston Collection contains the case files and arrival cards of immigrants who received assistance from the HIAS Boston office between 1886 and 1977. Some records also include ship manifests, scrapbooks, passenger lists, photographs, and correspondence between immigrants, sponsors, officials, and HIAS Boston staff.
The case files are available to Special Researchers and NEHGS Research and Contributing Members. To learn more about the HIAS Boston collection, view the finding aid and the webinar, Using the Hebrew Immigrant Aid Society Boston Collection. For more information or to request access to this collection, please email jhcreference@nehgs.org.
To learn more about Jewish Heritage Center and its collections, visit the website.
Sources
Information on Anetta Ottolenghi Cavalieri's family was taken from documents on ancestry.com, the Italian decree acknowledging the legacy of Mrs. Ottolenghi, articles in the Jewish Encyclopedia detailing the Ottolenghi family, articles on the NICO website, articles from La Stampa and La Repubblica, an article by the Jerusalem Center for Public Affairs, and pictures from the Italian Government website artbonus.