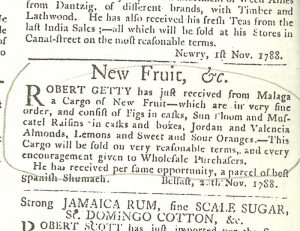 I have been working on various genealogical projects since boyhood, with – as I hope – increasing research ability. Happily, there are times when a lucky Google search cuts through years of dead ends: as yesterday, when I went looking for my great-great-great-great-grandmother, Elizabeth Getty of Belfast, who died in Baltimore, Maryland 11 February 1839.[1]
Both Elizabeth and her husband, Dr. John Campbell White (1757–1847), have tantalizing if mysterious backgrounds: both came from Belfast, and Dr. White had professional credentials. As I've mentioned, he was the son of an esteemed minister in Templepatrick, not far from Belfast – but who were Elizabeth's parents? And was she, as propinquity sometimes suggested, related to the Getty merchant family in Belfast?
What I did know, before, was that Elizabeth (Getty) White named her children Robert, John C[ampbell?], William James, Campbell Patrick (my forebear), Thomas Brown, Ann, Joseph, Henry, Stevenson, Edmund, Decimus, and Jane. I didn't expect, when I entered the search string of "elizabeth getty white Belfast," that I would get a result that broke open the case – and leads, inevitably, to further questions.
The tenth result (still on page one of results) is to the 1909 Ulster Journal of Archaeology. The snippet view highlighted a reference to Ann Sittlington and included the hopeful words "my father Robert Getty; Elizabeth, married to dr. White…" Cue the Champagne corks!
It took me a moment to find the Ulster Journal online; in the meantime I found an intriguing reference to the James Luke mausoleum at the Clifton Street Burying Ground in Belfast. The elaborate monument includes details on Mrs. James Luke, born Catherine Getty "and daughter of Robert and Ann Getty [, who] died 20th April 1813." Among the Lukes' children was a son "Campbell[,] who died at Philadelphia in 1820." Another entry reads "…Ann Getty of Belfast, daughter of John Stilington [sic], of Ballyclaverty and sister of the above named [also John Sitlington,] died 24th April 1812 aged 84 years.  Her husband Robert Getty with several of their children were interred at the old church, High Street."
"Our Irish branch of the family is extinct in the male line; in the female it has many representatives."
The Ulster Journal article,[2] published 109 years ago, gives further corroborating detail; it has passed unnoticed – so far as I can tell – by the descendants of Dr. John Campbell White and Elizabeth Getty. Its author was Edmund Getty (1799–1857),[3] son of Robert Getty [Jr.] and grandson of Robert Getty and Ann Sitlington. A chart, between pages 164 and 165, lists two generations before Ann (Sitlington) Getty: her parents John Sitlington (d. 1753) and Kathrine Scott (d. 1755),[4] and her paternal grandparents William Sitlington (d. 1736) and Mary Baron (d. 1732). Of the Sitlingtons, originally from Wigton in Cumberland – as Edmund Getty believes – the author writes:
"Our Irish branch of the family is extinct in the male line; in the female it has many representatives… From the Stevensons the families are numerous… From Mrs. Getty, myself and sister, Robert, Mary, John, Nicholas, dead; from my aunt Luke – James now living [1848]…; from my aunt White 10 sons & 1 daughter – several of her sons have now large families in America…"[5]
As noted above, the Whites of Baltimore had ten sons, commemorating the birth of the youngest with the name Decimus. Perhaps because the article is concerned with the Getty family, the link to Dr. John Campbell White is rather muted: he is simply "Dr. White," as he would have been to a younger relative like (his nephew) Edmund Getty.
Getty continues his account with an entry on Ann Sitlington (1726–1812)[6]: "She married Robert Getty [a woollen draper],[7] of North street, Belfast, and died at my father's house, Seaview, near Belfast, and was buried in the new burying ground, in the ground of the Luke family…
"My grandmother, Ann Sittlington, had a large family; my father, Robert Getty[8]; Elizabeth, married to dr. White; Katrine, the widow of James Luke; and Ann, who died unmarried at my house, survived her. She had two sons named Patrick, one John, who died a short time before my grandfather [i.e., ca. 1774], & was described by her as a very accomplished man."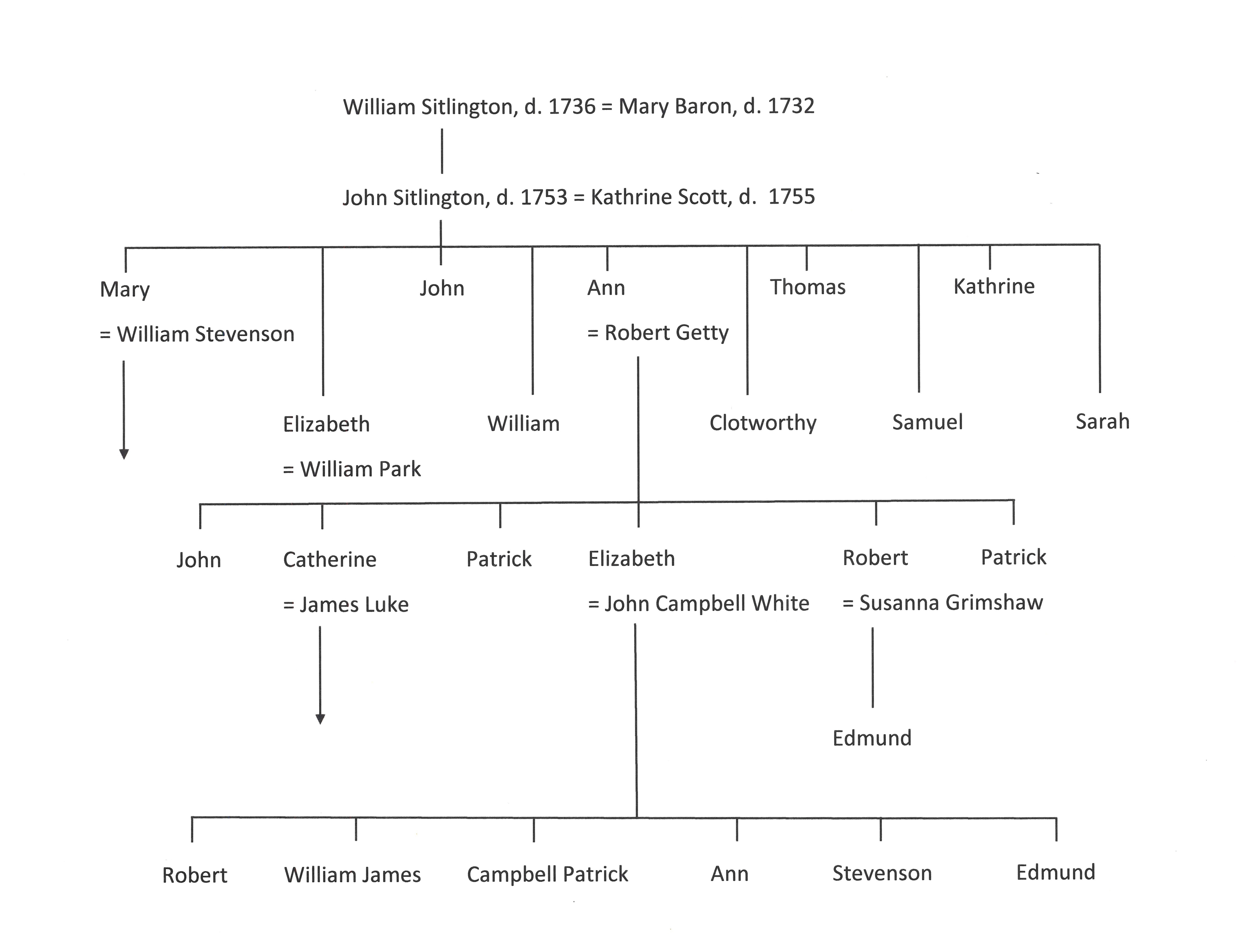 The Sitlington article can take Robert Getty (d. 1774) no further back, although the editor suggests that he was a Getty of Larne; the Whites of Templepatrick hailed from Larne as well. But with this cluster of families – Getty, Sitlington, Scott, and Baron (not to mention the families of spouses) – I have a new research project to get started.
Notes
[1] As reported in the New York Evening Post of 18 February 1839 (U.S., Newspaper Extractions from the Northeast, 1704-1930 [database on-line]).
[2] "The Sitlington Family, of Dunagorr, County Antrim," Ulster Journal of Archaeology 15 [1909]: 161–72.
[3] Among other affiliations in Belfast, as a merchant and citizen, he was a founder of the Ulster Journal of Archaeology.
[4] Perhaps the daughter or granddaughter of the Rev. Hugh Scott of Dunadry, who was buried at Donegore in 1740, aged 92. Getty, "The Sitlington Family, of Dunagorr, County Antrim," Ulster Journal of Archaeology 15 [1909]: 163.
[5] Ibid., 162.
[6] Her siblings were Mary Sitlington (b. 1718), who married William Stevenson, perhaps the namesake for Mrs. White's eighth son, Stevenson White; Elizabeth Sitlington (b. 1720), who married William Park; John Sitlington (1723–1803); William Sitlington (1724–1754); Clotworthy Sitlington (1728–1732); Thomas (b. 1730) and Samuel Sitlington (b. 1732), both of whom "died in America a bachelor"; Katrine Sitlington (1734–1750); and Sarah Sitlington (b. 1736 and died in infancy). Ibid., 163–66.
[7] His will was proved in 1774. Ibid., 165.
[8] A note by Getty's editor adds that Robert Getty (1761–1829) "was one of the most prominent citizens of Belfast in his day. In the public prints his name occurs very frequently as an ardent supporter of the patriotic movements of the closing decades of the 18th century" (ibid., 166) – like his brother-in-law, Dr. John Campbell White. A Google search for the two men finds Dr. White and Robert Getty working in concert during the 1780s and '90s.