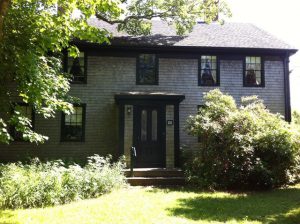 Don't you love how certain themes seem to pop up and swirl around all at one time? The very definition of serendipity! A couple of days ago, while reading an article online about a completely different topic, my eye spied an article titled "Slave trader's home, slum, des res: the stories of one house raise restless ghosts."[1]
I'll bet that most family historians would be interested in this article – as well as the television mini-series it describes, which is sadly not generally available to American viewers. For me personally, the title immediately put me in mind of my ancestor George Athearn, although in this particular case the "slave trader" turned out to have been a Victorian trader of cotton produced by slaves. While the Englishman who owned the house in question was apparently a ruthless merchant, his cargo was not actually human chattel.
…I rather hoped that I might be treated to some sort of "sign" welcoming me to my ancestral home.
Then I realized that it was five years ago this week that I slept in the home of my slave trader ancestor. At the time, I had no idea about this aspect of his life, only that he had been Judge of Probate for the County of Dukes County. (Through an ancient clerical error, that is the official name of the county that comprises Martha's Vineyard.) I definitely remember the thrill of imagining George and his wife Hepsibah treading on the same floorboards upon which I was walking. In fact, I rather hoped that I might be treated to some sort of "sign" welcoming me to my ancestral home.
A couple of years ago, I was excited to find a copy of George's father's will, but surprised that it had been probated in Barnstable County on Cape Cod, instead of the county in which he'd died and owned property. Then I realized that since James Athearn had been Judge of Probate at the time of his death, and was succeeded in that role by his son George (who was executor of James's will as well as the chief heir), it must have seemed like a good idea to have someone else oversee the details of probate!
I noticed that James had drafted this Last Will and Testament less than two weeks after the death of his wife, and was gratified to see that he'd responsibly changed his will immediately after this "life event" affecting his estate. James left half of his house to George (and George's wife Hepsibah); the other half was left to his spinster daughter Rebecca.
It was a treat to be able to imagine in my mind's eye each of the rooms that had been set off to his heirs, having personally walked through almost all of them. James was very particular, too. In most cases of divided house, one half (for instance, the east half) will be left to one party and the other half to another, with shared kitchen privileges. In the case of James Athearn's house, however, the rooms given to Rebecca were in various sections of both floors.
It was a treat to be able to imagine in my mind's eye each of the rooms that had been set off to his heirs…
Sadly, poor Rebecca lived "too long." After outliving both her brother and sister-in-law, Rebecca shared the house with a nephew and his wife, went to live with a niece in another town when that couple died, and was living as a pauper with a third family at the time of her death at age 92.
But back to old houses and their denizens. In the final stroke of serendipity, my husband and I got to attend a wonderful slide show lecture this week, describing nearly four dozen historic homes in our neighborhood and the families who lived in them. Included were various homes lived in by former governors, as well as Mahonia Hall, which was purchased in 1988 as Oregon's first official governor's residence. Built in the 1920s by Oregon's "Hop King" Thomas Livesley, it was the childhood home of an older lady who lived in the house behind my family when I was growing up in Portland; I used to feed her cats. She had formerly married into a local banking and newspaper family whose Victorian home is now a museum surrounded by a large neighborhood park here in Salem.
Whether through television shows, lectures, guided tours, books, old documents, or otherwise, old homes and the people who lived in them seem to be endlessly fascinating … especially to genealogists!
Note
[1] "Des res" is British slang for a very desirable residence.