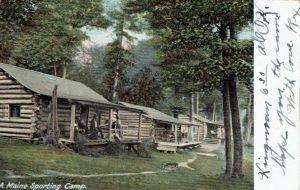 For the most part, my ancestors travelled very little, inclined to stay on home ground, at home or on the farm. I've discovered, however, that as recreational travel became easier, some of my ancestors "went up country."
Out of my squirrel bins came a large album clearly entitled "Illustrated Postcards." At first I assumed it was nothing more than a collection of vintage postcards. Indeed it is that, but it is also a travel history, a list of friends and relatives, and at the very least an indication that my family members were all literate.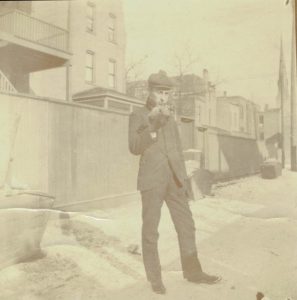 My grandfather, Rex Church, would go deer hunting on Thanksgiving Day while his wife, Winifred Lee Church, hunted for places to put all the food and family at the table. With a few hundred acres of his own to walk, he didn't need to travel far, but occasionally he took off for a hunting "camp." Hunting was his tradition, but it was also for food. Smaller "game," though, had nothing to fear (at right).
Rex disposed of his "arsenal" in the first paragraph of his will: his 12-gauge shotgun, his rifle, and his revolver and mounted deer head. (I was not sad to see that mounted deer head finally leave the house!).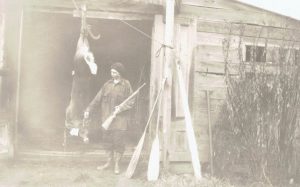 My grandmother Winifred was not to be outdone, though. Born and raised on the southwestern plains of Kansas in the mid-1880s (when knowing how to handle a weapon was required), she undoubtedly learned to fish and hunt at an early age. While Rex kept his deer's head, Winifred got her deer (at left).
My grandmother had her own "arsenal" to hand down: a 16-gauge double-barreled shotgun, a .410-gauge pistol, and a .32 caliber chromed derringer pistol. She was one pistol-packin' Grandma!
Like many others of their generation, hunting and fishing were part of their way of life, necessary protection while homesteading on the open plains, protecting livestock on the farm, a way to supplement their food supply, or to simply enjoy the flavors of fresh game and fish. My father taught me basic gun safety, but I don't own any guns, and couldn't hit the broad side of a barn with one if I did (unless I used it as a bat). I'm happier doing my hunting in a supermarket!